We may earn commissions when you buy from links on our site. Why you can trust us.

9 Kitchen Gadgets that Make Great Gifts
Making life in the kitchen easier is always a gift, so it's fitting that these high-tech cooking gadgets would make the perfect holiday surprise for your favorite foodie.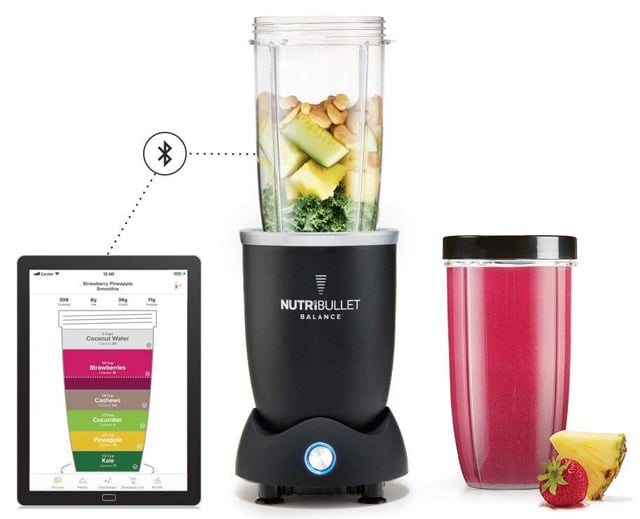 NutriBullet Balance
NutriBullet is known for its line of compact blenders that make morning smoothies an easy, healthy choice. With the app-controlled NutriBullet Balance, now you can see exactly how many calories are in your smoothie as you build it. Choose from hundreds of recipes or build your own. As you add your fruits, vegetables, nuts and seeds, the Balance will weigh each and let you know when you've added enough. If you add less or more than directed, the Balance knows and can adjust the calories, fat, sugar, carbs, protein and more so you know exactly what you're eating. (Check our more gadgets that make healthy eating easy.)
Price: $179.94, on sale for $149.94 on NutriBulletBalance, check price on Amazon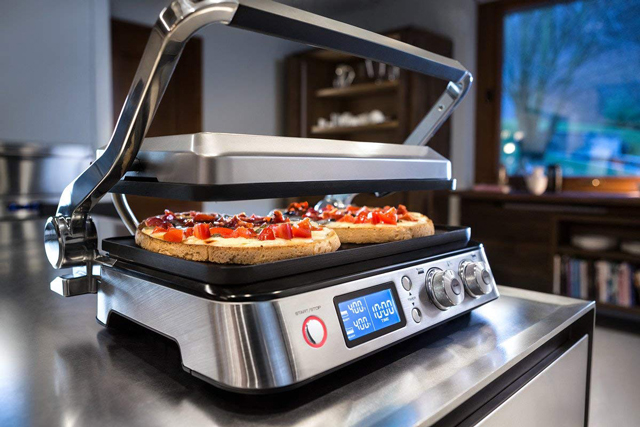 DeLonghi Livenza Digital All-Day Grill
This jack of all cooking trades will satisfy almost anyone—for any meal, snack or craving. The compact indoor grill can easily go from frying eggs to pressing paninis to grilling steaks, all with the quick switch of the swappable, die-cast plates measuring a hefty 14.5 x 9-inches. And because the grill can be positioned flat in BBQ mode with two different sides for frying or closed shut using the handgrip and hinge as a clamshell grill for things like burgers, there's no end to its versatility. A bright, LCD lets you set the temperature using the two, adjustable dials for both or either grill and a timer allows you to walk away and not worry. A set of waffle plates are sold separately but yield fluffy, perfect waffles and a companion app will help you figure out exactly how long to cook different types of food. Did we mention you can throw all the plates in the dishwasher when you're done?
Price: $299.95 on DeLonghi, check price on Amazon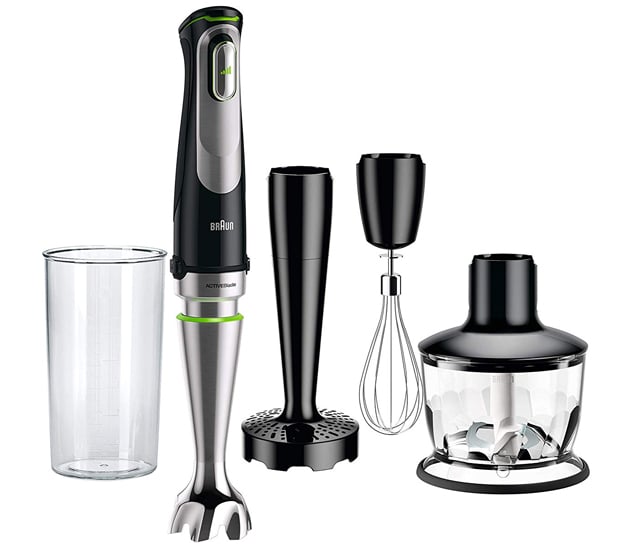 Braun MultiQuick 9
The Braun MultiQuick 9 is a powerful set of tools for all your mixing, chopping and cutting needs. Unlike other immersion blenders of its kind, it uses a 700W motor and ACTIVEBlade technology to create an up and down movement for quicker, finer results—and minimal splashing. Just press a safety button on top to begin, then squeeze another button on the side to blend. Use it for just a few seconds in a smoothie cup or a pot of soup and you've got super smooth results and a clean kitchen to boot. Want to swap out the blender for one of the accessories? The EasyClick+ system lets you simply click on the food processor, which comes with inserts for chopping, French fry, julienning or shredding. There's also a kneading hook for pastry, a masher and a whisk. Need some whipped cream? Less than a minute will yield firm peaks. The perfect gift for anyone who wants to save space or an upgrade to their hand blender. If you don't need a whole system, check out our top pick for the best immersion blender.
Price: $149.95, on sale for $119.96 on BraunHousehold, check price on Amazon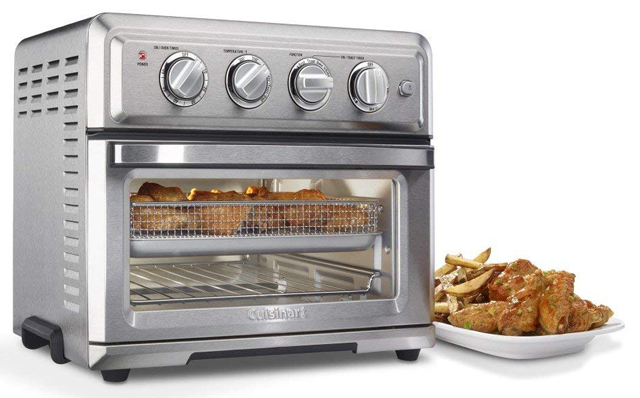 Cuisinart Air Fryer Toaster Oven
Designed like an old school toaster oven, this sturdy, multi-purpose Cuisinart Air Fryer Toaster Oven is a kitchen heavyweight. It toasts, air fries with a minimal amount of oil, warms, convection cooks, and broils—and is big enough to fit an entire chicken, a 12-inch pizza or six pieces of bread. Four dials adorn the front of the 1800-watt oven letting you control temperature (up to 450 degrees), time, toasting and, of course, style of cooking. The timer runs a maximum of 60 minutes and when it's up, the machine will shut down so nothing is overcooked. Accessories in the box include an oven rack, baking pan and airfryer basket. If you don't need the air fryer capabilities, you can save a few dollars and go with our favorite toaster oven, the Cuisinart TOB-260N Toaster Oven.
Price: $199.00 on Cuisinart, check price on Amazon and Walmart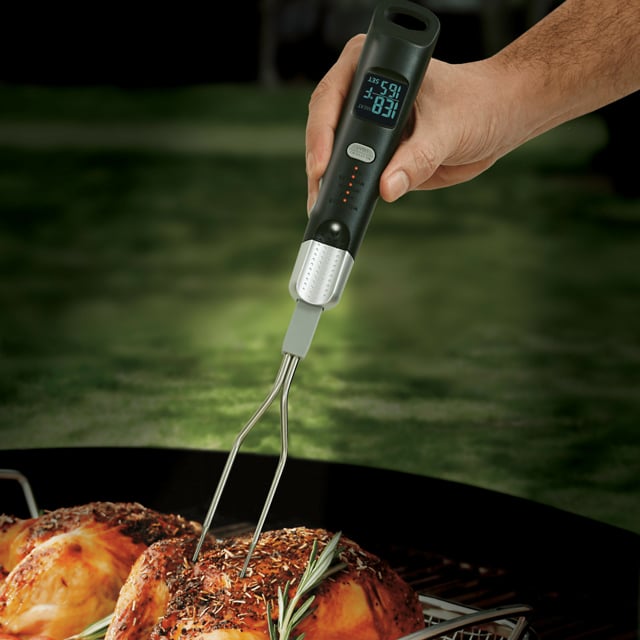 Maverick DF-10 Instant Read BBQ & Meat Thermometer Fork
Stick a fork in it and the Maverick DF-10 thermometer will tell you if it's done. For an accurate read on your meat in less than five seconds, just stick the tines into your food and press a button. A large, brightly lit LCD screen, backlit display and a built-in flashlight make this a perfect outdoor companion and it's even pre-programmed for beef, veal, lamb, pork, chicken and turkey. Toggles easily between Fahrenheit and Celsius. Runs on two AA batteries.
Price: $29.99 on MaverickThermometers, check price on Amazon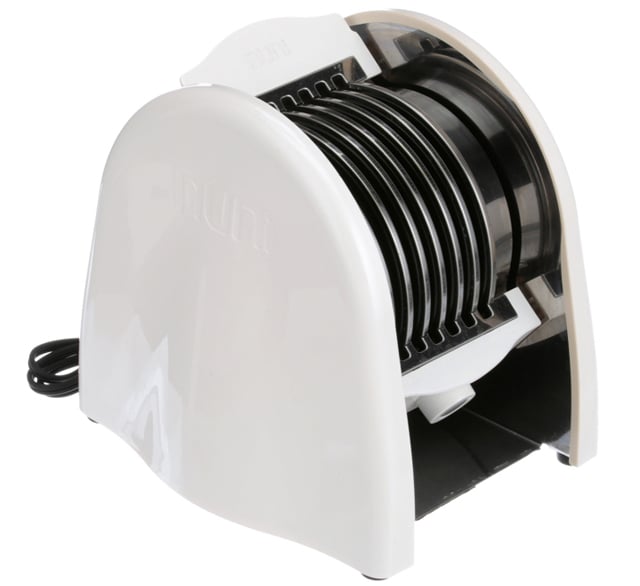 Nuni Tortilla Toaster
If you dream about a better taco night, this first-of-its-kind tortilla toaster is not to be missed. A super specific product dedicated to the ideal of perfect tortillas, the Nuni will warm up to six corn, wheat and flour tortillas on both sides using a rotating-oven, giving them a hot, crispy texture you're not going to get in an oven, conventional toaster or a pan. Just stick the tortillas in the slots and flip a lever to begin the toasting. Sixty seconds later, just flip the switch back and the final product will fall right onto a plate. Perfecto!
Price: $99.00, on sale for $59.99 on NuniToaster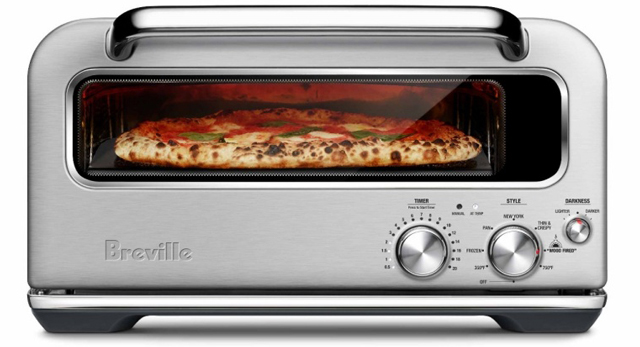 Breville Smart Oven Pizzaiolo
Home-made pizza is not for the faint-hearted. Without a wood-burning oven or some other form of ultra-high heat, it's nearly impossible to get the crust just right. Which is why this upscale, countertop oven, created specifically for home chefs, is a must for the pizza connoisseur on your holiday list. Breville's Element IQ System uses the 1800-watt residential power limit and replicates it to heat up to 750 degrees—much closer to the performance of a brick oven (800+ degrees) than other countertop appliances. It cooks a Neapolitan style pie in two minutes without having to turn it. Pre-sets include frozen, pan, New York, thin, crispy and wood-fired and the removable pizza stone makes it simple to clean up. Want to go rogue and try your own style of pie? Use the three, independent heating controls to heat the bottom crust, toppings and edge of the crust.
Price: $799.95 on Breville or Williams-Sonoma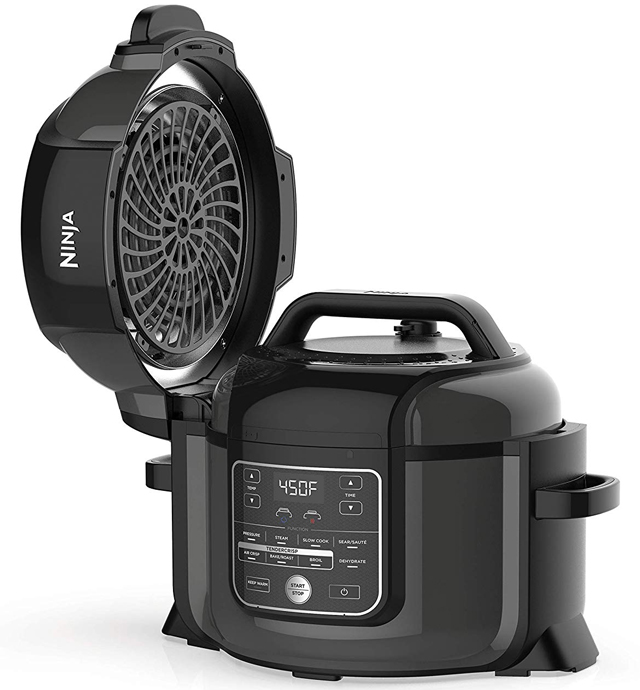 Ninja Foodi
The Ninja Foodi is a one-pot wonder capable of slow cooking, pressure cooking, broiling, baking, roasting, sautéing, steaming and even dehydrating. But it's the TenderCrisp technology which truly differentiates the Foodi, letting you add a golden, crisp finish to your meal, essential for dishes like whole roasted chicken. You can choose from five temperature settings and once it's done, it will keep it warm for up to 12 hours. Best of all, with one pot, there's only one thing to clean up.
Price: $199.80 on NinjaKitchen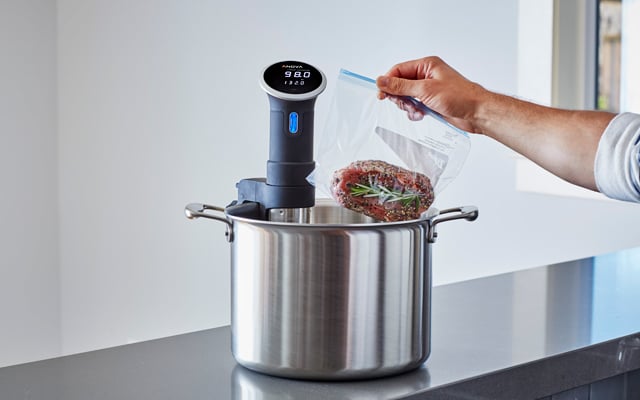 Anova Sous Vide Precision Cooker
If the foodie on your list hasn't tried sous vide cooking, method in which food is sealed in a plastic pouch, submerged in water, and then cooked to a precise temperature, the Anova Sous Vide Precision Cooker is the perfect tool for getting started. The accompanying app is loaded with recipes for you to try and you can set and monitor temperature remotely.
Price: $159 on AnovaCulinary, check price on Amazon
[Image credit: NutriBullet, Braun, Breville, Cuisinart, DeLonghi, Maverick, Nuni Toaster, Ninja, Anova Culinary]
---
Discussion