We may earn commissions when you buy from links on our site. Why you can trust us.

Last Minute Gift Ideas for the Hard to Shop For
Haven't finished your holiday shopping yet? You're not alone. The Consumer Technology Association (CTA) found 1/3 of U.S. adult holiday shoppers (34 percent) say they've still got a lot more shopping to do. If you're still stumped on gift ideas for those hard to shop for people on your list, we rounded up unique products to help get your shopping list finished.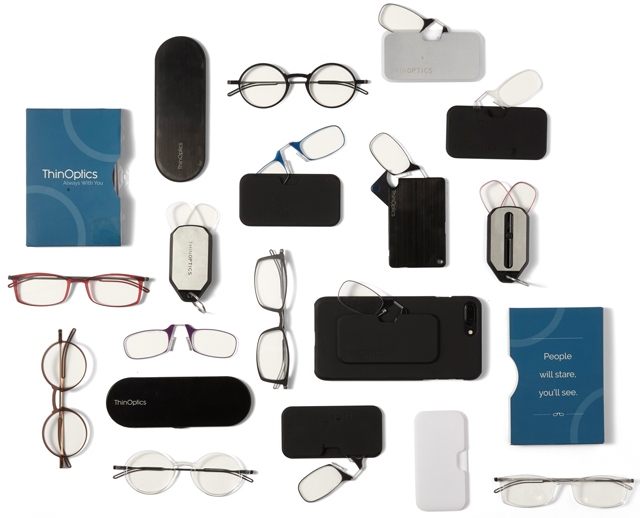 For the person who always forgets their glasses
For the person who always misplaces or forgets their reading glasses and then can't read the menu in a dimly-lit restaurant, give the gift of clear vision when they need it. ThinOPTICS readers are small, bendable readers that perch on the bridge of your nose. They're flexible and so lightweight you carry them around in a small case attached to your phone so you always have them with you. The readers come in four different strengths and the cases come in fun, colorful designs. Since you most likely take your phones everywhere, you'll always have your readers with you.
ThinOPTICS also introduced a line of full frames which come in different styles, strengths and colors, and have an ultra-slim case.
Price: starting at $20 on ThinOptics, check price on Amazon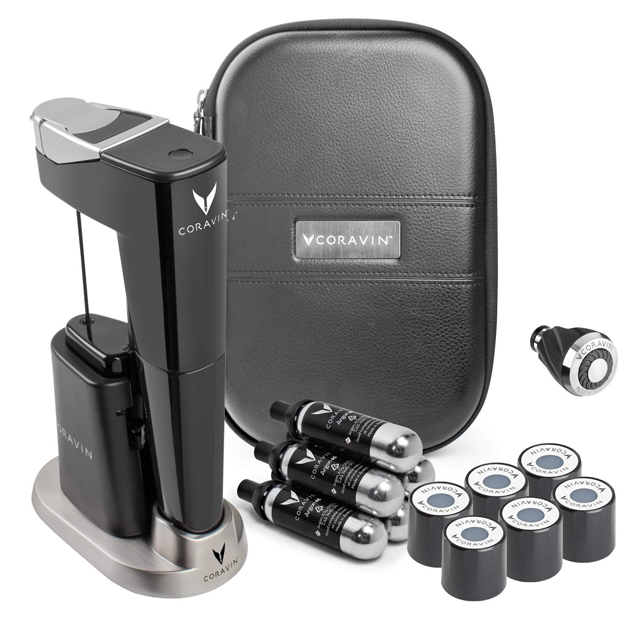 For the wine aficionado
If your significant other likes red wine and you prefer white, or if you're saving that special bottle of wine for when you can drink the whole thing, you'll want to check out Coravin Model Eleven. It's a device that lets you pour wine by the glass, so you don't have to open that nice bottle of wine, only to have it go bad if you can't finish it.
Place the device over a bottle of wine which plunges a needle into the cork. Then you pour out as much as you like. The capsules in the device contain argon gas which is pushed into the bottle as you pour, so no oxygen gets into the bottle. When you pull out the needle, the cork reseals itself.
If that isn't clever enough, it also connects to a smartphone app via Bluetooth and offers pairing suggestions, while keeping track of your wine collection. While the Coravin Eleven is as pricey as some rare bottles of wine, the company makes less expensive models with the same wine preservation technology but fewer extra features starting at $199 (check price on Amazon).
Price: $999 on Coravin (models from Amazon ship in time for Christmas)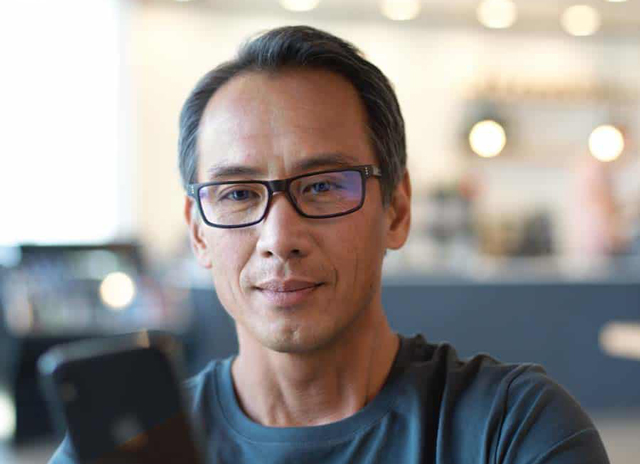 For the screen queen (or king)
We all know someone who spends much of the day looking at a computer screen at work or at school, then using a smartphone or tablet at home. You probably heard (more than a few times) that too much of the blue light emitted from those digital devices is bad for your eyes. Experts say in addition to eye strain, it causes dry eyes, headaches, blurry vision and can lead to other issues down the road. GUNNAR Optiks makes computer glasses with special technology in the lens that blocks that blue light, making your eyes not have to work so hard. These are great for students, friends who work on a computer all day and video gamers. If they wear reading glasses, GUNNAR has Blue Light Reading Glasses in magnifying powers ranging from +1.0 to +3.0 and come in amber and liquet (lighter) lens tints.
Price: $49 to $99 on Gunnar, check price on Amazon (ships in time for Christmas from Amazon)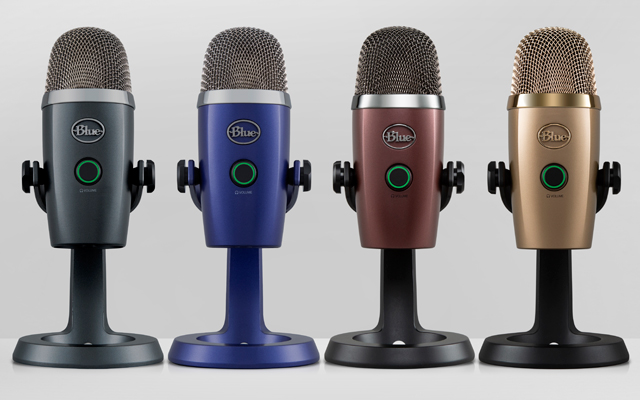 For the YouTuber or Podcaster
Have a kid who loves making YouTube videos? A gamer friend who streams on Twitch? The Blue Yeti Nano is a pint-sized USB microphone with big broadcast quality sound, perfect for gamers, podcasters or any content creator. Plug it into the USB port on your Mac or PC and you'll get production quality audio. You can use it with audio or video recording such as Garage Band, Audacity, iMovie and more, and Its compact size makes it great for fitting on a crowded desk. It has a metal finish and comes in four fun colors.
For more options, read our story on essential tools for bloggers.
Price: $99 on BlueDesigns, check price on Amazon (ships in time for Christmas from Amazon)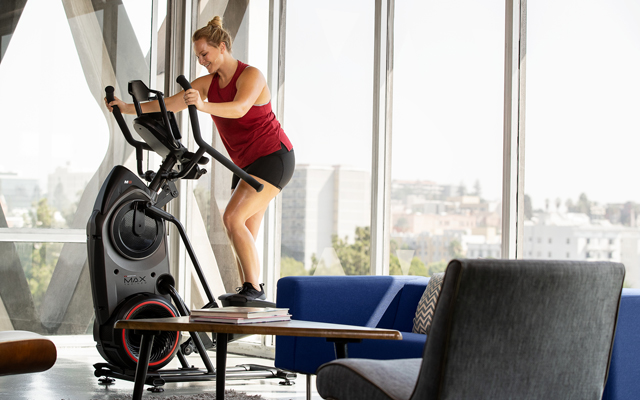 For the fitness fan
If you have a fitness fan on your list, help them get to the next level with a Bowflex Max Trainer cardio machine. These full-body cardio machines, combined with the Max Intelligence app, come about as close to having a personal trainer in your home as you can get. The Max Trainer M6 and M8 machines use an artificial intelligence platform to assess your fitness level and then provides custom workout plans to meet your goals. With a monthly subscription ($149 per year or $14.95 per month) you get a personal training plan tailored to you; choose how often you how long you like to work out, and whether you want a customized workout or prefer trainer-led videos. Or both. The best part is the guidance and motivation encouraging you to step up to the next level when you're strong enough. The M8 is also available as part of an M8 Performance Pack, which comes with a customized Samsung Galaxy Tab E tablet, a Bowflex mat and an armband heart rate monitor.
Price: $2,299 on Bowflex. Use the code HOLIDAY to save $300, plus a free mat and free shipping. If $2,299 is too pricey, you can also pick up M6, which doesn't have the tablet and 16 levels or resistance versus 20 levels for $1,699 (use the code HOLIDAY to get $200 off, plus a free mat and free shipping). Discounts are good through 12/25/2018 at 11:59 PM PT, but does not ship in time for Christmas.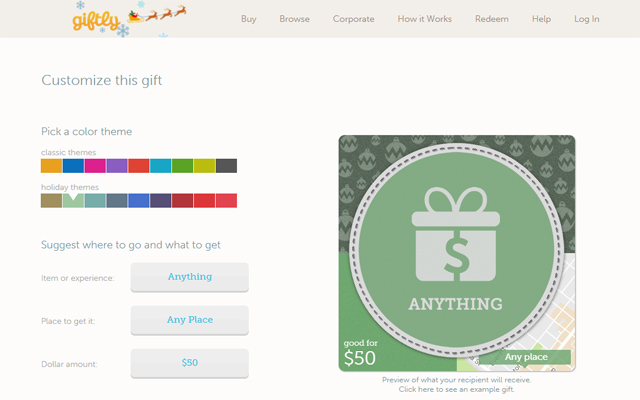 For the person who likes to pick out their own stuff
Gift cards may seem like an easy way out, but with Giftly, you can pick any merchant, including restaurants, stores and venues, and suggest how to spend the money. Giftly isn't a gift card for a particular store. Instead, Giftly is more like giving cash in that gift recipients to choose how they'd like to get the money: as a gift card or as a credit to their debit card, credit card, bank account or PayPal account. That's flexibility an ordinary gift card just can't match.
Giftly gift cards are sent as by email or text message, or you can print a paper card. Customize your card by picking the color and theme of the card, and choosing item art (anything from buying a cupcake to spending a day at the beach) or upload your own. If you're suggesting shopping at a specific place, Giftly includes a map as well.
While recipients are still welcome to spend the gift however they'd like, Giftly makes gift cards feel personal again. They even give recipients an easy way to respond by telling you how they spent your gift.
[Image credit: gift giving via BigStockPhoto, Bowflex, Blue Designs, Gunnar, Coravin, Thin Optics, Giftly]
---
Discussion