We may earn commissions when you buy from links on our site. Why you can trust us.

Stop Home Disasters Before They Happen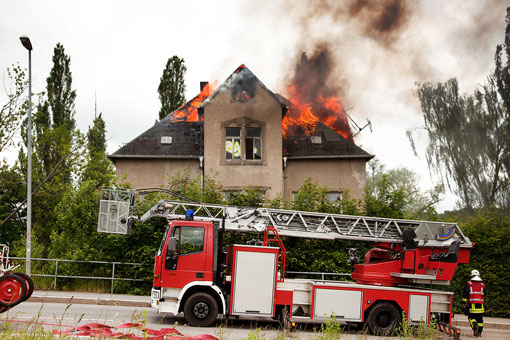 Whether I'm traveling or anticipating the arrival of guests, I worry something will happen while I'm gone. Did I forget to turn off the iron? Will my guests arrive while I'm out picking up more milk?
With a smartphone or computer I can easily allay these fears by checking on that iron or even unlocking the door. In fact, there are products that provide remote control or monitoring of most of the important systems in a home. Better yet, you can install most of these yourself.
Wireless video monitoring camera
Do you want to make sure the neighbor fed your fish, that packages aren't sitting on your front porch or that Fido isn't sitting on the sofa again? With a wireless video-monitoring camera, you can perform a visual check on your home while you're away. The new Dropcam Pro is a good choice with its 130-degree field of view and ability to digitally pan and zoom (8x) in on a scene. Plus, it has enhanced night vision and two-way audio communication (for chastising Fido or otherwise). Video is encrypted and can be saved, based on your needs.
If you want to take your Dropcam Pro to the next level, take a look at the $29 Dropcam Tab wireless movement sensors. They attach directly to your door or window, sending an alert to your smartphone if someone opens or closes one. They're also rated for outdoor use, so you can attach them to a gate or garage door if you'd like.
Price: $199.00 on dropcam.com, $199.99 on amazon.com
Remote control electrical outlet
Plug any device into the Belkin WeMo Home Automation Switch and you can turn it on or off with your iOS or Android device. So you can make sure the iron is off and the front lights are on wherever you happen to be. You can also set the WeMo outlet to work on a schedule, turning on or off at certain times of day.
Price: $49.99 on belkin.com, $49.95 on amazon.com
To automate hardwired light fixtures, you'll need a Belkin WeMo Light Switch instead. It looks and functions similar to a standard wall light switch, but also adds the same kind of functionality you get from the Home Automation Switch. The only catch is that you'll need to do a bit of wiring to install it (or pay an electrician do it for you).
Price: $49.99 on Belkin.com, $44.00 on amazon.com
Remote control thermostat
There's no need to turn down the thermostat when you leave town for the weekend. The Nest thermostat has sensors built-in so it knows when you're away and will autmoatically go into energy-saving mode. You can also turn up the heat remotely with your iPhone or Android phone so your home is just the right temperature when you arrive. And best of all, it learns your preferences as you use it, eliminating the need to deal with complex scheduling.
Looking for an even smarter smart thermostat? Check out the Honeywell Lyric. The Lyric automatically turns your heat or air conditioning on based on the GPS location of your phone. If you've got a schedule that fluctuates wildly, the Lyric can make sure your home is the perfect temperature the moment you step through the front door, whenever that happens to be.
You'll need to wait until August to pick up the $279 Lyric. The Nest, meanwhile, is available now wherever home improvement goods are sold.
Price: $249 on nest.com or amazon.com
Water and flood alert system
Will the leaky pipe you just fixed in the upstairs bathroom hold over the long weekend? With the Wally Hub, wireless sensors will monitor for changes in humidity and temperature under the sink, next to the hot water heater or by any other appliance or pipe you're worried about. An included smartphone app will let keep an eye on all your sensors at once, with mobile alerts delivered the moment a change in wetness is detected. With Wally, you can address small problems before they turn into a catastrophic ones, even when you're away from home.
The Wally Hub comes with 6 sensors included for placement around your house. Additional sensors are available at WallyHome.com for $35 each, or 6 for $199.
Price: $299.00 on WallyHome.com
Smartphone garage door opener
Did you remember to close the garage door? Eliminate any question with new Chamberlain MyQ Garage System, a simple-to-install add-on to most major garage door systems made after 1993. It connects to your home WiFi, letting you use your smartphone to check whether you left the door up no matter how far you travel from home. And as we mentioned in our Father's Day Gift Guide, the device can also deliver alerts to your phone whenever the door opens, letting you know exactly how long past curfew your teenager stayed out.
Price: $110.49 on amazon.com
Remote control door lock
Expecting guests to visit while you're away? You could hide a spare house key under the welcome mat, but that's pretty dangerous — that's the first place most thieves look. Instead, take a look at the Kwikset Kevo powered by UniKey, a deadbolt that can be unlocked with a key, an included Bluetooth key fob or a Bluetooth capable smartphone. Giving guests access to your home is as simple as using the Kevo app to send a digital key to their phone. You can choose to receive alerts when keys are used, and digital keys can be retrieved when the visit the visit is over.
In Techlicious's review of the Kwikset Kevo, we discovered the lock can be installed in 15 to 20 minutes. It's powered by four AA batteries, which will need to be replaced about once a year.
Price: $219.00 on amazon.com
Smart Smoke/Carbon Monoxide Detector
Having a working smoke and carbon monoxide detector in your home or apartment isn't just smart safety sense. In many places, it's the law. Get in compliance with the First Alert ONELink Carbon Monoxide and Smoke Detector with Voice. Should the detector sniff out smoke or a dangerous quantity of CO gas, an audible voice alarm will sound. And if you pair the device with an optional INSTEON Smoke Bridge and INSTEON Hub, you can have email or text message alerts sent directly to your phone. The system can even be set up to turn your home's lights on in case of fire emergency, so you won't need to worry about fumbling through the smoke.
Price (First Alert ONELink): $69.99 at smarthome.com, $61.75 at amazon.com
Price (INSTEON Smoke Bridge): $34.99 at smarthome.com, $34.99 at amazon.com
Price (INSTEON Hub): $129.99 at smarthome.com, $129.99 at amazon.com
[house fire with firefighter via Shutterstock]
---
Discussion