We may earn commissions when you buy from links on our site. Why you can trust us.

The Best Sleep Tracker
Sleep trackers come in four basic varieties: apps that use sonic feedback via your smartphone's microphone to track your sleep-related vitals; wearable sensors for your wrist, finger or forehead; under-mattress sensor pads; and, smart beds with built-in sleep tracking technology. Over the last couple of months, I've been experimenting with these various sleep-tracking solutions, and five criteria emerged as the best way to choose the best sleep tracker.
Criteria for picking the best sleep tracker
1. Worry-free tracking: The last thing you need to worry about before going to sleep is, well, one more thing to worry about before going to sleep. So, I sought a sleep tracker that required as little interaction as possible, both before bedtime and after. That requirement sidelined the the bedside monitors (like the ResMed S+) and sleep apps.
2. Low impact on you and your space: You don't want to have to make room on your night table for yet another gadget (one reason why the popular ResMed S+ wasn't included). So, I sought a sleep tracker that required as little physical space as possible and had the least impact on your sleep environment.
3. How easy it is to use your data: Sleep trackers and their associated apps track and report on a variety of biomedical data such as heart, breathing/respiration rate and blood oxygen levels, along with how long it takes you to fall asleep, how much light, deep and REM sleep you get, how often you wake up, and how much snoring you do. Along with these sleep specs, you often get a comparative sleep score or efficiency number, as well as advice to help you adopt appropriate behaviors to improve your shuteye. Caveat emptor: no over-the-counter sleep tracker has been approved by the FDA as a diagnostic device, which would require 90 percent accurate when compared to tests using an EEG and interpreted by a trained sleep technician. So you will not be able to use your sleep tracker to diagnose a medical condition, but rather see trends that you can share with a medical professional for evaluation.
So, I looked at how easy it is to view your sleep data and gain insights, plus if the tracker works well with other gadgets. I wanted a tracker that delivers data and insights rather than having you seek them out. And, I looked for trackers that could combine sleep data with other waking activity, fitness, and biomedical data collected by other trackers or apps to form a more complete waking/sleeping health profile.
This criterion ruled out activity trackers, like the Fitbit Inspiure HR and Garmin Vivosmart 4 track sleep, which bury results in other data and provide little sleep analysis. And, a lack of analytics nixed the Emfit QS.
4. Reviews by professionals and consumers. I also considered whether products received positive reviews from professional and consumer reviewers. Unfavorable reviews crossed the Apple Beddit 3.5 off our list.
5. Price and value. I weighed the price, both for hardware and potentially additional premium service subscription fees. Price ruled out the more expensive solutions that replace your whole bed or bed frame, like the Tempur-Pedic Tempur-Ergo Smart Base, Sleep Number IQ line, Magniflex Smartech, Duxiana Dux, and Mattress Eight Bed and Pod.
In the end, I found four trackers that met my criteria, the Beautyrest Sleeptracker under mattress tracker, Withings Sleep under mattress tracker, Oura ring, and Beddr headgear. After putting these products to the test for a few months, the Oura ring emerged as the best sleep tracker.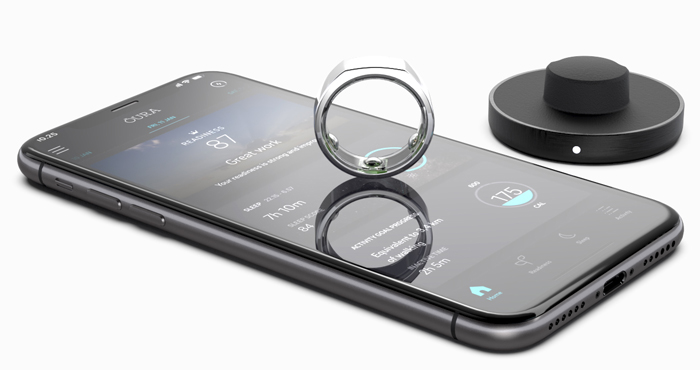 The Best Sleep Tracker: Oura

We wear rings to bed, which makes Oura – a ring fitness wearable – the most comfortable wearable for documenting your snoozing habits. And unlike wrist-worn fitness bands, Oura is sleep-centric with "Sleep" being one of the four ever-present Oura app menu choices.
Built into the ring are a body temperature sensor, infrared lights to measure blood volume and a 3D accelerometer and gyroscope to measure movement. Once you receive the silver titanium Oura, you'll find it's a smidge thicker than a wedding band.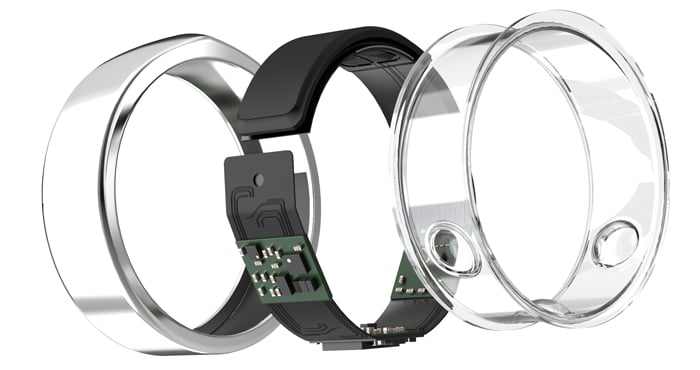 Oura's app reports a wealth of both numerical data and "sleep contributors" information including sleep efficiency, restfulness, latency (a fancy term for the time it takes you to fall sleep) and timing, each of which is explained along with suggestions for improvements based on your tracked data. Oura also integrates sleep data with your other fitness factors, including heart rate and body, to create a "readiness score" that "helps you identify the days that are ideal for challenging yourself, and those that are better for taking it easy," according to the app.
Oura's biomedical accuracy has been endorsed by the Rockefeller Neuroscience Institute at West Virginia University, which reported that, in preliminary testing, Oura "is showing accuracy of heart rate variability that matches or exceeds other commercial EKG based sensors…" and that "[f]eedback from both athletes and military personnel continues to be overwhelmingly positive" thanks to Oura's form factor.
Starting at $299, Oura is around three times the price of other sleep-tracking wearables. After you order one, the company first sends you a box of plastic rings from size 6 to 13 to try on, so you get a good fit – no half-sizes, sorry. That's important because Oura is size-sensitive and needs good skin contact to track you.
The Oura is both good-looking, and it's completely waterproof up to 100 meters, so you need not remove it except to charge it on its jewelry-like Qi wireless-charging stand. Oura only takes around an hour to charge fully, and its battery lasts up to a week. And since Oura is worn on the body, and thanks to the Rockefeller Institute report, I feel more confident that the bio-medical data it collects and reports is more accurate than the other sleep tracking devices I tried. Oura's sleep-centricity, its app's ease of navigation, its doubling as a less obtrusive fitness band, and its finger-wearing convenience and comfort make it our pick for the best sleep tracker.
Available on OuraRing starting at $299.
How the other sleep trackers stacked up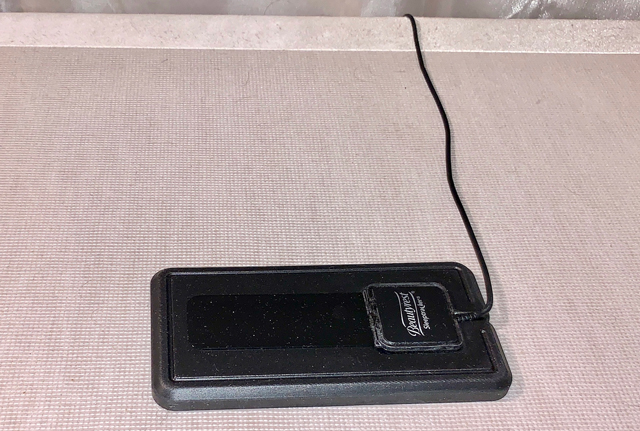 Sleeptracker from Beautyrest
Beautyrest's Sleeptracker actually is a double-tracker – you get separate under-mattress pads for both yourself and your sleeping partner. Like any under-mattress tracker, Sleeptracker requires no nightly activation or recharging. Just slip it under your mattress, plug it into AC, pair it via Wi-Fi with the app, and go to sleep. Your snoozing is automatically tracked, no further fuss or bother.
You get your results not only in the Sleeptracker app (for iOS and Android), but the company helpfully sends you a daily email report. This report includes cleverly-presented insight and advice on your nightly slumber statistics from its AI Sleep Coach ("Goals just wanna have fun: So far this month, your average sleep has been trending closer to your goal of 6 hours"), Wellness Holistic Sleep Improvement Tips, and AI Community Insights, which compares your sleep results with anonymous data collected from other users. For instance, I received this insight I got the other night: "You slept 6 hours 32 minutes last night. That is 39 minutes less than people similar to you." Or, when paired with Amazon Alexa, you can simply ask your Echo for your sleep status stats.
The app also includes a Sleep Cycle alarm, a white noise generator with a choice of around two dozen nature and ambient sounds to help you fall asleep, and you can set up a nightly customized bedtime reminder. While the app is free, the premium version ($29.99/year after a 30-day free trial) provides extended and dizzyingly detailed daily personalized sleep data analysis, along with access to your entire tracked sleep history.
Sleeptracker doesn't pair with any other health app, so your resting results don't get folded into your general health profile, like the Oura ring or Withings Sleep (see below). But for those who want to know how they (and their partner) sleep, with as little work from you as possible, Beautyrest's Sleeptracker is our top sleep tracking choice.
I had initially chosen the Beautyrest Sleeptracker as our top choice for sleep monitoring, finding it to be less obtrusive, more worry-free and more interactive than the others. However, Sleeptracker no longer appears on the Beautyrest web site, and all attempts to contact Beautyrest about its continued availability have failed. Sleeptracker is still available to purchase on Amazon ($199.99, check price on Amazon), and we expect Beautyrest to continue supporting the product for some time, especially since Beautyrest's other smart products use the same app.

Withings Sleep
The big benefit of the under-mattress Withings Sleep tracker pad is its potential integration with all of Withings other smart health products – scales, smart watches, fitness trackers, blood pressure monitors, et al. – along with the more than 500 IFTTT (If This Then That) smart products. With IFTTT integration, you can trigger a variety of home automation scenarios, such as having all the IFTTT-compatible lights go out, the bedroom shades dropping, and front smart lock locking, all by just by getting into bed.
Withings' Health Mate app provides the usual nightly sleep stage data along with heart rate and helpful details on "breathing disturbances," but warns you that the pad is not a diagnostic tool and to see a doctor if you have any concerns. You also get measurements of the length of and your heart rate during naps, and provides details on snoring "events" – how many times, the length of each snoring episode, your total snoring time, and the percentage of your snooze you spent snoring.
There are two main reasons why I prefered the Beautyrest Sleeptracker over this Withings pad. Sleeptracker's double pad simultaneously tracks both you and your bed partner, so you don't get false readings from your partner. And, you get daily email delivery of your nightly sleep data. But if you're a smart home nerd, the Withings does better integrate with other Withing health devices and home control activities.
Available on Withings for $99.95 (check price on Amazon)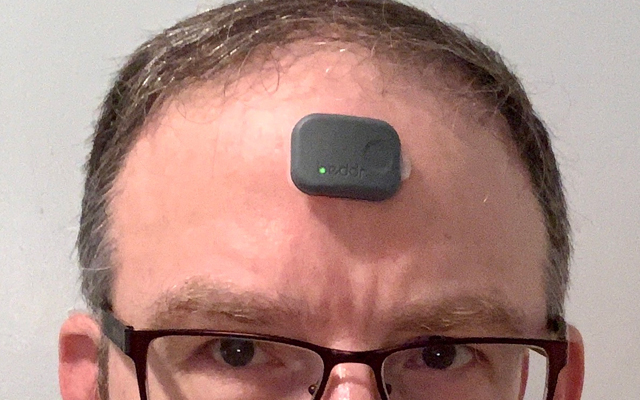 Beddr Sleeptuner
My wife started calling me "cyborg" after seeing me with this 1.25 x 1 x .25-inch gray gizmo, and its glowing red LED literally stuck to my forehead. Unlike the other wearables I've tested, the Beddr SleepTuner, which you stick to your forehead, is a dedicated sleep tracking device geared towards people who suspect they may have breathing issues. Beddr has been rated by the FDA as a Class II "wellness oximeter" medical device, with accuracy "verified in our hypoxia study at UCSF," according to Beddr co-founder and CEO Michael Kisch.
Available only for iPhone, Beddr specializes in tracking blood oxygen levels, eschewing all the light, deep and REM sleep level data tracked by everyone else. That's because a mere three percent drop in your blood oxygen level, controlled by respiration, is "generally very predictive that a person may be at risk for a sleep disorder like apnea," Kisch explains.
Kisch says that a drop in blood oxygen saturation also correlates with an increased heart rate, which makes your whole cardiovascular work harder, which could lead to more serious health issues. And although some sleep trackers do track respiration, respiration rate by itself can be impacted by many factors, so isn't necessarily by itself useful for predicting or detecting a sleep disorder. Bearing all this in mind, Beddr is developing an advanced version to include an airflow sensor designed to provide more insight into the breathing and oxygen interaction that'll hopefully receive full FDA approval as a diagnostic device.
Beddr requires double-sided stickers – one side sticks to the device, the others side to your forehead, one sticker a night, which means you'll need to subscribe to receive a steady supply ($9.95 for a 12-pack). You are instructed to wash and dry your forehead before pressing the Beddr into place – a day's worth of skin oil and grime prevent a firm stick. But despite following all of the instructions and taking the suggested precautions, my Beddr fell off around 10 percent of the time (Beddr says the average is three percent). The Beddr's algorithms take into account these data aberrations and strip them from your cumulative results, and the Beddr app (iOS only for now, you can sign up to get notified when Android is available) better presents your data in context and allows you to eliminate data from nights when Beddr becomes unstuck.
One problem remains: looking like a cyborg while you sleep.
Available on BddrSleep for $149.00.
[Image credit: Sleep tracking concept via BigStockPhoto, Oura, Stewart Wolpin/Techlicious]
---
Discussion