We may earn commissions when you buy from links on our site. Why you can trust us.

The Most (and Least) Reliable Digital Camera Brands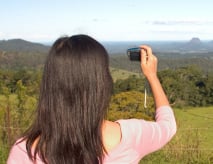 When shopping for a camera, reliability should be a key consideration. The last thing you want is to be on a vacation or a wedding and have your camera die on you. But how do you know which cameras are the most reliable?
Well, SquareTrade, the largest independent warranty provider, is coming to the rescue with the results of their massive study of digital camera failure rates. The study examined customer reported failure data, from a sample of over 60,000 new digital cameras purchased since 2006 by SquareTrade warranty customers.
In its study, SquareTrade found that almost 11% of digital cameras fail over the first 2 years of ownership, with roughly 60% of failures coming from malfunctions and 40% from accidents. But, there were big differences in reliability between manufacturers and across price points.
Not surprisingly, the least expensive point-and-shoot cameras were also the least reliable, while expensive DSLRs tended to be the most reliable. Cameras under $150 had malfunction rates of 7.4% during the first two years, while those from $150-300 were close behind at 6.8%.
Above $300, though, camera malfunction rates fell significantly to 4.8%, making them about one-third less likely to fail as cheaper cameras. Cameras over $500, nearly all of which were DSLRs, were the most reliable, with only 4% malfunctioning over two years.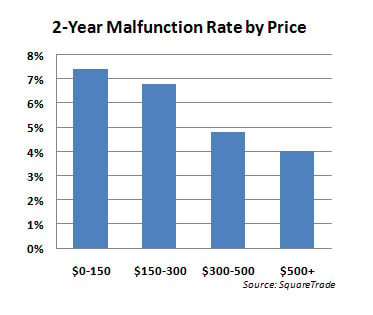 Among manufacturers, Panasonic clearly stood out as the most reliable. For point-and-shoot cameras under $300, Panasonic cameras had the lowest 2-year malfunction rate (5.3%). The brands with the highest rate of malfunction in the study are Polaroid (nearly 12%) and Casio (13%) – more than double the rate of Panasonic and most of the other top brands.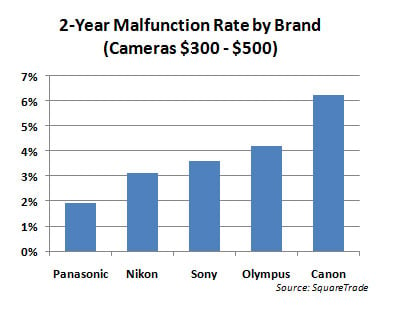 For cameras in the $300 and $500 range, Panasonic was also the most reliable, with less than 2% malfunctioning within two years. Canon's cameras were the least reliable amongst the five brands with a 6.2% malfunction rate – more than 3x Panasonic's.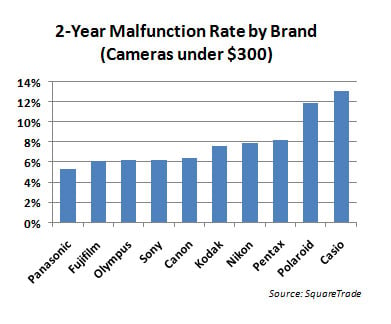 For DSLR Cameras, Nikon and Canon were equally reliable with a 4% failure rate. Unfortunately, SquareTrade did not have enough data to analyze other brands.
So when you're shopping for a new camera, keep these stats in mind. And remember, when it comes to digital camera reliability, you get what you pay for.
---
Discussion