We may earn commissions when you buy from links on our site. Why you can trust us.

There's No Such Thing as an LED TV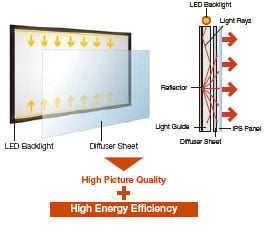 by Panasonic
Despite all the hoopla, LED is not a new type of flat screen technology. LED is simply the latest – and most significant – advancement in old LCD HDTV technology.
LED refers to the backlighting used to illuminate the LCD pixels – think of photographer's lightbox, or holding an old Viewmaster up to the light to better view the images. LED replaces old CCFL (cold cathode fluorescent lamps) backlighting and boost LCD brightness, contrast and color.
There are two types of LED backlighting: edge and local dimming, each with its pros and cons.
Local dimming means there are "zones" of LEDs spread behind the screen, allowing almost pinpoint control of what areas of the screen get brighter or darker, depending on how many "zones" and what's on the screen. But local dimming done poorly can produce "blooming" – areas of brightness that bleed into nearby dark areas, killing contrast and distorting the color.
Edge backlighting means that LEDs are installed around the outer edges of the display with light projected toward the center, which means backlighting can appear uneven, often unnaturally brighter around the edge and dim in the center. Edge-lit LED LCDs, however, enable makers to produce thinner, sexier sets, often less than an inch thick.
Some may ask why we need a TV that's only an inch or so thin – when, exactly did 4 inches become "fat" for a TV? For one thing, a thin LED HDTV is lighter than other HDTVs, which means it can be hung with steel wire, just like a painting, making your TV appear as if it's floating on the wall.
Plus, in an increasingly green-conscious world, LED is the most energy efficient and long-lived LCD backlighting technology available.
Bottom line: LED HDTVs aren't new, but represent a vast improvement in LCD HDTVs.
---
This article was brought to you by Panasonic
Discussion