We may earn commissions when you buy from links on our site. Why you can trust us.

Go Hands-Free with Our Favorite Touchless Trash Cans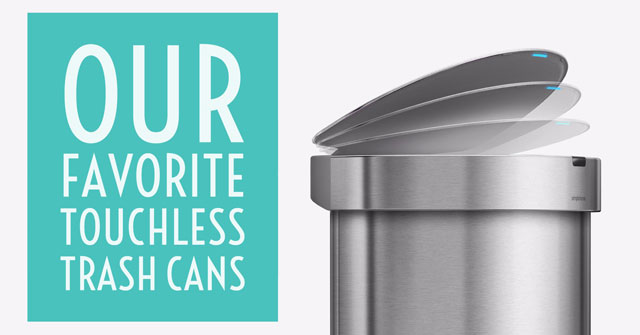 Your kitchen trash can offers a good place for bacteria to flourish, not to mention everyday dirt. Fortunately, you can keep your hands well away from the bad stuff with a hands-free trash can.
Some touchless trash cans do the job with a pedal you press to pop the lid open. New high-tech trash cans can tell when you're getting close and open the lid automatically. Because you don't have to touch these trash cans except to change the bag, there's less chance of spreading grime around your kitchen.
Before we dig into the high-tech features of these thoroughly modern trash cans, let's take a look at the features you should consider before you buy.
Size A standard kitchen trash bag holds 13 gallons, the most common size you'll find for a freestanding kitchen trash can. If you're looking for a smaller can to fit in a pantry or cupboard, look for bags in 7- and 4-gallon sizes (though we would call 4 gallons undersized for a kitchen).
Material Stainless steel won't absorb odors like plastic cans can, though you'll still want to clean them regularly to be sure no smelly trash residue is left inside.
Power Automatic cans typically use batteries, but the battery type and how long they last varies.
Ease of use Is the lid easy to open? If it's automatic, does it detect motion accurately? Is it easy to get trash bags in and out?
Security You may not think about security of your trash, but you want a trash can with solid construction so nothing will leak on the kitchen floor if a bag breaks. A can pets and kids can't easily get into is an important feature for homes with dogs and young children.
Now that you know what to look for, let's take a look at the best touch-free trash cans on the market.
Nine Stars Infrared Touchless Trash Can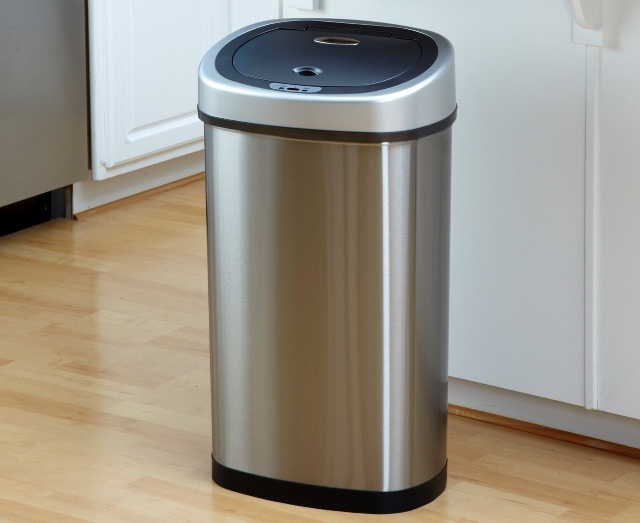 While this Nine Stars can is a jump in price from the basic Rubbermaid option, it's the best value you'll find for a trash can that opens automatically. Still, at $50, it's quite a bit pricier. The Nine Stars is a 13-gallon stainless steel trash can with a wide, oval lid that makes it easy to toss bulky items. The brushed stainless steel surface is fingerprint-resistant, and the lid is plastic for easy cleaning.
An infrared sensor detects motion and opens the lid automatically when you approach. The lid closes again three seconds after you move away. When you'd rather not have it automated — for example, if you're leaving the house and don't want the dogs opening it by accident — you can turn it off and use it like an ordinary trash can. A handle on top of the lid makes it easy to open even when the automatic opening feature is disabled. The can runs on three C batteries, which should last up to six months with normal use.
Want something a little smaller? Nine Stars offers 2-gallon ($27), 3-gallon ($33) and 6-gallon ($39) cans that are ideal for smaller spaces. The 13-gallon size is just right for the average kitchen.
Price: $49.30 at Amazon
iTouchless Deodorizer Automatic Sensor Trash Can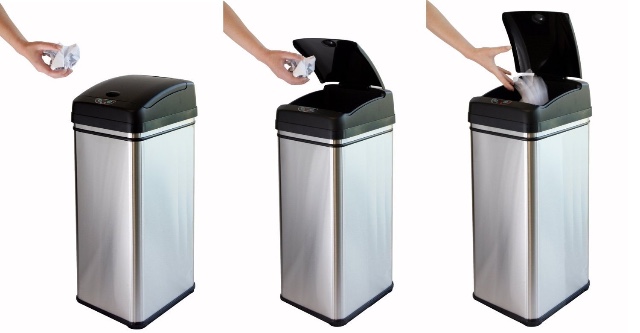 This trash can from iTouchless is similar to the Nine Stars model above, a 13-gallon stainless steel can with a fingerprint-resistant finish and a plastic lid. However, iTouchless adds an antimicrobial coating to the outside of the can and an odor filter. The active carbon filter is built into the can itself to absorb odors and avoid garbage can stink. While you could certainly do this yourself using baking soda or air fresheners, it's a nice feature to see built in to the can itself.
As you might have guessed, the deodorizing power of the iTouchless comes at an extra cost. The can itself is about $10 more expensive than similar cans, and you'll have to replace the carbon filters every three months for about $10 each. That could buy quite a lot of air freshener, but it's certainly a convenience.
The automatic opening works just as you'd expect. When you place your hand six inches from the iTouchless, the lid opens. When you move away, it closes again. A power button on the back lets you deactivate it, preventing dogs and kids from getting into the trash, while buttons on the top of the can allow you to open the lid with a press and close it with a second press. It's powered by four D batteries that will last up to a year. You can also plug this can into the wall. The A/C adapter is sold separately for $22.
If you're looking for a smaller model, iTouchless also offers 2-gallon ($40), 4-gallon ($50) and 8-gallon ($62.93) models.
Price: $59.98 at Amazon
Simplehuman Semi-Round Sensor Trash Can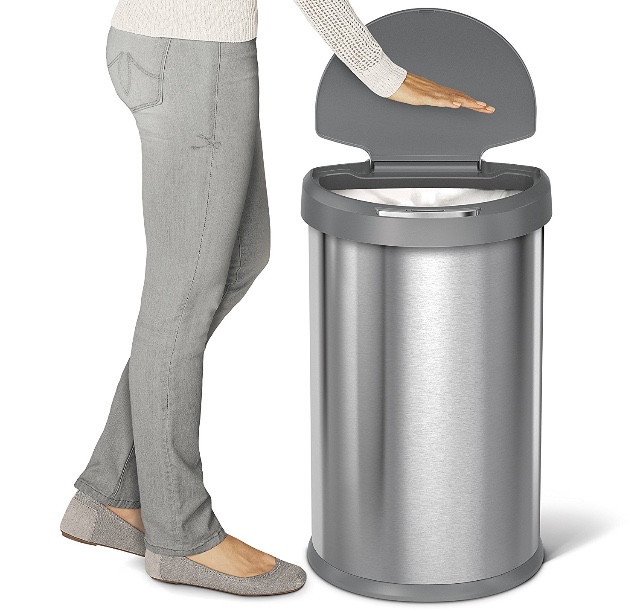 While this Simplehuman can is a big jump in price from the rest of this list, what you're paying for is reliability. On the surface, this can is very similar to the rest of the lot. It's a slightly smaller 12-gallon, fingerprint- and germ-resistant stainless steel can with a plastic lid. You may have already noticed an oddity here: Simplehuman's cans are slightly smaller than the rest of the bunch. While they're certainly large enough to handle the trash from an average kitchen, standard 13-gallon bags are a little large and won't fit perfectly. Simplehuman resolves this by offering its own custom-fit trash bags; while they're good bags, you may not care for the extra expense.
The biggest difference between Simplehuman's cans and the rest is the motion sensor, which is less likely to trigger accidentally than the Nine Stars or iTouchless models. The sensor faces up, so it should never accidentally pick up someone walking by or a dog nosing at the can. Just wave your hand over it, and the lid opens. It's not quite as quick to open as other models, but not opening accidentally is a big plus.
If you're willing to spend more, Simplehuman's high-end sensor trash can ($150) adds an improved motion sensor with both a top sensor and a front sensor used in concert to tell the can when to close the lid. A wave of your hand opens the lid, but the front-facing sensor knows if you haven't moved away from the can and keeps the lid open until you move away. Nice!
We understand if you'd rather have these features for a little less cash. Simplehuman also offers an all-plastic model for $70. All of Simplehuman's cans run on four AA batteries that will last up to a year; unlike most models, the batteries are included. A stellar five-year warranty guarantees this trash can will be keeping your kitchen clean for years to come.
Price: $99.99 at Amazon
Simplehuman Voice Control Trash Can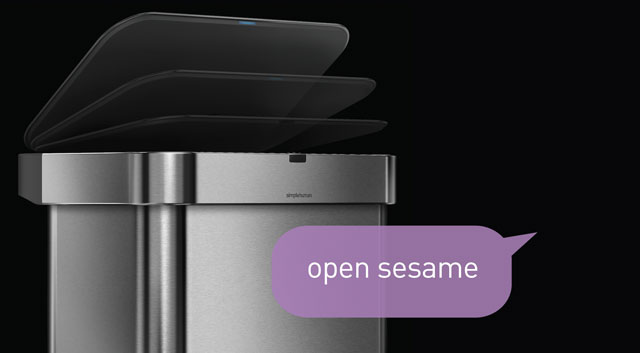 We've seen voice control become the standard for controlling everything from our smartphones to our smart homes, and now it's coming to trash cans, too. At CES this year, Simplehuman showed off a new line of voice-activated trash cans. These cans have the same sensor features of the company's motion-sensor cans and add voice control. You can tell them to open, stay open and close.
Though they aren't available yet, these new cans are coming soon. Two models are available: a simple trash can and a two-bin can for trash and recycling. Look for them as early as March. While it won't help the touch-free activation, a Wi-Fi model coming in May will be able to order trash bags from Amazon when you're running low. Is that a feature you need? Probably not — but it is one less thing to forget at the grocery store.
Price: $180 for garbage can, $240 for garbage and recycling can; coming soon
[Image credit: Simplehuman, iTouchless, Nine Stars]
---
Discussion