Audien Atom Pro: A Cheap, Compromised Solution for Mild Hearing Loss
Techlicious editors independently review products. To help support our mission, we may earn affiliate commissions from links contained on this page.
The Audien Hearing's Atom ($99.99) and Atom Pro ($249.00, currently $179.00 with coupon on Amazon) in-ear buds provide a cheap and easy solution for those who suffer only moderate volume-related hearing loss. The Atoms are simply sound amplifiers – there's no Bluetooth for phone calls or music and no aural presets to compensate for specific ambient situations. On the other hand, because there's no smartphone app, the Atoms are ridiculously simple to use for the tech-phobic – take 'em out of their case and slip 'em in your ears, and everything is suddenly louder.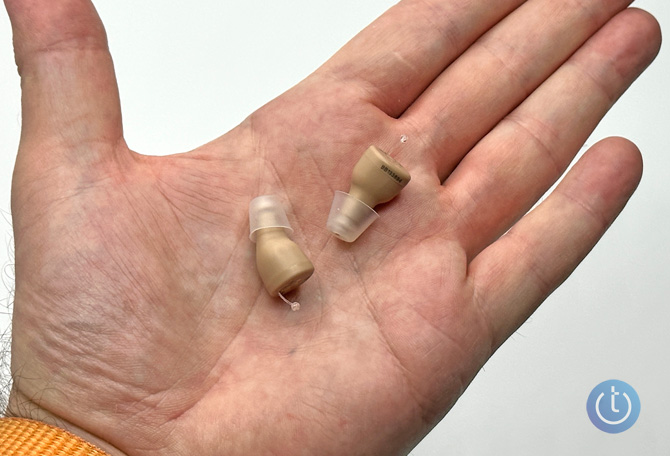 It's worth noting that the Atoms are not legally "hearing aids," despite the company's branding, labeling, and marketing copy. The Atoms are not FDA-certified Class II medical devices as OTC self-fitting hearing aids are, so they unofficially qualify only as personal sound amplifier devices (PSAD) that indiscriminately amplify all sounds regardless of your specific hearing deficiencies.
However, most people won't and shouldn't care if the Atoms are FDA certified or if they aren't really "hearing aids" as defined by the government, lack any aural frills, or don't render sound as perfectly as higher-priced OTC hearing aids. While you'll need to make some not-unexpected compromises, the Atoms solve the most nagging hearing loss issues for a broad swath of the slightly hearing impaired for a ridiculously low price.
+ Pros

– Cons

Low price
Simple to Use
Long battery life
Doubles sound volume

Not FDA-certified
Indiscriminate volume increase
Difficult volume control
Distortion buzz
Ergonomics and Set-Up
While slightly larger than more expensive self-fitting bud OTC hearing aids, such as the two Sony CRE models (starting at $999.99), the varying Eargo editions (starting at $1,450.00), and the Jabra Enhance Plus ($799.00), the flesh-colored Atom Pro buds, which we tested, are still small enough to be nearly invisible in most folks' ears. Each Atom Pro bud is equipped with a short, thin stem to make it easier to grab and remove them.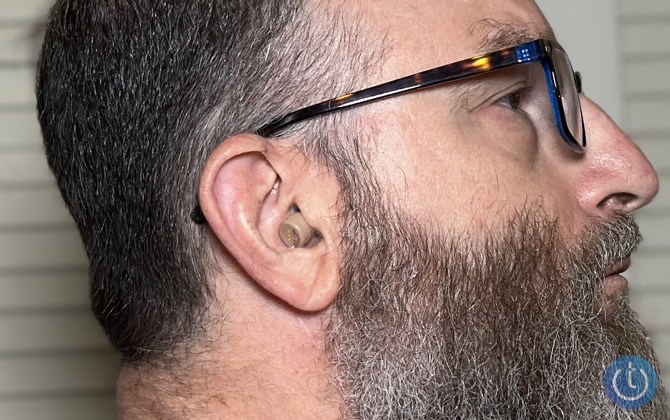 The Pro charging case measures an eminently pocketable 2 inches wide, 1.75 inches tall, and 0.8 inches thick. Audien claims the case with inserted buds can be charged wirelessly, but it wouldn't charge on three different Qi pads I tried. A USB-C cable and transformer block are included, and complete charging takes 4 hours, which is normal.
What isn't normal is the Atoms' long battery life; Audien claims the standard Atoms will run for 20 hours on a single charge and the Pros for 24 hours. Testing this claim would require my staying awake far beyond my usual bedtime, but the Pros stayed powered throughout my regular 18-19 hour days. Even if the Atoms' lithium-ion battery life deteriorates by 10% or 20% over several years, you'll still be left with all-day power. The Pro charging case will provide three additional full power charges, so you won't need a charging cable for long weekends. The case for the lower-priced Atoms doesn't double as a charger.
Two other things you need not worry about. First, there's no on-off switch – the Atoms switch on as soon as you remove them from their case, and they switch off when you put them back into the charging case.
You also don't need to worry about left/right – either bud can be placed in either ear.
Three sizes of translucent silicone "ear dome" tips are included; the Atom buds are fitted with the medium out of the box. Even though I usually opt for large tips for all other earbuds I wear, I actually fitted the Pros with the small tips. As a result, the Atoms didn't seal my canals; instead, they rested comfortably but firmly in my ears. No matter how violently I shook my head, the Atoms remained solidly entrenched.
Audien doesn't recommend a particular fitting, instead guiding you to place and twist the Atoms in your ear until they feel comfortable. Even though the ear dome tips aren't perforated, which would create a more "open" soundscape, I got a natural mix of ambient and amplified sound.
The Atom buds wear lighter than I expected. After around 12 hours or so, I did want to remove them and rub the inside of my ears with my pinky for a bit before putting them back in, but otherwise, the Atoms remained comfortably innocuous in my ears all day.
What you do have to worry about is adjusting the buds' volume level. To adjust the Atom Pro buds' volume, you need to use the included screwdriver/cleaning brush tool to turn the slitted volume dial on each bud – a less-than-exacting process. For one thing, if your eyesight is as poor as your hearing, good luck focusing on the tiny volume controls to begin with. Plus, the turning radius of the volume screw does not match the minuscule +/- arc or arc tick marks imprinted on the inside of each bud. So it's impossible to know just how loud you're making each bud or if the volume matches for both buds, except by trial and error. It took me several days of minor adjustments to arrive at suitable volume settings – and I'm still not sure I've got each bud tuned just right.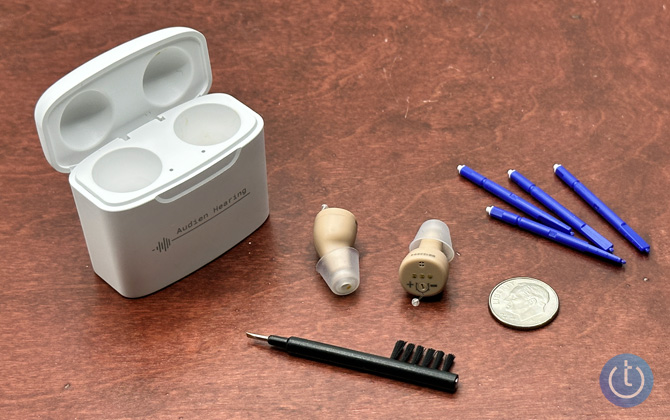 Since you need the screw/brush tool to make these uncertain volume changes, forget adjusting the Atom volume on the fly. And be careful with the screw/brush tool – it's black and only slightly bigger than a toothpick, so it is easy to lose and not easy to replace. That is unless you own that tiny screwdriver you use to adjust the screws on your eyeglasses. The brush end tip is magnetic, so you can stick it perpendicularly on a filing cabinet or any other metal surface.
All earbuds are prone to wax buildup, so thankfully, Audien includes four replacement wax guards. These wax guards fit under the ear dome tips and are attached to toothpick-sized removal/replacement sticks (the blue sticks shown above).
Performance
If you suffer age-related hearing loss, the Atom Pros won't compensate or restore high- or low-end frequency losses. But considering the 10x-plus price delta between the Atoms and FDA-certified hearing aids, most folks won't care as long as the world around them is simply loud enough to hear and understand. And the Atoms effectively double or more the volume level of everything around you – as much as if not more than the nearly $3,000 Eargo 7.
But with their cheap price and effective amplification, there are aural compromises you'll have to make. The Atoms suffer from three major performance drawbacks that most higher-priced FDA-certified OTC hearing aids effectively deal with.
First, as noted, voices don't sound as natural as they do compared to pricier hearing aids. People's voices – especially your own – are louder but often tinged with a slight distortion buzz that reminds you that you're wearing sound amplifiers. By comparison, FDA-certified hearing aids deliver a seamless, natural mix of ambient and amplified sound.
Second, the Atoms equally amplify all sounds. Upon initially wearing them, I thought I was actually hearing the flow of air around me, which turned out to be the amplified sound of the air conditioner. Most more expensive, self-fitting OTC hearing aids include circuitry and app settings to boost voices and suppress unnecessary ambient sounds. Audien does note that it will take some time – perhaps weeks – for your brain to adjust to the newly amplified sounds it is experiencing, which is what nearly all hearing aid makers explain.
Third, the Atoms tend to distort even slightly higher volume sounds. When a loud commercial popped up on TV or someone spoke in a normal tone close to my ear, including whispers in my ear from my wife, their voice was accompanied by an almost painful fuzzy screech. To stop the screech, I'd instinctively put my hands up to cover my ears, which then generated even more painful feedback, endemic to most hearing aids or in-ear PSADs. Over the first few days of wearing the Atoms, I was constantly adjusting their volume to find the happy medium between generating acceptable volume while minimizing distortion and feedback.
Because they are prone to feedback when anything solid comes near your ears (even though Audien claims the Pros include "enhanced feedback cancelation [sic]") and because they are a bit larger than other OTC hearing aid buds, you can't wear headphones over the Atoms. The plain Atoms lack the Pros' "enhanced cancelation," which must make their feedback an even bigger annoyance.
The bottom line is that voices in crowded environments will be drowned out due to these three deficiencies and the inability to lower their volume without the screw/brush tool. I ended up removing the Atoms in movie theaters, the ballpark, or other large gatherings simply because I was hearing way too much of the environment around me and not enough of what I wanted to hear near me.
But around the house, in casual social situations, and for watching TV, isolated incidents of distortion and feedback were largely tolerable, an acceptable tradeoff for the world being more hearable at such a low price.
The bottom line
The Atom ($99.99) and Atom Pro ($249.00, currently $179 with coupon on Amazon) effectively double sound volume. For folks whose hearing problems are primarily lower volume, the Atoms offer a cheap and easy volume-boosting solution. Just keep in mind that you will have to put up with less-than-stellar voice enhancement, occasional distortion and feedback, and the inability to adjust the volume easily.
At some point, fingers crossed, the cost of OTC hearing aids will drop enough to dramatically decrease the price delta between them and these cheap Atom Pros and their non-FDA-certified PSAD ilk. Maybe the popularity of affordable in-ear PSAD solutions such as the Atom will accelerate this price shrinkage. Until then, the Atom Pro offers a cheap and easy, if somewhat compromised, solution for mild hearing volume loss.


[Image credit: Stewart Wolpin/Techlicious]
Stewart Wolpin has been writing about consumer electronics for more than 35 years, including news, reviews, analysis and history, and has attended and covered nearly 50 Consumer Electronic Shows and around a dozen IFA shows in Berlin. For the Consumer Technology Association (CTA), he is an elector for and writes the official biographies of the annual CT Hall of Fame inductees, and is the keeper of the industry's official history.
Discussion