We may earn commissions when you buy from links on our site. Why you can trust us.

The Best Multifunction Printer Under $200
Review summary: Excellent print quality for documents and photos, above average scanning and copying speeds and easy operation make the HP Photosmart 7520 the best multifunction printer under $200.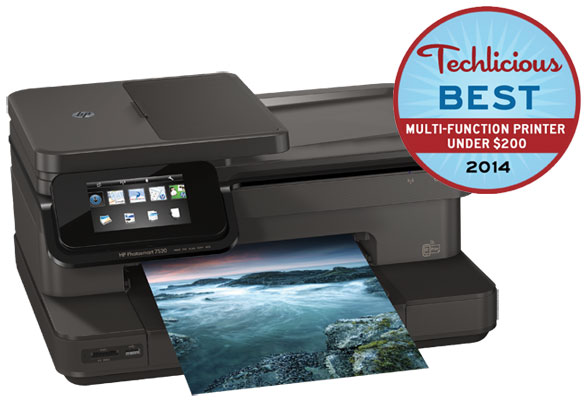 A multifunction printer (MFP) or "all-in-one printer" is one of the cornerstones of a home office. These workhorses do everything – from printing documents and photos, to copying, scanning and even faxing (yes, some people still fax).
When searching for the best MFP, my pick had to do all those basic functions well. But there were other important criteria to add to the list. The best MFP had to support wireless printing from my mobile devices, have a relatively small footprint, an Auto Document Feeder and support duplex printing. And, the printer had to have strong reviews by both pro reviewers and the consumers who've purchased them.
And it had to do all that at an affordable price. I settled on a $200 limit as the amount most people would be willing to pay for a home office MFP.
Those criteria narrowed out the list to four contenders: the HP Photosmart 7520 ($149.00 on Amazon), the Epson Expression XP-810 ($149.99 on Amazon), Canon PIXMA MX922 ($99.99 on Amazon) and Brother MFC-J870DW ($130.59 on Amazon).
After setting up and testing all four models, I chose the HP Photosmart 7520 as the best multifunction printer under $200. It has excellent print quality for documents and photos, above average scanning and copying speeds and is very easy to use.
Set up
Let me say right up front that all of these printers took way too long to set up. They all needed software and/or drivers to be loaded onto my computer via an included CD or downloaded from the company website. Some of them make you switch back and forth between reading messages on the printer and your computer screen during setup. The Brother took well over an hour to complete setup. Epson's CD load time was shorter, but setup was wonky; I had to re-enter my info several times before it completed the process. I tested these printers using a laptop running Windows 8.
HP did a great job walking me through set up, beginning with installing the ink cartridges. Not only are they color coded, each has a shape on the label that matches a shape on a slot inside the machine to show which one goes where. If you need more help, there's a short animated tutorial on the touchscreen of the front of the printer that guides you through.
Setting up the wireless connection was not always easy and some printers were more difficult than others. The Epson CD stopped short of setting up the WiFi so I had to use the controls on the printer's screen, which took a few tries as it was looking for a USB, not wireless, connection. The Canon made me type in my network password on the tiny touchscreen keyboard – twice. Overall, my experience setting up WiFi on the HP 7520 was the easiest and least complicated and it connected to my home Wi-Fi right away.
While we're talking about Wi-Fi, I should point out; if you're looking for a wireless printer to use with an iPad or Apple product, any one of these will work just fine. Each time I connected a printer to my home network and then opened up my iPad, the printer appeared. AirPrint worked every time.
If you are using an Android device, setup is far more complicated. It requires connecting the printer to Google Cloud print as well as downloading the individual printer app. But it's not just a matter of two steps instead of one; the whole connection process is more difficult, with the HP 7520 again being the easiest of the bunch.
Printer Inks
These printers, with the exception of the Brother which uses a 4-cartridge ink system, use a 5-color ink system with four colors (Black, Cyan, Magenta, Yellow) and a high-capacity black for printing text. This way you only need to change the ink cartridge that needs replacing and, for the most part, inserting the ink was not terribly difficult.
Ease of use
The paper trays on the HP 7520 were the most user-friendly and the only one I didn't feel like I was going to break a nail trying to open. In fact I was able to just slide paper into the 8x10 path, rather than having to pull a tray all the way out. It holds 125 sheets of paper, slightly more than the 100 sheets of the Epson XP-810 and Brother MFC-J870DW.
The Canon MX922 gets high marks for its 250-sheet capability, so you don't have to reload as often, but when you do, opening the tray was difficult and often made me feel I was going to break it pulling it out. All of these have a secondary paper tray for holding 20 sheets of 4x6 sheets photo paper.
If you print very large documents for work, printing in reverse order is a must-have. All these printers let me reverse the order of a document, but the HP 7520 and the Canon let me change that to a default setting rather than selecting it each time I printed.
HP places the SD card slot as well as the USB port right up front on the printer, something I appreciated so I didn't have to turn it around or fumble blindly to access those ports as I did with other printers.
And, to make remote printing easy from any device anywhere, the HP Photosmart 7520 features ePrint technology which assigns the printer an email address that you can personalize. This means you can send print jobs from any connected device, as long the printer is turned on. So, for example, if my sister wanted to share a document with me, she could email it right to my printer. I can also send something to the printer from an out-of-town business trip. No worries about spam, you control who can email your printer.
Photo print quality
If you're looking to print your own photos at home, a multifunction printer is a huge convenience. In less than two minutes, all of the printers will print a borderless 4x6 photo from your computer, mobile device or external device, like a USB drive or SD card. In terms of quality, the Canon printed the blackest blacks and brightest colors with full saturation. The HP and Epson, though, had very good print quality. The only outlier was the Brother. I had some issues with the Brother's photos; they were not as vibrant and some printed with streaks across the prints.
Where the HP shines is its ability to recognize when I'm printing a photo and then automatically pull from the correct tray. With the other printers I had to tell them what I was printing (photo or document) and, in some cases, I had to physically slide a lever to switch trays.
Document print speed and quality
Speed varied on these printers and I was quite pleased with the output of the HP 7520. I was able to print 10 single-sided pages of text in 0:58. The Epson took 1:03, Brother 1:23 and the Canon clocked in at 1:44. Not a huge difference but when you copy and print a lot of documents for work, speed matters.
Text quality on the HP was crisp and dark, even when I used smaller fonts. I was able to print graphs in bright, accurate colors and an 8x10 print of a color photo on plain paper was a close enough representation without getting blurry. Though document print quality was pretty equal across all models.
Faxing, scanning & copying
If you tend to do a lot of document scanning, like I do, you'll appreciate having a printer with an automatic document feeder (ADF). All models operated in pretty much the same way. They can hold around 20 – 35 sheets of paper and have a duplex scanning mode.
On all these printers, I was able to scan a document to my PC and save it to a file or send it directly to an email as an attachment. However, the process was the easiest with the HP. It let me initiate a scan directly from the printer and choose where I wanted to send it right from the touchscreen. The Canon made me initialize the scanning software on my PC and initiate the scan that way, as did the Epson since it had lost the wireless connection.
For one test, I made a copy of a color flier with both images and text. The Canon and the HP printed superb reproductions with marginally perceptible loss in color. The text was near perfect, though the HP was a darker black which made it slightly easier to read.
Each of these printers comes with a built-in fax capable of delivering both black and white and color copies. The speed varies just a bit; about 3-6 seconds per page, but unless you receive a lot of faxes, this isn't likely to make a huge difference in choice. Memory also varies; the Epson can store 180 pages in memory while the Canon holds 250 pages. The clear winner in this category is the user because whichever you use, I've found built-in faxes to be a whole lot easier to use than the eFax services I've tried on older models.
Footprint
I set out to find a printer with a small footprint and in the end, that wasn't the one that won me over. If you're looking for the smallest, most compact printer for a home office, the Epson is the clear winner. Epson's footprint is small and compact and doesn't take up much desk space. The adjustable touchscreen folds in to present a flat front.
On the other end of the spectrum, the Canon seemed like a small spaceship sitting on my desk. It was tall and wide and when the output tray popped open, it extended another 5-6 inches into the room. Brother's footprint was wide, but still relatively low.
The HP 7520, though not the largest of the bunch, is almost as tall as the Canon but it appears smaller because it's not a solid design; there are some open spaces and the large touch screen on the front tilts to accommodate any viewing angle. While the ADF on top adds extra height to the unit, it wasn't enough to knock this out of first place for me.
What other reviewers think
The HP Photosmart 7520 gets high marks from other professional reviewers as well:
Consumer Reports (subscription required) rated all four of the models I reviewed and the HP Photosmart 7520 came out on top by a fair margin.
"Color photos…are top tier for an inkjet MFP, which makes them better than what you'll get from most drugstore prints. The printer even did a reasonably good job with black and white photos on my tests, which is what inkjet printers most often have problems with," states PC Mag.
CNET finds, "the Photosmart 7520...doesn't sacrifice quality for speed. It produced crisp, dark black text even at smaller fonts, where I would dare to compare its line work to that of a laser printer."
PC World notes that "the 4.33-inch LCD control panel that makes this machine marvelously easy to use."
What consumers think
Overall, the HP 7520 received a solid 3.6 out of 5 stars on Amazon. The other contenders came out slightly higher at 3.8 stars for the Epson XP-810, 3.9 stars for the Canon MX922 and 4.1 stars for the Brother MFC-J870DW.
From a product reliability and setup standpoint, consumers were complimentary of the HP 7520, though there were complaints about ink costs. And this is understandable. Printer manufacturers are able to sell us the printers so cheaply because we are then forced to buy very expensive replacement ink, and that's a strategy all the manufacturers employ.
However, according to a study by Consumer Reports, the HP, Epson and Canon printers use a higher quantity of ink for "maintenance tasks" (e.g., cleaning print heads) than Brother. So you may find your cartridges running out faster than you expect based on how much you're printing.
Does this make the HP more expensive to operate than the Brother? Not necessarily. Because when you consider the cost to print a 4x6 photo (a very common printing task), the HP is slightly cheaper, while b&w text documents are slightly more. So where you net out depends heavily on how often you print and the breakdown between photos and text documents.
Bottom Line
All of the printers I tested were reliable printers that will do a solid job at copying, faxing, scanning and printing photos. Some performed certain tasks slightly faster or better than the others. But in the end, the HP Photosmart 7520 was superior in most of the qualities I was looking for, making it the best multifunction printer under $200.
HP Photosmart 7520


---
HP Photosmart 7520
Dimensions: 21.7 x 19.7 x 8.7 inches
Weight: 22.4 pounds
Speed: Up to 14 ppm black, Up to 10 ppm color
Standard Connectivity: 1 USB 2.0, 1 WiFi 802.11b/g/n
Scan Resolution: Up to 2400 dpi (Enhanced); Scan Type: Flatbed, ADF
Other Features: Wireless; Duplex printing; Memory card slot; HP ePrint; Web connect; 4.33" (10.9 cm) touchscreen CGD
Discussion