What You Need to Know About Windows 8
Techlicious editors independently review products. To help support our mission, we may earn affiliate commissions from links contained on this page.
Windows 8 has been released to the masses. To call it merely a "redesign," would be a huge understatement because unlike Microsoft operating systems of the past Windows 8 is optimized for touchscreens. It still works with keyboards and mice, but it's radically different from what you're used to with Windows 7, XP or Vista.
While you might wonder why Microsoft had to mess with the most popular operating system on the planet, there's no doubt touchscreen technology is where the future is headed.
For example, Intel has promised that by the end of the year 40 new Windows 8 Ultrabook laptops from various manufacturers will come to market with touchscreen displays. And just look at all the all-in-one desktop PCs selling at Amazon.com that ship with touchscreens. And of course, there's Microsoft's own Surface RT tablet, which is finally in stores as of October 26—it uses many elements of Windows 8 but only runs apps from the Windows app store.
Windows 8 is Definitely Different
When you turn on your computer it might not be evident how to log-in. To get to the log-in screen you can press any key or click and drag up from the bottom edge of your screen.
Once you log-in you'll come to a start screen that lays out the start menu in tiles, instead of a list like it was with earlier versions of the OS. While this might seem overwhelming and confusing, it's actually an informative and visual way to organize your apps—both full-screen apps you get from the Windows App Store as well as standard desktop apps such as Windows Explorer. In this photo, for example, you can see a weather tile that shows you what temperature it is outside and a mail tile, which updates in real-time to display message headers as they come in.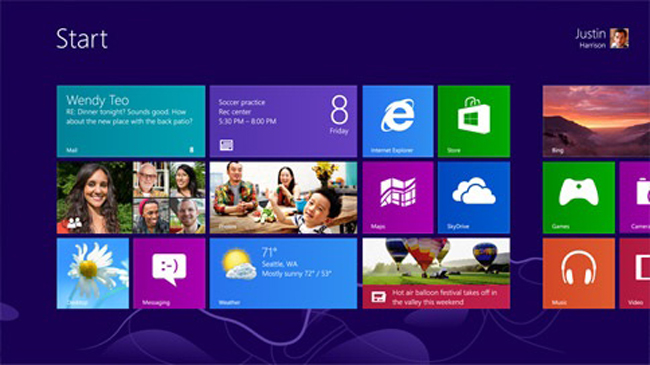 Because Windows 8 was designed for tablets you need to do quite a bit of swiping or clicking and dragging to get around. Swiping from the left edge of the screen to the right brings up an app switcher; pulling from the right edge of the screen to the left calls up a "Charms" bar where you can get at functions such as control panel or settings; and swiping up from the bottom edge gives you navigation controls for any app you're in.
While there's definitely a learning curve involved in using Windows 8, there are big improvements, too. For instance, sharing photos, websites and videos via email or to Facebook is dead simple and the operating system's ability to detect malware before it has a chance to run is much better. In fact, it's the most secure version of Windows yet, say some security experts. Not only that, Windows 8 starts twice as fast as Windows 7.
And for all the complaints you'll hear about the new design, the classic interface is still in there, but now it's an app called Desktop. To get to it you click on the Desktop tile from the start screen.
Should You Upgrade Your Current PC?
There are a several things to consider.
If you use your PC to play DVDs, you should know that Windows 8 doesn't include Windows Media Center. You can either use third-party DVD playback software (as long as it's compatible with Windows 8) or get the Windows 8 Media Center Pack, which you can get for free until January 31, 2013.
And if you don't have a touchscreen on your laptop or PC, why go to all the trouble of learning a completely new way of using your computer if you won't be able to take full advantage of the way the OS was designed?
Also keep in mind that if your PC is running Windows 7, your files, apps, and settings will transfer to Windows 8. But if you're currently running Windows XP or Vista, you will need to reinstall your apps after you upgrade.
See if Your PC is Compatible First
Before upgrading to Windows 8, you need to run the Windows 8 Upgrade Assistant. It scans your hardware, apps, and connected devices to see if they'll work with Windows 8. It looks at things like CPU speed, RAM size and hard disk capacity and checks to see if your PC can support certain Windows 8 features, such as the Windows Store, snap, secure boot, and multitouch. If your PC doesn't support them you still install Windows 8, but you won't have full functionality. Once you receive your report you can do nothing, or the tool will recommend an edition to buy as well as help you through the steps to upgrade.
If You're in the Market for a New Computer
If you want to buy a new PC or laptop running Windows 7, you'd better do it right away. Retailers are clearing out Windows 7 machines, so at some point you're not going to be able to find them new. Keep in mind that Microsoft will only provide Windows 7 mainstream support—meaning automatic fixes, updates, or online technical assistance for consumers—until January 12, 2015. Without support, you won't receive security updates that can help protect your PC from malware.
If you do manage to snag a new computer running Windows 7, know this: If you change your mind and want Windows 8 you can upgrade for only $15, thanks to a Microsoft promotion that lasts until the end of January 2013.
If you want to buy a new PC or laptop running Windows 8, there are plenty of options and there will undoubtedly be a landslide of great promotions this holiday season. Microsoft is promoting scads of touchscreen machines on its website and Best Buy is offering deals on dozens of exclusive Windows 8 computers and laptops designed in partnership with select computer makers. Many of them feature touch screens.
Discussion