The Best TV Under $500: Samsung PN51F4500
Techlicious editors independently review products. To help support our mission, we may earn affiliate commissions from links contained on this page.
The 51-inch Samsung PN51F4500 may be bare bones, but it has excellent picture quality, making it the best TV for under $500.
EDITOR'S NOTE 7/25/14: We plan to update this story soon after reviewing the newest models. In the meantime, see our notes below for exceptional deals on the Samsung PN51F4500 and other Vizio options to consider.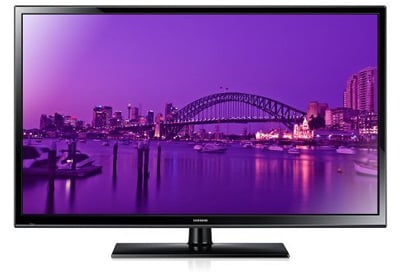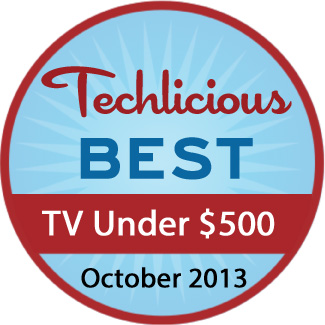 While it's incredible how inexpensive a TV can be these days, the pickings at $500 or less get pretty slim. Sure, there's plenty of product at that price, but none that gets glowing reviews. Picture quality tends to be compromised, and the feature sets are usually Spartan.
After a lot of digging, we finally found a couple of TVs that are safe to recommend. One is a relatively large, 51-inch model with excellent picture quality. The other is a 42-inch model that includes Internet connectivity and smart TV features, both rarities in this price class.
The best $500 TV? The Samsung PN51F4500, a 51-inch plasma TV that just barely limbos under our $500 bar by selling on Amazon for $497.
Why the Samsung PN51F4500?
There are two solid reasons to choose this TV: It's 51 inches, and it's a plasma TV.
The PN51F4500 is 10 to 12 inches larger than most of the LCD TVs in this price range. With a 42-inch set at a normal viewing distance of 10 feet or so, you feel like you're watching TV. With a 51-inch set at the same distance, the picture is more enveloping and more theatrical — not theatrical, just closer to theatrical. Base your Super Bowl party around the PN51F4500 and you'll have enough picture to entertain a half-dozen people, easy.
Experts agree that plasma TVs deliver a substantially better picture than all but the very best LCD TVs. You notice the difference immediately in the dark parts of the picture, where most plasmas deliver deeper, darker, more realistic blacks and dark grays than most LCD sets can. Plasma TVs also typically offer a wider viewing angle and don't suffer from the motion lag that can cause distracting blur when you're watching sports.
What do other reviews say?
At the time of this writing, the PN51F4500 had earned a 4.4-star rating from Amazon.com users. The only professional reviewer who has evaluated it is Geoff Morrison, who wrote about it for CNET and The Wirecutter. His conclusion? "If you're looking for the 'best bang for the buck,' this is unquestionably it."
When CNET's Ty Pendlebury reviewed the PN51F4500's very similar predecessor, the PN51E450, he noted, "Samsung's E450 performs like a TV hundreds of dollars more expensive. The Samsung had the deepest black of all the plasma TVs at its price, and shadow detail was very good as well."
Features that make a difference
The great-looking 51-inch picture is pretty much the only feature you get with the PN51F4500.
Features the TV lacks
The PN51F4500 is about as bare bones as TV sets get. It has only two HDMI inputs, which isn't enough for many people. Imagine you have a cable box and a Blu-ray player — where do you connect your game console?
This TV also lacks Internet connectivity and smart TV features. Yes, you can add those functions from a Blu-ray player, a video game console or outboard boxes such as the Roku LT. But that may mean another box you have to hook up and another $50 you have to spend, and it definitely means another remote to deal with.
Samsung PN51F4500

EDITOR'S NOTE 7/25/14: The price on Amazon has changed since this review was written. Best Buy now has the PN514500 on sale $379.99. That's a fantastic price for this much TV.
Runner up: Vizio E420i-AO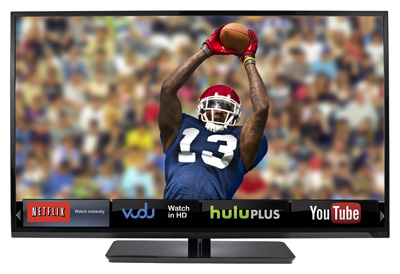 Most people focus on price and picture quality when choosing a TV. But the new generation of Internet-connected smart TVs has some viewers looking beyond the pretty picture. The E420i-AO LCD TV's Vizio Internet Apps access numerous Internet streaming services including Netflix, Amazon Instant Video, Hulu Plus, Vudu, YouTube and Pandora. Wi-Fi is built in, so as long as you have a Wi-Fi network and broadband Internet, you can stream Internet video with no extra hookup required.
Even though the E420i-AO's local dimming enhances contrast by reducing the brightness of the LED screen backlight in dark parts of the picture, the picture quality has earned just middling reviews. Digital Trends commented that "the image never looked as vivid with dimming engaged" but concluded, "The E420i-A0's solid picture quality, usable on-board audio and impressive smart TV interface make it a product we'd be happy to have at the center of our home theater."
CNET lodged the same complaint but summed up its review on a positive note: "… the E0i series is able to generally outperform other LCD TVs in its class — and quite a few more expensive models."
For a smart TV, though, the Vizio E420i-AO is the way to go.
EDITOR'S NOTE: 7/25/14: The new E400i-B2 is an updated model with a slightly smaller 40-inch screen and a much lower $398 price on Amazon.
Vizio E420i-BO


Discussion