Livescribe Echo - the Best Pen for Taking Notes
Techlicious editors independently review products. To help support our mission, we may earn affiliate commissions from links contained on this page.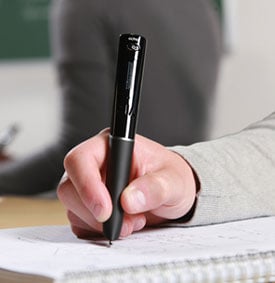 For most of my life I've been a note taker, whether it was in the classroom or on the job as a journalist. So I'm always on the lookout for anything that will make that job easier. The Livescribe Echo smartpen (4GB $170, 8GB
$200
) does just that.
What makes the Echo smart is that it records what you hear and write simultaneously, so you can go back and play the corresponding audio by tapping on a word in your notes. And if you're really ambitious, you can upload everything to the computer, convert your written notes to text and make everything searchable.
Look and feel
Livescribe has been making its smartpens for a couple of years, but the Echo is an all-new design. The tip is much smaller and the grip is rubberized, which means it's much more comfortable when taking notes. However it's still a little big for my hand—about the thickness of a wide Crayola marker. The body is no longer round at the top, which prevents it from rolling off desks and tables. And there's now a standard headphone jack and microUSB connector for charging and syncing. All are welcome improvements.
Taking notes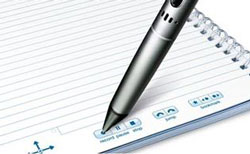 What makes the Livescribe Echo work is special paper that's covered with tiny dots. As you write, a camera inside the pen uses the dots to record your handwriting while two microphones capture ambient sound.
To start recording audio, you tap the record button that is printed at the bottom of the left page in all Livescribe notebooks. You can also pause and stop recording, add bookmarks and adjust playback speed and volume there. All of this is very intuitive.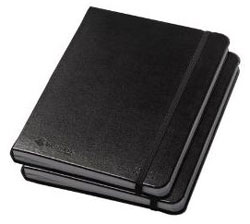 The 4GB pen stores about 64,000 pages and 400 hours of audio before you need to download them to your computer. You can buy notebooks with the paper or print out sheets at home. A two-pack of 5.5" by 8.25" leather-bound 100-sheet journals costs $25
, a four-pack of 100-sheet single subject notebooks is $20
and a 150-sheet three subject notebook is $8
.
Storing and sharing notes
When you connect the pen, you can simply transfer the notes and associated recordings or choose to convert your notes to text. Either way you can search your notes and share them as a PDF document or a movie of your notes being written on paper as you hear the audio recording.
Video courtesy Livescribe
Apps
You can also download apps. There's everything from calculators to translators to games to trivia titles and more. Many are free and most of the paid apps are just a few dollars. To use an app, you select it and then draw any controls you might need. So you'd draw the calculator on paper and then tap in the numbers.
Bottom Line
The Echo is a great note taking device.
Discussion