Cruising with an OceanMedallion on the Caribbean Princess
Techlicious editors independently review products. To help support our mission, we may earn affiliate commissions from links contained on this page.
Can you use technology to make your vacation more enjoyable? Princess Cruises is banking on it with its new MedallionClass vacations to help personalize guest experiences based on their individual choices and preferences.
The ships make use of thousands of on-board high-tech sensors and scanners and a wearable device called the OceanMedallion, provided for free to each guest. In addition, there's blazing fast Wi-Fi for those who want to stay connected.
A friend and I traveled aboard the Caribbean Princess recently, as a guest of the cruise line, to find out whether the onboard technology could deliver a better experience. My friend is an avid cruiser but falls into the mainstream tech user category. For me, it was my first experience on a cruise ship, but I have an above average understanding of tech. I also spoke with many of the guests onboard to guage their experience with the technology.
Overall, I found that the technology delivered a more personalized and enhanced experience, but some guests expressed concern about privacy and others had issues figuring out how to use the technology. Here's what you can expect on a MedallionClass vacation.
The OceanMedallion is your key to everything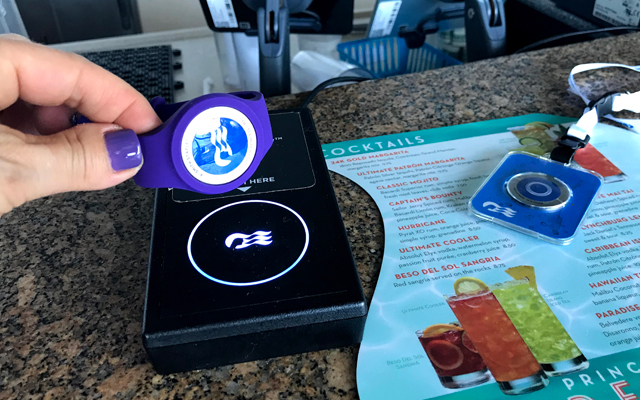 The OceanMedallion is a wearable disc about the size and shape of a quarter. It comes on a lanyard, but you can purchase accessories like a sports band, a bracelet, or a clip to personalize it. Since it's waterproof, I used a wrist-worn sports band so that I could wear it on and off the ship without worry while kayaking and swimming.
The disc has none of your personal data; it's merely an identifier, like a license plate, that interacts with the network of sensors and readers all around the ship. It packs a lot of tech into the tiny disc; it knows your location, and there's a Near Field Communication (NFC) antenna as well as a Bluetooth Low Energy (BLE) antenna.
This lets guests use the OceanMedallion for just about everything they do onboard—check in, open their cabin door, order drinks and pay for items at the shop. If you lose it, which surprisingly doesn't happen often, they just disable it and issue you a new one.
Using your OceanMedallion for validating your identity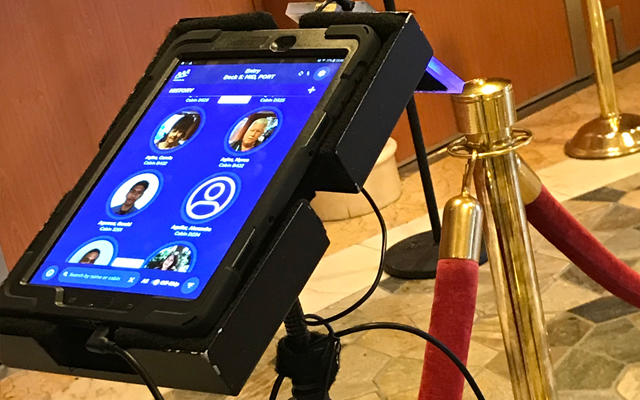 One of the things we noticed right away was how easily and quickly the crew was able to move hundreds of people at a time. That's because much of the check-in paperwork is done ahead of time. At home, using the OceanReady feature in the MedallionClass app (a 320MB download), you upload your photo for identification purposes, fill out your travel info, and upload a picture of your passport. Since all the paperwork was done in advance, when we arrived at the ship, I was asked to tap my OceanMedallion onto a tablet at security and up popped my picture. Since the necessary travel documents were already in place, I was able to board the ship. My companion said it was the fastest embarkation process she had seen. "In my previous cruises, I had to stop at a desk, sign multiple pieces of paper, have my photo taken, get issued a card, and then was able to board."
For the rest of the cruise, each time all 3,000 other passengers got on and off the ship, we tapped the OceanMedallion onto the tablet, smiled at the crew member, and moved along. This drastically sped up the process and made leaving for shore excursions a far less stressful experience.
Some passengers told me they were concerned about scanning their passport and personal info, but a Princess spokesperson told me OceanReady uses the same passport scanning technology that airlines use, and all the information is tokenized, abstracted, and encrypted.
For guests who prefer paper, on site there are traditional check-in queues at security so they can provide all their details when they arrive at the port, and are given their OceanMedallions once checked in.
The OceanMedallion also serves as your stateroom key. As you walk up to your room, the sensors recognize you and the screen outside your door shows a message that your stateroom is unlocked.
Using your OceanMedallion for personalizing your service
Ordering food and then moving your lounge chair to a more shady location definitely falls into the category of 'first world problems' but you can rest assured that if you switch locations anywhere on the ship, the crew member delivering your food or beverage order can find you. Using the OceanNow feature in the MedallionClass app on your phone (or OceanNow service on your stateroom TV), you can order drinks or merchandise and the order is sent to the closest bar or store location. Bartenders and servers in that area get your drink and, with a picture of you on their device along with your location, set out to deliver it. We tried this high-tech hide-and-seek several times on board and the crew member was able to locate us each time.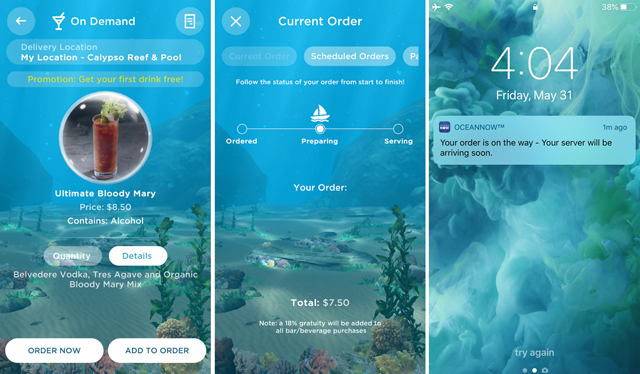 One bartender told me this makes things easier and faster for him, except he does run into the occasional snafu when he's looking for a bald guy in a suit, based on the picture uploaded, and then the passenger has a baseball cap and sunglasses on. It doesn't happen very often, but when it does, much like the way ride-sharing services Uber and Lyft work, guests can activate a sensor in their mobile app that lights up their phone with a certain color, which is then shared with the server delivering the order so they're easier to locate.
Guests also use their OceanMedallion to pay for things onboard the ship so they don't have to carry a wallet or a purse with them. In the boutique one evening, an older woman trying on clothes fretted to the sales associate that she hadn't brought her wallet with her to dinner. She was delighted to hear she could just tap her OceanMedallion on the screen and charge her items to her room account. I asked her what she thought of the mobile payment technology and she thought it was brilliant, convenient and worried she might shop too much since no money was changing hands.
Using your OceanMedallion for location services
Since the OceanMedallion is a location-based tracker, it knows where you are as you move around the ship. This means you receive directions through the OceanCompass feature of the MedallionClass app to different venues on the ship; to the spa for a massage or to the wine bar for a quiet before-dinner drink.
But by far the most helpful use of the tracking technology in OceanCompass is in a feature called Shipmates, which locates your friends and family anywhere on the ship, and vice versa. This seemed a little creepy at first until I learned you are only Shipmates by default with the people you are traveling with; you need to send an invite to be ShipMates with anyone else in your group or other guests you meet on board. Just like Facebook, requests can be accepted or denied; your choice. You can also send in-app text messages though getting notified of these was a little wonky and they sometimes got missed.
That's why, if you're traveling with a direction-challenged friend, as I was, instead of walking from restaurant to restaurant or pool to pool to find each other, my friend was able to tap my picture, either on her phone or one of the huge touchscreen portals by the elevators, and find my location. She then got step-by-step directions, complete with a green-dotted line, leading right to me.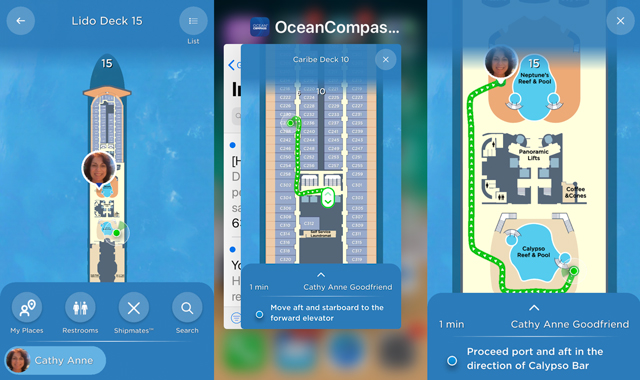 Since this is such a timesaving use of the technology, I was disappointed to learn not everyone knew that it existed. One afternoon I saw some women talking and looking anxious and learned they couldn't locate their elderly father anywhere. This is a huge floating city and it's easy to get lost, which means you can easily spend precious vacation hours searching every inch of the boat for someone.
I explained they could use the Shipmates feature to find their dad, but they had no idea what I was talking about. They hadn't downloaded any of the apps, thinking they didn't need them. I lead them to the interactive portal where the mom tapped her Medallion to the screen and was able to see the location of her husband. He was sitting in a spot 5 decks below they had looked in three times previously, and just didn't see him. They cheered with joy that they were able to locate him, and I could sense a bit of relief in their voices.
This feature is also incredibly helpful for anxious parents who want to let their teens roam the boat without following them around like a helicopter parent. One mom I spoke with told me just being able to see where her son is on the ship, even if it's late at night, gave her tremendous peace of mind. Plus, knowing if she needed to get him, she wouldn't have to search the whole ship to find him, made her feel more comfortable letting him hang out with friends.
Other MedallionClass app features
The MedallionClass app serves as the hub for all of the tech-related onboard experiences. [Note: On my cruise, there were six apps I needed to download and use. Princess has now combined all six into one MedallionClass app, which should make it a lot easier for people to navigate. I wish the single app had been available when I was cruising because I found it confusing trying to remember which app had the specific feature I needed at the time.]
In addition to the OceanReady and OceanNow services, you'll find that OceanView turns your phone into a TV remote so you can watch the Ocean Originals series on the TV in your stateroom and the OceanCasino feature is self-explanatory. I'm not much of a TV watcher or a gambler so I didn't sample these much, but you can log in and play slots, poker and bingo among other games.
JourneyView in the MedallionClass app became my Google Calendar for the week. This wasn't available to see until we boarded the ship but once on, I was able to see everything available on the cruise, from on-board activities like martini-making class and 70's music trivia to what time we dock and what time we leave port later in the day. This is displayed on those huge interactive portals as a timeline of the day so when I found something that looked fun, I could tap for a brief description and even tap again to get directions to where the event was taking place. JourneyView also lets you bookmark activities and create your own personal itinerary for each day, as well as see some of the offerings before you get onboard the ship which is super helpful for planners like me.
Onboard Wi-Fi rivals internet service at home
Those, like me, who like to stay connected while on a ship, even if it is a vacation, will be blown away by the Wi-Fi on board. The ship's internal MedallionNet network rivaled land-based high speed access. Not only did I find uploading photos and videos to Facebook and Instagram almost instantaneous, but I was also able to make video calls on my phone from my stateroom and poolside from the deck. Just like at home, you can download or stream movies and TV shows and enjoy them anywhere on the ship. I'm told Princess Cruises has Wi-Fi access points in every stateroom, and they employ two different types of satellites (MEO and GEO for the geeky ones) to ensure a reliable signal regardless of whether the ship is in port or out to sea. I was even able to stream a Netflix show onto my device with no buffering.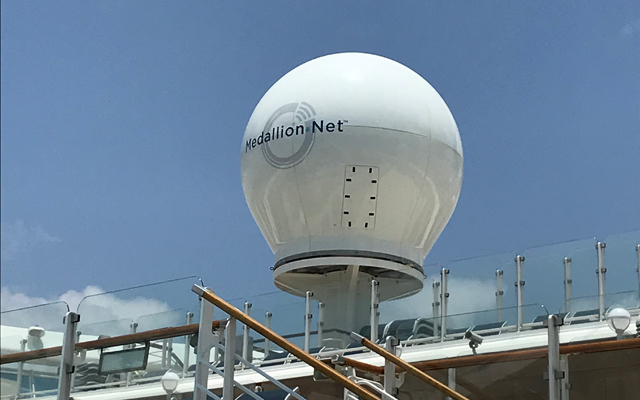 Wi-Fi on a ship used to be tediously slow and very expensive. MedallionNet is super-fast and quite reasonable, starting at $9.99 per day for one device, with discounts available for multiple devices.
For those who prefer a tech-free vacation, there are interactive portals all around the ship that offer most of the same functionality as the mobile apps. You can use the portal to find a shipmate, get directions to the restaurant, or play a quick game while waiting for the elevator. Kids, in particular, loved the portals and played with their personalized interactive avatars, called Tagalongs, long after the elevator came and went.
In addition, there are touchscreen displays on each floor, letting you see the ship in great detail. As you get off the elevator or come down the stairs, the display shows the floor you're on and what's on each floor in addition to staterooms, like laundry or the kids club. If you're looking for a location, like the wine bar, you can tap on each floor to see what's there or search for a specific location.
The Bottom Line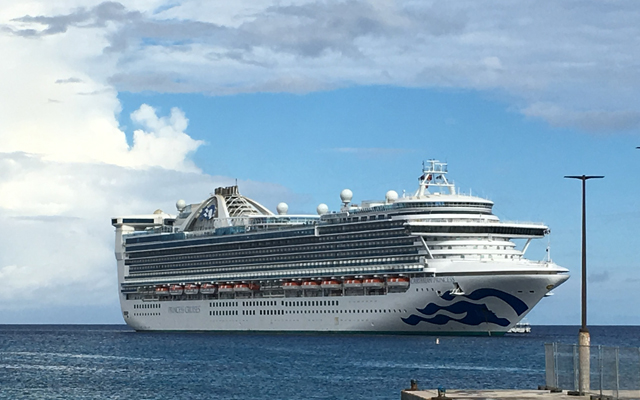 The OceanMedallion will change the way you experience cruising; it enables a personalized and more efficient vacation experience. For the techy crowd, it made things quick and convenient. I was able to order food, find my way, check my excursions schedule, all the way I'm used to doing at home.
For the less techy, 'brilliant' and 'annoying' were two words I heard a lot to describe the experience. Annoying, because some people had a hard time understanding how to use the apps and Princess could have done a better job of educating guests. Brilliant because of how easy it was to get on and off the ship and the promise that it offered. In fact, a few people compared it to Disney's Magic Bands which is spot on because John Padgett, the man who created the OceanMedallion experience for Princess, is the same man who created the Disney Magic Bands.
Some guests raved about the super-fast Wi-Fi and being able to make video calls home, while others really liked the fact that crew members seemed to always know their name when they ordered on-demand services.
However, many guests were under the incorrect assumption that you have to pay for daily Wi-Fi in order to access and use the MedallionClass app experiences. Some said they hadn't purchased Wi-Fi on the ship because they didn't want to be "too connected" while on vacation while others didn't see a need for it. It was frustrating that they didn't know they could access the on-board features of the apps without buying Wi-Fi for their device.
With better education and the new all-in-oneapp this will be a magical experience for many. While I'm the kind of person who enjoys using technology, my less tech savvy companion said she thought the tech enhanced the vacation and allowed for more personalized recommendations based on our past preferences. Everyone thought the biggest draw of the wearable device was eliminating the long lines at check-in and port stops.
MedallionClass Vacations will be activated on five Princess ships by the end of 2019 and other cruise lines, like Royal Caribbean and MSC Cruises, are also using some form of wearable or smart technology to help personalize the guest experience.
Now if only we could eliminate those lines at the airport too.
[Image credit: Andrea Smith/Techlicious]
Discussion