We may earn commissions when you buy from links on our site. Why you can trust us.

Review of the Quell 2.0 Wearable Pain Relief Device

When NeuroMetrix first unveiled the Quell a few years ago, its promise was a drug-free alternative using the body's own mechanisms to combat chronic pain. Version 2.0 carries on with the same goal; only now it does it with improved usability and performance in mind.
The underlying technology of Quell hasn't changed with Quell 2.0. Like its predecessor, the Quell 2.0 has been approved by the Food and Drug Administration (FDA) through the 510(k) process as a Class II Medical Device for chronic pain relief. It's essentially a Transcutaneous Electrical Nerve Stimulation (TENS) unit that sends pulses traveling up the spinal cord to induce the brain to release endorphins, which kills pain.
How to wear it hasn't changed, either. You wear the Quell 2.0 on either calf, with electrode gel strips attached to the main unit, encased in a cloth strap, pushing electric pulses through to activate throughout the body. You can wear it all day, including during sleep, and with the proper gels in place, during physical activity, too.
New design and features of Quell 2.0
NeuroMetrix focused largely on two things to differentiate version 2.0: make the device smaller, and more functional with the mobile app for iOS and Android. The size difference from the previous model is obvious for anyone who used it. It's 50% smaller and considerably lighter — and if you're not careful, easier to misplace when out of its holster.
The strap is also slightly different, particularly with the holster for the device itself. The smaller form factor is noticeably thinner and slimmer, putting less stress on the holster, and reducing any bulging that might interfere with clothing on top of it. Also, by eliminating the battery level lights and button, the holster encases the device completely, save for slits to reveal an LED at the top and the electrode clips in the back.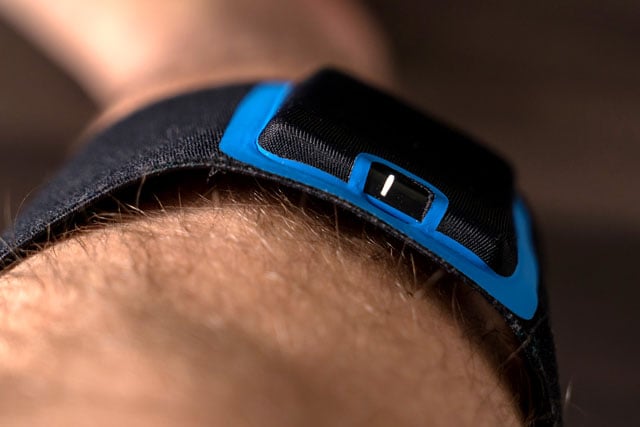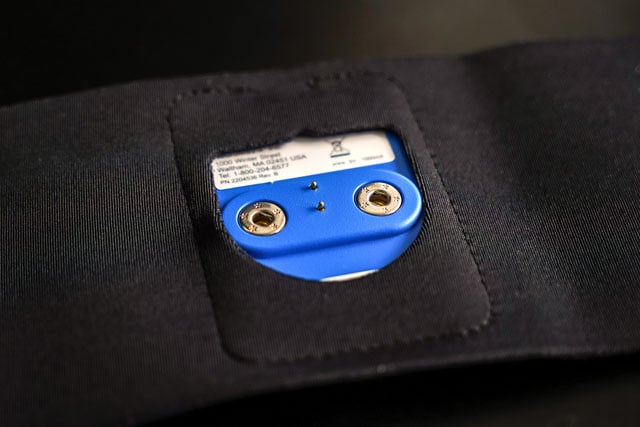 Previously, the Quell app served a more ancillary role in that it had some settings, but little in the way of control. That's changed with 2.0, where setup and maintenance lean heavily on the information you glean from it. For example, the app is required to calibrate the device in the first place, letting you set the intensity there, rather than pressing a button as the previous Quell unit required. A helpful video walks you through the steps.
The app is important for other reasons, too. The Dashboard not only shows an active therapy session, it also shows battery life and number of sessions for that day. As before, electrodes generally last for two weeks, and setting the replacement date in the app means it will tell you when it's time for a new electrode strip.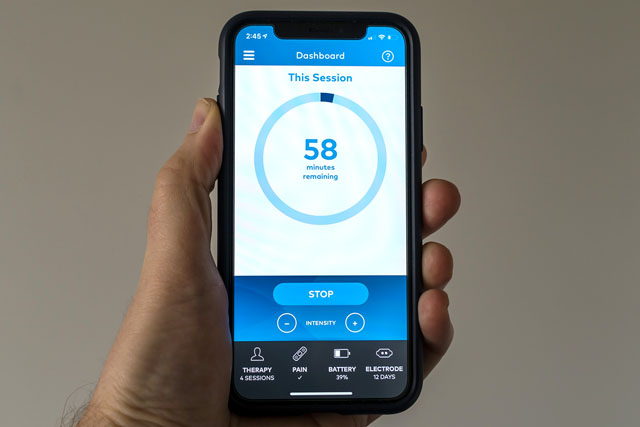 The Tracking section shows average therapy sessions, sleep time (assuming you wore it while sleeping) active steps and gait, and pain level. It shows these figures over a day, a week, a month and over three months. The Quell 2.0 can't assess or measure pain, so it needs you to do it, selecting from 0-10 the level of pain you felt generally, when active, while sleeping and how it affected your mood.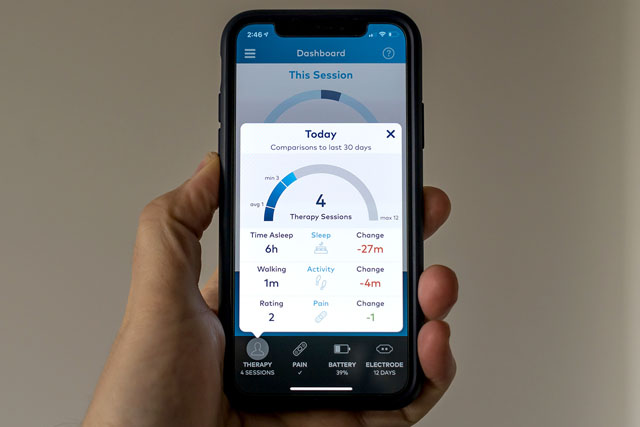 Using those metrics, the device can alter the intensity over the 60-minute therapy session to try to deliver more relief. You can rate your pain level at any time in the app, even if you already did it after waking up, for instance.
Quell 2.0 versus Quell
As I noted in my review of the previous model, I'm an ideal candidate to test this out. Sports injuries led to tendinitis in both knees and a torn labrum in my right hip. Aches and pains come and go in other areas as well.
Some Quell users complained about the first version's strap not being ideal for smaller calves or eventually slipping off after repeated use. Personally I never encountered those issues with the previous model, and certainly didn't with version 2.0.
However, this strap did feel slightly thicker, with better Velcro traction. NeuroMetrix says it's not good to wear it too tight, as that could affect proper blood circulation or cause skin irritation, but to be fair, you probably won't need to. The Velcro stuck properly and consistently, at least for me.
By default, stimulation is set to Standard, though you could go up to Intense if you want stronger performance. If both of those are too uncomfortable, Sensitive is the lowest setting. Dosage also defaults to Regular, which sets therapy at 60-minute sessions, restarting again every 60 minutes. High Dose maintains therapy sessions at 60 minutes, yet restarts them again every 30 minutes. Low Dose reverses those numbers — 30-minute sessions, restarting again every 60 minutes. The Manual option let's you choose when to start therapy every time without a scheduled restart. If at any time, you need a refresher, walkthrough videos are available in the settings on the app.
While the app is the primary input method, the device itself isn't totally passive. Double-tapping the center stops therapy immediately. Double-tap again and it restarts.
It is surprising that an Apple Watch app isn't available yet. There is no smartwatch app for the Quell, as of this review. Hopefully, NeuroMetrix developers get on that sooner than later.
When the previous Quell first launched, you couldn't always wear it during activity. NeuroMetrix eventually addressed that with "Sport" electrode strips. These are easier to distinguish from the regular ones because the gel is clear, not blue. The gels are also stickier, withstanding higher levels of sweat and humidity. After trying them before myself, I can confirm they do work.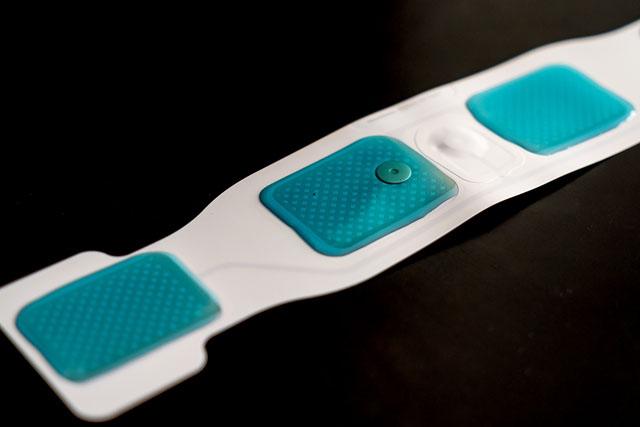 It's actually those electrodes that arguably benefit even more from the Quell 2.0's smaller frame. The lighter feel makes it easier to move around, and the strap does a better job staying in place. There's room for improvement, mind you, but it's a solid step in the right direction. If you're concerned with the regular ones falling off too easily, give the Sport ones a try.
The wild card is how much your skin will react to wearing the device. Will the gels irritate your skin? Will the strap eventually do the same? Can you do a certain job while wearing these, or if you have a specific medical condition?
I'm not qualified to answer those questions, but I can say that it's important to not wear the Quell for a full 24-hour day. The unit pulsates for one minute after a few sessions when it feels you need to let your skin breathe. One way to offset that, if you need to wear it more, is to switch calves.
How well the Quell 2.0 works
Unlike the previous model, where it was all new to me, the Quell 2.0 was a continuation. The basis of how it works is essentially the same, except the supporting pieces of the whole experience are far more convenient.
I felt relief in much the same way I had before. Despite my longer-term experience with the prior product, I was initially hesitant to raise the intensity during sessions on the 2.0, but I eventually grew more comfortable doing it. NeuroMetrix says this version is 20% more powerful, though I'm not sure how anyone could quantify such an exact number. The higher stimulation setting may be the extra bit that's been added on here. That was the only time I felt like this model was stronger than its predecessor.
I've always liked wearing it during sleep, too. It lowers the intensity so as not to jolt you awake, but it's a feature aimed at those who have trouble sleeping from chronic pain. Thankfully, my situation isn't that dire, as I sleep soundly without the Quell.
If you're new to Quell and what it's designed to do, you should know that it may not be well-suited to dealing with debilitating issues of varying severity, like broken ribs, torn tendons, migraine headaches or cancer treatment, among others. Cardiac pacemakers, implanted defibrillators or other implanted metallic or electronic devices may be an issue. Only a doctor would be able to counsel on whether or not there would be a problem using the Quell.
NeuroMetrix has been consistent in suggesting its device is more aptly suited for dealing with sciatica, fibromyalgia, diabetic neuropathy and osteoarthritis. Athletes looking for a TENS unit that can traverse the body the way Quell does may like it. It just doesn't do the acute treatment a TENS unit with specifically-placed electrodes might do.
Battery life of the Quell 2.0
Trimming all that fat to halve the unit's size also reduced the battery life when compared to the previous model. NeuroMetrix doesn't rate it or provide an official estimate as it did with the first Quell, which was rated at 30-40 hours. The Quell 2.0 won't hit those numbers. It might reach 30, but when I continually used it over a 24-hour day, including sleep, I had to recharge it.
Speaking of which, it would've been better if the company used USB-C instead of the older micro-USB for charging. Smartphones, laptops and smaller gadgets are increasingly using the newer standard plug and port. Had the Quell 2.0 also used it, it would've negated having to pack in another cable.
Also, the app sends a variety of reminders and notifications, yet strangely, none include low battery warnings. On one occasion, I put the device on before heading out for a night, only to find out in the car that the device was dead. Since the device itself has no battery indicator, I had to open the app to find out.
Paying for Quell 2.0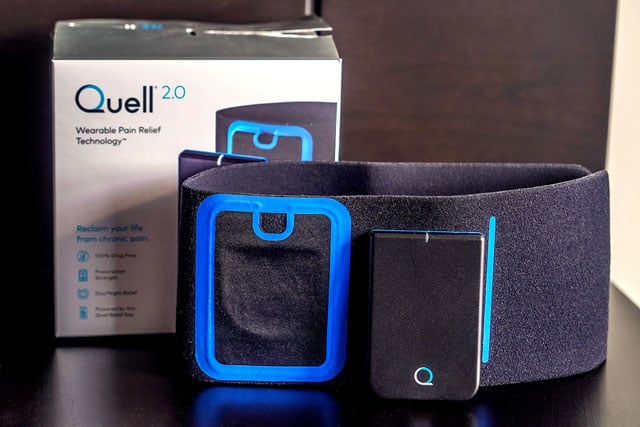 The Quell 2.0 is $300 (check price on Amazon) and comes with two regular electrode strips in the box. For $350 (check price on Amazon), you get two Sport strips instead, along with a travel case for the unit, strap, and strips. If the upfront cost is too much, you can choose a payment plan over three, six or 12 months, with a 10% APR kicking in at 12 months. These plans are administered by Affirm, a lender requiring you prequalify for approval.
The FDA cleared NeuroMetrix to sell the first unit without a prescription, and that also applies to version 2.0. As an over-the-counter device, the company says insurance companies, including Medicare and Medicaid, won't cover the cost. Still, it's never a bad idea to call your insurer to gauge your options. Those enrolled in the Flexible Spending Account (FSA) or Health Savings Account (HSA) programs can get reimbursed. On top of all that, NeuroMetrix has a 60-day money back guarantee if you're not satisfied with the product.
The company charges $30 for two electrode strips (check price on Amazon), which is good for one month. Or you can pay $85 (check price on Amazon) for a three-month supply, which is six electrode strips total. NeuroMetrix also sells a four-month supply for $100. There is no difference in price between regular and Sport electrodes.
Any way you slice it, using the Quell 2.0 consistently incurs a residual monthly cost, not unlike a regular prescription. The primary difference is that this is drug-free, and may save money, depending on how much pills cost, over the course of a year.
The bottom line

For NeuroMetrix, Quell 2.0 was a chance to iterate and improve, and it mostly succeeded in doing so. But for something this subjective, it's hard to say whether it's going to affect every wearer positively. Every person's body is different, as is the pain associated with an ailment or injury.
Either way, it's not a miracle cure. It won't solve a chronic problem, only provide relief from it. I've always used it in tandem with physiotherapy and exercise to get the most out of it, and it's been a great combination. Use it with that in mind, and you may also find it an impactful part of your daily routine.
Quell 2.0 Wearable Pain Relief Device
[Image credit: Ted Kritsonis/Techlicious]
---
Discussion