Review of the Fujitsu ScanSnap iX100
Techlicious editors independently review products. To help support our mission, we may earn affiliate commissions from links contained on this page.
Fujitsu ScanSnap iX100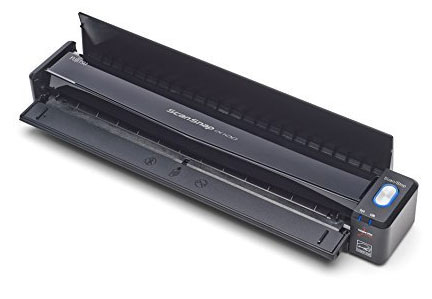 Who needs a portable Wi-Fi scanner? You do, if you'd like to be able to open a drawer, pull out your scanner, and scan documents quickly with no wires or plugs to deal with. Or if you want to do your expense reports at the coffee shop. Or scan while sitting on the couch. You get the idea.
With a $229 list price, the convenience of Fujitsu's ScanSnap iX100 scanner is for well-heeled homes or for business users who need mobile scanning. In my home office, I found it surprisingly handy, useful, and fast.
Tiny Scanner Saves Desk Space
Fujitsu excels at making fast, reliable scanners with robust integrated software for various industries, and in recent years has rolled out a line aimed at consumers. We covered its popular flagship model, the ScanSnap iX500, in our story about going paperless.
The iX100 is a smaller entry in the company's line of Wi-Fi consumer scanners, about half the height of a box of plastic wrap and weighing under a pound. Unlike the bigger model we reviewed earlier, the iX100 only scans one side at a time, so a two-sided document must be fed through twice. Also, there's no document feeder, so you have to feed it by hand. But the software makes it easy to add each new page to the same digital document, and it automatically de-skews and rotates any pages that go in crooked or upside-down. Overall, it's a general-purpose scanner for documents, photos, business cards, and receipts. Other brands may excel in certain areas, but Fujitsu excels when it comes to versatility.
No Cords
This model is battery-operated, which means freedom from a power cord. Surprisingly, this seemingly small difference adds a lot where convenience is concerned, making it easy to place anywhere on a desk without negotiating space for a cord to stick out one end. Of course, it also enables mobile scanning anywhere you're without power.
Keeping with the cordless theme, the scanner also sports a built-in Wi-Fi connection that allows it to communicate directly with your PC or mobile device whether you're on a Wi-Fi network or not. You can turn Wi-Fi off if you like; there's an included USB cable for connecting directly to the PC, which also charges the scanner's battery.
Document Conversion
One of the handiest features is the included ABBY-brand OCR (optical character recognition) software, which converts scanned documents into editable ones for use with applications like Word and Excel.
It also converts business cards or receipts into entries in a searchable database, and includes the card and receipt images for reference. Scanning them is easy: feed in two at a time, side by side, as fast as you can, and the scanner will manage straightening and rotating automatically. However, while the business card application is okay, the receipt-reading application is clunky -- just a step up from hand-entering the data yourself.
Portable Scanner or Desktop Scanner?
In order to fit fast scanning capabilities into a portable scanner, the iX100 gives up certain functionality compared to the $495 iX500 desktop Wi-Fi model ($417.99 on Amazon). Anyone doing stacks of documents will want the iX500, unless portability is a requirement.
iX500

iX100

Speed

25 pages per minute

About 10 pages per minute

Document Feeding

50-sheet hopper

Hand-feed 1 page at a time

Duplex

Scans both sides in a single pass

1 side in a pass

Battery

None: needs power cord

Yes: cordless

Suggested Retail Price

$495
($417.99 on Amazon)

$229
($179.99 on Amazon)
Dedicated Scanner or All-in-One?
Many households already have a scanner in the form of an all-in-one printer. But the scanner function can be slow and, if you're like me, you have to constantly re-learn where to find your scans since all-in-ones can put them in mysterious places on your PC -- and sometimes won't talk to the PC at all.
It isn't always easy to just zip out a scan, especially if the scanner has no document feeder. Plus, you have to clear off the things you've stacked on the scanner before using it. So you find work-arounds to avoid scanning, like taking a photo with your phone and emailing it to yourself or retyping documents altogether.
It's certainly worth considering having a dedicated scanner that makes scanning simple, and a portable scanner takes up no extra desk space when you're not using it.
Great, But Not Perfect
Fujitsu has done enough things right with this scanner to overshadow the few flaws, but there are flaws nonetheless. Some of the dialog boxes still seem aimed at industrial users and could be more intuitive. The workflow is sometimes so automated that it can slow you down if you want to customize certain scans. Some standard scanning features, such as rotating documents, are not always available where you expect them to be. And the ScanSnap dashboard can be confusing once you attempt to move beyond common functions such as "Scan to Folder" or "Scan to Word."
Who Should Buy It?
The ScanSnap iX100 is great for anyone who can afford the convenience of a tiny, dedicated scanner or who needs the flexibility of scanning in a mobile environment. For these use cases, it's a winner. Available for $179.99 on Amazon.
Discussion