Review of Jillian Michaels Ripped in 30 for Xbox One
Techlicious editors independently review products. To help support our mission, we may earn affiliate commissions from links contained on this page.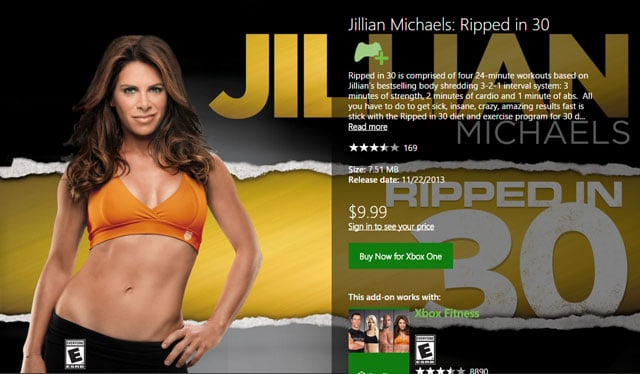 Jillian Michaels Ripped for Microsoft's Xbox One Fitness platform will kick your ass. Based on fitness guru Jillian Michael's video series of the same name (available for $9.09 on DVD on Amazon), this game consists of 24 minute workouts using a 3-2-1 interval system. That's three minutes of strength, two minutes of cardio and a minute of abs—plus a warm-up and cool-down. The full-body workout runs on a loop so you'll be doing about three sets—but never the same one twice.
Scared yet? Don't be. The idea is to go through the four different versions, labeled Week 1 through 4, in 30 days--but there's nothing stopping you from working your way up at your own pace. Want to stay on Week 1 for a month? Go right ahead. Think you can skip right to Week 2? It's your funeral.
To get started, you'll need a comfortable place to work out, either a mat or carpet should do, and two weights. You'll be using these more for strength work, but start with a weight you can easily lift.
The moves themselves are simple to follow. Jillian is front and center making sure you're motivated, and she's got two fit helpers on either side showing off both a full-throttle version and a modified version for an easier workout. Don't worry, you won't be the first to use those modified moves.
Now for the cool stuff. Yes, you'll be following a world-renowned trainer in your own home like a DVD, but Xbox Fitness with Kinect allows for an extra, interactive layer of information on the screen while you're working out. This includes a touch-free heart monitor to estimate heart rate, Muscle Mapping to see which muscles are most engaged, and an Energy Meter to track balance, tempo and form. So, let's say you're doing push-ups (and you WILL be doing push-ups). You'll know if you're not lowering quickly enough or if your hands are in the wrong position. And, for the competitor in you, the more effective and accurate you are; the more points you rack up against other players in the Xbox Fitness universe--giving you a better overall ranking against other fitness foes within the game. And, let's be honest, more encouragement next time you play.
If you want to share your results to social media, like Facebook, Instagram or Twitter, you may be disappointed. There's no social sharing from within the game, but you will be able to sync your workout data with specific apps like Runkeeper and MyFitnessPal using Microsoft Health (available for iOS and Android)
Our final say? We'd happily pocket our gym membership and stick with the virtual Jillian Michaels. Not only can you do this intense workout for 30 days, 90 days or a year, you can supplement it with other intense workout titles on Xbox Fitness, from celeb trainers like Tracy Anderson, yogi Jake Feree, fitness guru Nike Karpenko and Tony Horton of P90x. Ripped in 30 may be a game, but we promise, it will school you.
$9.99 Download exclusively for Xbox One
[Image credit: Microsoft]
Discussion