We may earn commissions when you buy from links on our site. Why you can trust us.

Review of the Lumo Run
Throw on a pair of running shoes, and you can exercise just about anywhere. If you don't run with proper form, though, you'll expend more energy than necessary and may end up injuring yourself. In the United States, the annual injury rate of the estimated 12 million American runners is close to 50 percent, translating into nearly 2 million stress fractures and 4 million sprains or strains.
Why are the injury rates so high? Humans were not built for running, said Dr. Thomas C.Michaud, author of Injury-Free Running. "If we were," he said, "injury rates among runners wouldn't be so high. To run injury-free for decades, you have to be strong, coordinated and, most of all, well informed."
To become well informed, you need to analyze and correct your running form — and that's where Lumo Bodytech's Lumo Run ($149.99 on Amazon) comes in. Created with the help of an advisory board of biomechanics experts, running coaches, triathletes and other athletes, Lumo Run gives you the precision of a running lab in a wearable device. While it can track your distance, route and how long you worked out, like most other fitness trackers, Lumo Run's unique feature is the ability to detect and measure your body movements during a run to help you improve your form.
I was a triathlete for many years but stopped when hip and IT band leg pain made it impossible to continue. After rehabilitation, my physical therapist informed me that I could run again if I maintained proper form. She showed me how to align my body correctly to prevent re-injury, but the movement felt unnatural and I wasn't sure if I was running properly. I was eager to see if the Lumo Run could give me the help I needed to get back to running without pain or re-injury.
Design and setup

The thumb-sized Lumo Run fits into a rubberized holder that is clipped on the back waistband of your running shorts or pants in line with your spine. (Lumo also offers $99 running capri pants and shorts with a Lumo Run built in.) Fortunately, the device is waterproof in case it rains while you're out or you forget to remove it before laundering your clothes.
Setup couldn't be easier. The Lumo Run app (free for iOS, Android coming soon) detects the device as soon as the app is opened. After you create an account and enter your personal data such as height and weight, the app is ready to measure your first run to use as a baseline measurement.
Lumo Run evaluates the first 10 minutes of a run. Subsequent runs must be at least 10 minutes for the app to acquire the data needed for evaluation and recommendations.
Measuring proper running form
You may think you are running with good form, but if you feel afterward as if you've tweaked something—sore hips, knees, ankles, back or leg muscles—chances are you have bad running habits that are causing pain.
Lumo Run breaks down the variables to ensure you're running efficiently and with proper alignment. It evaluates your cadence, bounce, braking, hip drop and torso rotation using a lab-grade, nine-axis sensor. Advanced algorithms capture accurate running biomechanics as your body moves.
After every run, the app displays your data along with the ideal measurement goal. Target goals for each metric show where your movements fall outside the range for optimal efficiency and injury prevention. The app dashboard makes it is easy to see what you need to work on to improve your form. For example, a bounce of less than 3.25 inches and less than 15 degrees of body rotation is acceptable for a five-foot-six-inch tall individual.
What the metrics mean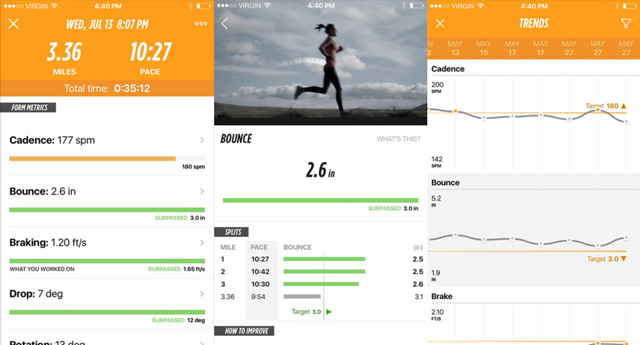 The Lumo Run app is as much an educational tool as it is a record of your body's movements. The form metrics dashboard show which movements are within the desired range and which need improvement. A green line means you're moving within an acceptable range. A red line indicates you need to work on your form.
Tapping on the metric brings up a video that shows the movement being measured along with your targets and exercises. Tap on What's This for a full explanation of the movement, how it affects your running efficiency and how it can cause injury when performed incorrectly.
The cadence metric counts the number of steps you take per minute, with 180 steps per minute as the goal. If your cadence is too low, you may be overstriding, which can strain your hip flexors. If your cadence is too high, you may be shuffling and using too much energy without propelling yourself forward.
Braking is another bad running habit that is measured as force created against each step, rather than a smooth flow of stepping and pushing off. Both braking and bouncing use energy that should be used to propel you forward, and both habits can result in injury caused by jarring your body.
Hip rotation and pelvic drop throw your body out of alignment. Other muscles then try to compensate, which often results in strains, pulls, spinal and joint problems and more. Pelvic drop is often due to weak muscles of the hip and core, abductor (thigh) and gluteus medius. It can cause twisting of soft tissues such as the IT band and pulling on the patellar tendon of your knee. A steady pelvis is essential in moving your body forward and to keep your back and other muscles strong and free of injury.
Real-time coaching
Lumo Run uses a twofold approach to fix your running problems: exercise and coaching. When a measurement indicates improper form, Lumo Run recommends exercises to strengthen your muscles and help keep you in alignment. Line toe taps and front skips improve cadence. Fire hydrants and leg swings help with pelvic (hip) drop. Leg swings help because the motion of swinging your leg back and forth with proper pelvic position loosens the hip and gluteus muscles to give you better range of motion. The app includes an explanation of how recommended exercises help you reach your goals along with a video to show you how to do the exercise properly.
After your baseline run, the app provides audio coaching to improve movement that is below the targeted goal. Retraining is a process, as you build muscle memory to learn a new way to run. Lumo Run doesn't push you to hit your goal immediately. Instead, it works to improve each run incrementally with a 5 percent improvement toward your goal each time you run.
Real-time feedback lets you know how you're doing during your run and gives you tips and information about the benefits you'll receive. You'll hear a chime during the run as you're reaching your goal to help build muscle memory when you do things right.
Audio coaching helps you visualize the correct movement. It may suggest, "Imagine you are under a low ceiling, and avoid hitting your head" to help you become aware that you are bouncing too much. For pelvic drop, where one hip lowers with each step, you may hear, "Try to avoid up and down movement. Keep the horizon steady ahead of you."
Back to running
After years of not being able to run because of pain, I am now able to take some easy jogs thanks to the exercises, tips and coaching of Lumo Run. I'm working with my physical therapist to ensure I'm not injuring or hurting my back or other muscles, and I'm hoping to soon recapture the runner's high I enjoyed as a triathlete.
Lumo Run
[image credit: Lumo, Barb Gonzalez/Techlicious]
---
Discussion