Sonos One vs Sonos Era 100: Should You Upgrade?
Techlicious editors independently review products. To help support our mission, we may earn affiliate commissions from links contained on this page.
The small but mighty Sonos One ($219) smart speaker has been filling my kitchen with great-sounding music since it was introduced in 2017, but it has some new competition – from its own family. The Sonos Era 100 ($249) is a revamped Sonos One smart speaker with a new name, a more modern look, bigger sound, Bluetooth, and a slightly higher price tag of $249.
What do you get for the $30 price hike, and does it deserve a spot on my kitchen counter? After using the Sonos Era 100 in my home for a few weeks, I'm impressed with the new features, which include stereo sound, Bluetooth, and a privacy button for the smart speaker's microphone.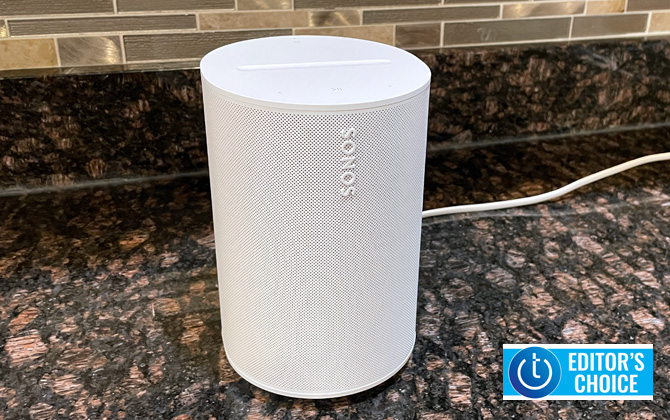 + Pros

– Cons

Rich, wide stereo sound
Easy setup with room auto-tuning
Physical privacy button

No support for Google Assistant
No non-smart version
If you currently have a Sonos One (or Sonos One SL, which is the speaker without the voice control smarts) and aren't clamoring for Bluetooth or stereo sound from just one speaker, you don't need to rush out and upgrade to the Era 100 just yet, but there are some practical things to consider.
The Era 100 replaces the Sonos One, which will only continue to be available while the supply lasts. As of this writing, it's still available on the Sonos website. While Sonos says it will continue to support the product with software updates (new features, bug fixes, and security updates) for as long as possible, when we asked, Sonos says it's committed to providing new features via software updates for a minimum of five years after they stop selling a product. Once Sonos stops supporting it with bug fixes and security patches, you may leave yourself open to security issues if you continue to use the product.
If you're in the market for a new Sonos speaker, the Sonos Era 100 tops its predecessors in every way and is well worth the extra money.
Design
While the Sonos Era 100 is similar in size to the Sonos One, the design has changed slightly. Instead of the squared-off edges, it has a more rounded shape, and at 7.2 inches high, it's just a tad taller than the 6.4-inch-high Sonos One. I find the extra height and sleek shape gives it a more modern, updated look.
Capacitive touch controls on top of the speaker make it easy to play, pause, skip, and replay tracks, and while you can still tap to adjust the volume, the new volume slider is a simple way to control the audio level quickly.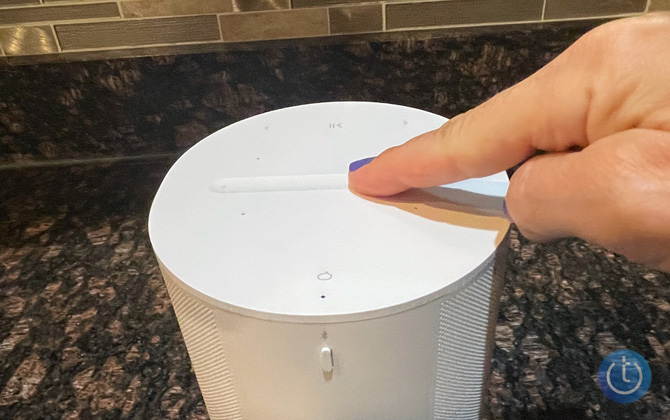 Two new buttons on the rear of the speaker are welcome additions. One is a Bluetooth button, something we've only seen on Sonos' portable speakers, the Sonos Roam ($179) and Sonos Move ($399) until now. The addition of Bluetooth means a visitor can stream music to the speaker without having to connect to your WiFi and go through the Sonos app.
The second button turns off the smart speaker's microphone. You can still tap the button on the top to temporarily mute it, but if you want to turn the microphone off completely, the toggle switch will do that. One note about voice control: while the Era 100 supports Amazon Alexa and Sonos voice control, it does not support Google Assistant as it did on the Sonos One.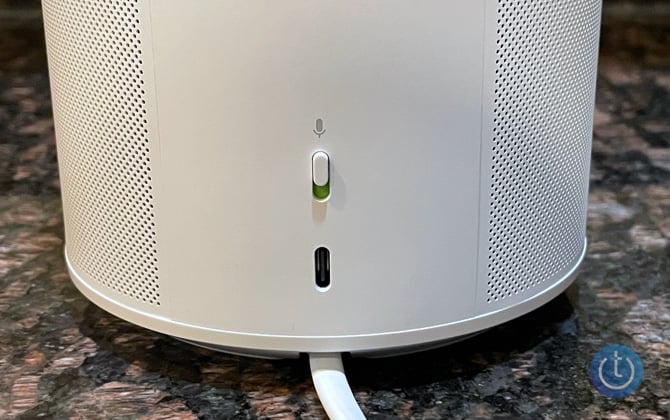 Audio quality
Sound is where you really see – or hear – the difference between the Sonos Era 100 and the Sonos One. The Era 100 delivers stereo playback, more bass, and a wider sound stage thanks to the speaker's two angled tweeters (up from one) and a single 25-percent-larger midwoofer.
While I've often paired my two Sonos speakers to create a more immersive, room-filling sound, I was surprised by how crisp and rich the audio sounded from just the Era 100. Of course, you can pair the speakers with your own Sonos speakers or connect them to a soundbar like the Sonos Beam ($499) or Sonos Arc ($899) for home theater sound.
Sonos is known for its Trueplay tuning technology, which helps balance the sound in large rooms. It involves using an app on your iOS device and walking around the room waving your arms up and down. Sonos now has a Quick Tuning feature that uses the microphones on the Era 100 (no phone needed) to measure a room and optimize playback, and it takes under a minute to do. I've always used Trueplay when setting up Sonos speakers because I live in a home with a lot of open space, which is where you can really tell the difference. Using Quick Tuning made this process so much easier and faster. And great news for Android users: while Trueplay was for iOS only, Team Android can use the new Quick Tuning feature.
Connectivity
In addition to the wider, deeper sound, some of the most exciting upgrades to the Era 100 are about connectivity. As mentioned above, this is the first non-portable Sonos speaker to have Bluetooth connectivity in addition to WiFi and AirPlay 2. To add even more flexibility, Sonos added a USB-C line-in port to the back of the speaker. With an optional $19 USB-C to 3.5mm adapter, you can connect a variety of external audio sources. Best of all, you can play that audio source on any speaker on your Sonos system.
The bottom line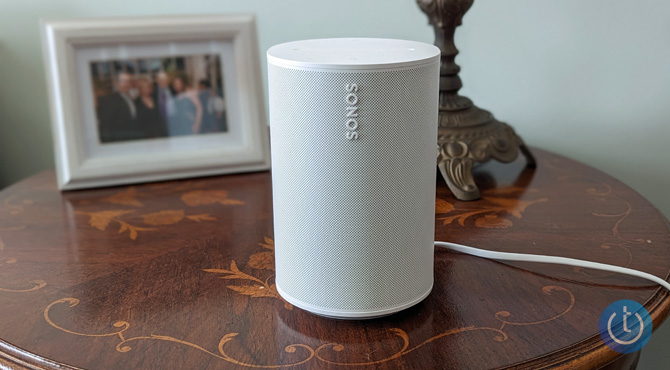 While you might be tempted to buy the less expensive Sonos One ($219) while you still can, the Sonos Era 100 ($249) delivers more connectivity features, a more modern look, better bass, and a more expansive sound thanks to the additional tweeter. And while there's no SL or non-smart version of this speaker, the addition of a physical privacy button to turn off the speaker's microphone will appeal to those who prefer more secure privacy. The one downside is that the Era 100 doesn't support Google Assistant.
For most people looking to buy a new standalone Sonos speaker or expand their existing Sonos system, the Era 100 is the way to go. It's a feature-rich upgrade to the One, and you can feel confident that it will be supported by the company for years to come.


[Image credit: Andrea Smith/Techlicious]
Andrea Smith is an award-winning technology broadcast journalist, reporter, and producer. Andrea was the Technology Producer and an on-air Technology contributor at ABC News for over two decades before becoming the Lifestyle Channel Editor at Mashable, where she explored the ways in which real people, not just geeks, began using technology in their everyday lives.
Discussion