The Best Home Security Camera
Techlicious editors independently review products. To help support our mission, we may earn affiliate commissions from links contained on this page.
It used to be that home surveillance was a costly product and service with an invasive installation, but wireless technology and improved optics have changed everything. Home security cameras are now as plug-and-play as computers, making them more convenient than ever.
It's been a perfect technological storm that has brought the pieces together. Faster Internet and HD streaming, coupled with better Wi-Fi, smaller lenses and smartphone apps. The sum of these parts is evidenced by the improved smart home cameras currently available on the market.
Smart home security cameras are standalone devices you can use just about anywhere inside your home to keep watch, even when away. They provide access to a live stream you can view on your smartphone or tablet, and are designed to alert you when detecting motion, giving you an opportunity to view the scene live or in a recording. This way, no matter where you are, you can keep tabs on what is happening.
These cameras can operate 24/7, and include night-vision, thereby keeping an eye on your home at all times. They generally don't mechanically pan around or move on their own, though you can zoom in.
Whether it's being away for a vacation or simply wanting peace of mind under any circumstance, smart home security cameras can be tailored to meet your specific needs. They can be set to alert more than just yourself, so other family members can receive the same alerts. They can also record an incident taking place, even if you are home. Some even offer face detection to recognize known faces. Others have extra features built-in to measure temperature or air quality in a home.
A number of vendors have offered their takes on smart home security cameras, and we tested five of the most popular among them. While they all have their own unique features, the five tested all offer HD video with remote access and smartphone apps for setup, management and monitoring.
All were tested over the course of several months in two homes, gauging how they performed in all aspects, which included deployment options and their respective apps.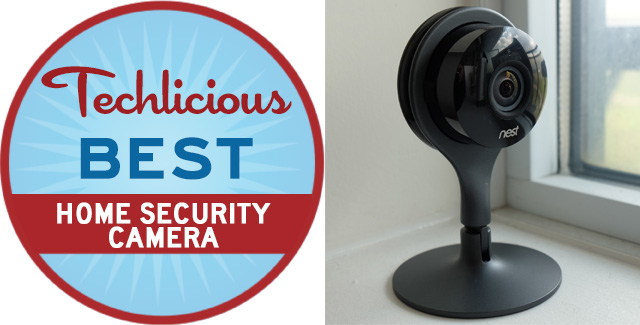 From the perspective of a purely indoor camera, the Google Nest Cam ($164 on Amazon) came out on top of the rest for its excellent video quality and simplified maintenance.
With a user-friendly setup and app layout, the Nest Cam proved a formidable camera that was quick to notify us of motion, while its smaller form made it one of the easiest to hide. The superb HD video quality added to an impressive package.
But it was close. The Nest Cam narrowly beat out the Icontrol Piper NV ($280), Canary Flex ($200), Netatmo Welcome ($121), and IC Real Tech ALLie 360 Cam ($99).
Physical design
Size does sometimes matter with a smart home camera, depending on where it needs to go. By making them smaller, manufacturers have enabled their customers to have more freedom in where to put them. In any case, all need access to a power outlet.
Design actually varies considerably between these five units. All can be utilized standing upright on a windowsill, bookshelf or ledge, but only the Nest Cam, Flex and ALLie 360 have the flexibility of being set up on a wall as well, either by mounting it through drilling holes or an adhesive sticker.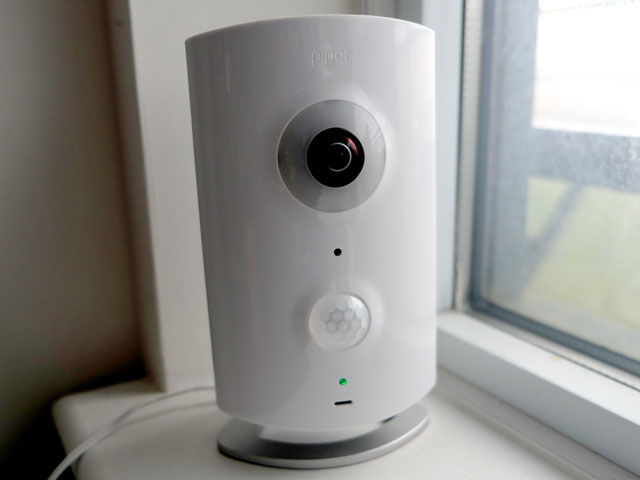 The Piper NV is the largest of the group. However, the space is by no means wasted. It is equipped with different sensors to measure temperature, humidity and light, plus a compartment for three AAA batteries to run off the grid. It also has a 105-decibel siren to ward off intruders, including a microphone and speaker to speak through. Its upright design and brackets do allow for setting up on a flat surface or mounting on a wall, making placement more flexible.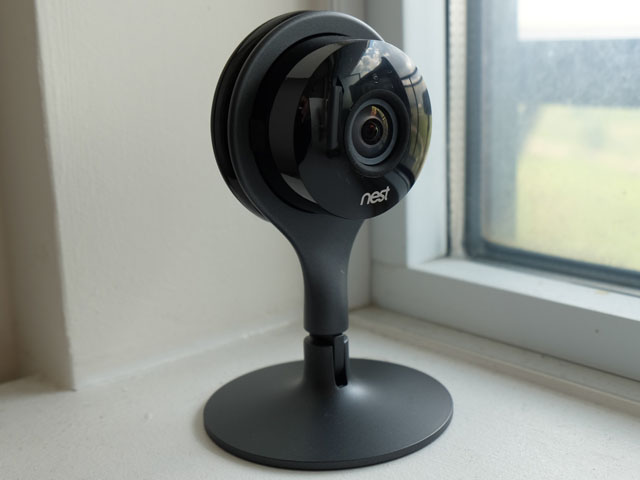 The Nest Cam is the smallest of the group, though it's partly because the stand and stem are noticeably smaller. It uses an adhesive backing to stick to a wall, but the lens doesn't rotate to adjust the field of view. It does have a microphone and speaker as well.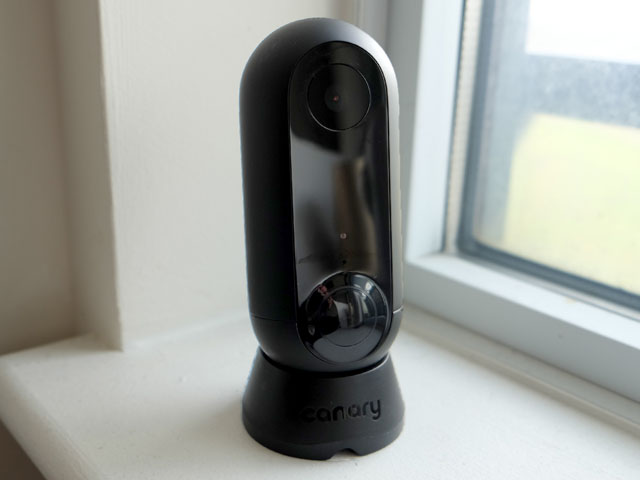 The Canary Flex is a significantly smaller model compared to Canary's debut smart home camera, utilizing a magnetic base that allows for some flexibility in angling the lens. It has a built-in rechargeable battery and is designed for both indoor and outdoor use. We focused squarely on its indoor prowess for this comparison.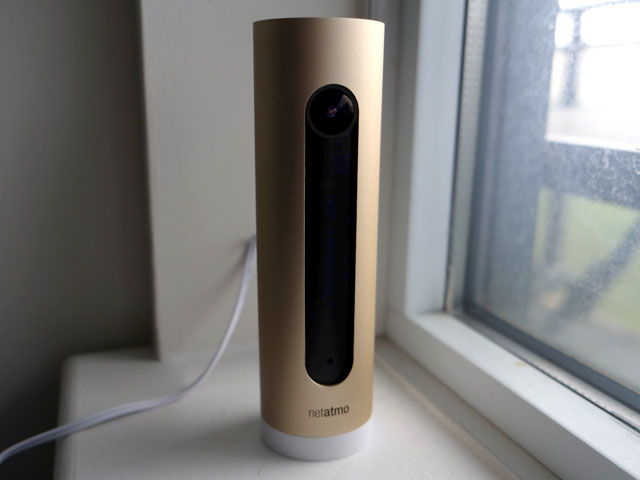 The Welcome has an upright cylindrical design and is the only unit in this group that uses a microSD memory card to store recordings. It has no wall mounting option, so is best left on a shelf or ledge to capture its field of view.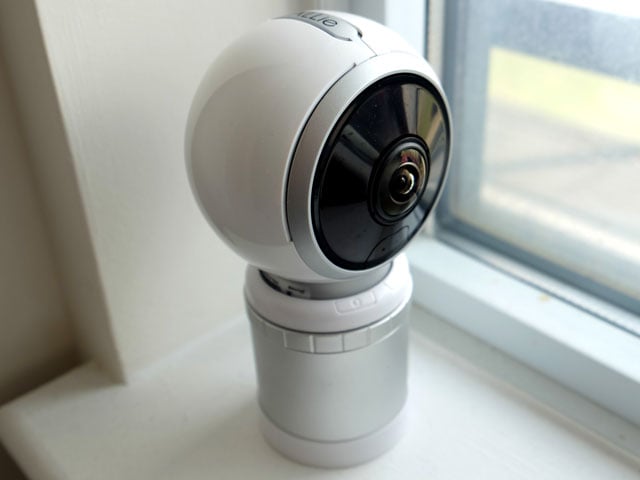 The ALLie 360 Cam is the most unique because it has two lenses. While that does mean it can cover a 360-degree field of view, it would need to be unobstructed on both sides in order to see all around. It is wall-mountable, or even ideal for the ceiling.
In all instances, none of these cameras are meant to be a spy camera per se, like those diminutive ones that can be more easily hidden. That's not to say you can't be creative with these, but location and placement do matter. Hiding and disguising them does require some creativity.
All use Wi-Fi to connect to the Internet, though the Welcome is the one exception with an Ethernet port for wired access as a secondary option. They each have iOS and Android apps designed to view the camera's live footage and recordings, as well as to make adjustments to settings.
How the cameras work
Each camera's setup requires signing up for a free account through the app, consisting of an email address and password. The apps act as step-by-step guides to get them connected to the home network in order to become operational.
Good home Wi-Fi networks are important to maintaining a steady signal for any of these cameras, adding to the importance of placement and location. The cameras are each somewhat inconspicuous in that they don't flash or light up when detecting motion. Night-vision is done through infrared, thereby not requiring a source of light to illuminate a room or subject.
Certain colored lights will indicate status, however, there isn't much beyond that showing that the cameras are working.
All of them shoot at 1080p HD, except for the Canary Flex (720p HD), Welcome (720p HD) and the ALLie 360 Cam (2448x2448). The field of view is also varied, with the ALLie 360 Cam being the widest with two lenses capturing 180-degrees each for a full 360-degree angle. The Piper NV is the widest from a standalone lens perspective at 180-degrees. The Canary Flex is the shortest at 116-degrees. The other two cameras are at 130-degrees.
In each case, you can pinch to zoom on their respective apps to get a closer look at the video, including recordings, but no optical zoom on any of them, meaning the lenses don't actually move or zoom in on their own.
They are each designed to detect movement within their field of view, thereby triggering a notification through the app. At that point, it's possible to view the camera live, or see a still image or recording of the sequence that captured the motion.
The potential for false positives is obvious, like if a pet strolls into view, or even if a family member continuously enters the scene. These were issues that initially dogged smart home camera manufacturers, and have not been completely solved yet.
The Welcome tries to do it the most personally through its face detection feature. Detected faces can be turned into profiles, effectively helping the camera filter out who it knows and doesn't know. Netatmo intended this to be a two-fold purpose: detecting unfamiliar faces who might be intruders, while also having the peace of mind of knowing when a family member, like a child, for instance, arrived home.
The others don't use face detection, but focus more on movement instead. Part of the failsafe in these cases is that the camera's footage is saved to the cloud for a certain amount of time. Subscribing to a manufacturer's plan provides as much as 30 days worth of 24/7 footage, whereas non-subscribers might get only 24 hours.
Where the footage goes
The footage is stored in the cloud, on servers the manufacturers run. Again, the one exception is the Welcome, which uses a microSD card to store footage in a loop. This way, if power goes out, or is forcefully unplugged, it can immediately save and send a still image at that moment. Despite that, footage can be viewed remotely just like with any of the others.
Only the Canary Flex can continue to operate through a power outage, albeit without being able to stream anything because the home Wi-Fi network would ostensibly be off too. The Piper NV can also work off the grid if there are batteries inside.
Power outages affect a camera's live view, but not recorded footage already uploaded to the cloud. Still, there are caveats. The Nest Cam offers an initial trial that includes recorded video, but beyond that, it only takes snapshots when it detects motion in three-hour intervals. A Nest Aware subscription starting at $10/month (or $100 annually) maintains what the trial offers.
The Canary Flex also uses a subscription service to offer a 30-day history for $10/month. A 24-hour recorded loop is free on the ALLie 360 Cam for the first 12 months, and is then $6.95 monthly after that.
The Piper NV and Welcome stand out for having no subscription fees.
Choosing a winner
Given that each camera in this group has its own particular strengths to stand out, the Nest Cam had the best video quality, with crisp visuals and consistent performance. The need for a subscription to maintain its best features does dampen things somewhat, but the cost is worth it for the peace of mind and simplicity it already provides.
There is an integration angle as well. Having other Nest products like the Thermostat allows for the Nest app to control all of them at one time. In addition, the Nest is compatible with both Google Home and Amazon Alexa to ask for a live view from the camera by voice. IFTTT (If This Then That) and Stringify integration pushes that further, allowing users to set up triggers and actions. For example, connected smart light bulbs can turn on once the Nest Cam detected someone.
The others in this group do have some level of integration, except it is limited by comparison. The other limitations in each case also made them fall a little short.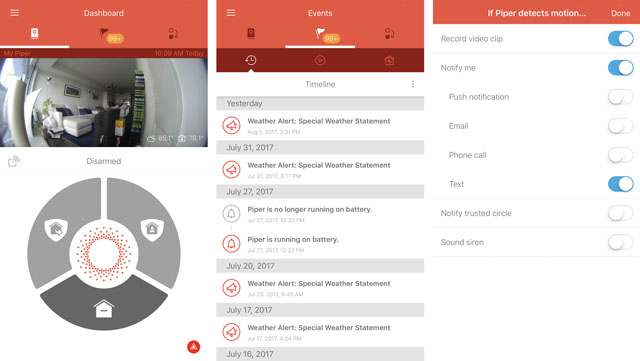 The Piper NV is the most versatile of the group in terms of its features, though its video quality isn't as sharp. Its larger frame also makes it slightly harder to hide, mount or angle. Icontrol has enabled IFTTT access, but not directly with Google Home or Alexa.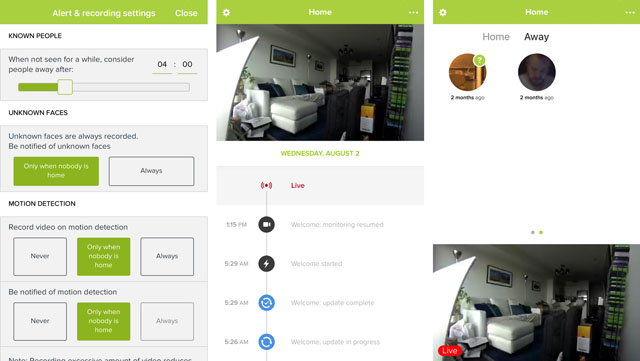 The Welcome has a unique angle that focuses on face detection, except it has no two-way audio, so doesn't record any sound, nor allow for voice through a speaker. Storing video locally on the memory card is nice, but cloud storage requires a Dropbox account, which can be pricey over time because of the space needed.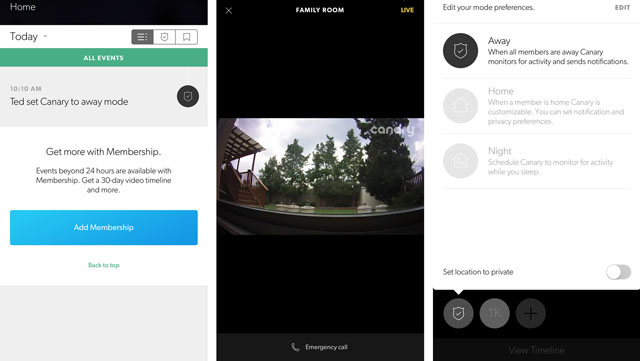 The Canary Flex has plenty of potential, but no real smart home integration as of yet. As part of a smart home, it effectively operates separately from everything else. As of this review, it only works with the Wink hub.
The ALLie 360 Cam offers the widest view, but at a low 20fps (frames per second), and zooming in cuts down the resolution considerably to the point of obvious pixelation. Even at its widest angle, it can't match the clarity of others in this group. Night vision isn't as crisp, either, and it has no real integration to speak of.
The Competition
Smart home camera technology is a category with no shortage of manufacturers involved. In focusing on indoor cameras, units like the Netgear Arlo Pro and Logitech Logi Circle were left out because they would be better compared in both indoor and outdoor scenarios with another rechargeable model like the Canary Flex.
Others, like the Homeboy may be able to work wirelessly, but without live streaming. The Belkin NetCam HD+ is a capable smart home camera, but slightly aged in feature set and performance compared to this group. The Ezviz Mini is among the most affordable, but lacks most of the features the others offer, perhaps making it better as a baby monitor.
That's a snapshot of the litany of competition that has since sprouted in this category over just the last few years. Some of those vendors may eventually launch models that will compete among the best in the industry.
From the critics
Customers on Amazon have come away satisfied with the Nest Cam, with a collective rating of 4.2 out of 5 stars with over 5,700 reviews. Critics pointed at the subscription fees as a low point, but there was a general consensus that the easy setup, video quality and improved app performance combined to make the Nest Cam an excellent choice.
The Canary Flex's rating of 3.9 out of 5 stars was dragged down slightly by complaints over how the company divides the 24-hour recording window when more than one Flex is used in the same home and network.
The Piper NV's rating of 3.6 out of 5 stars was largely driven by reviewers who both adored and hated the camera's feature set. It was wonderfully expansive for some, yet seemingly too complicated for others.
Netatmo's Welcome is rated at 3.5 out of 5 stars for similar reasons. Many liked its appearance and concept, yet took issue with inconsistencies in its performance.
The ALLie 360 Cam has struggled to impress users with its rating of 2.4 out of 5 stars, where comments have largely focused on the video quality, build quality and software experience.
The bottom line
Despite the subscription fee associated with its full breadth of features, the Nest Cam offers the best combination of user-friendly setup, video quality, placement flexibility and smart home integration.
There are third-party accessories that work with the Nest Cam, including a wall socket mount to set up the camera on a wall without using the adhesive backing. IFTTT has recipes specifically tailored to the camera, and it already works with Google Home and Amazon Alexa, giving it a head start compared to others. The video quality is superb both day and night, making it easier to trust in clearly seeing what's happening.
It is more expensive upfront, with seemingly less to offer in its features list, yet it stands out as the most consistent and capable of this group.
Nest Cam: The Best Indoor Home Security Camera
[Image credit: Ted Kritsonis/Techlicious]
Discussion