The Best Noise-Canceling Headphones
Techlicious editors independently review products. To help support our mission, we may earn affiliate commissions from links contained on this page.
Effective noise reduction, on-the-ear comfort and high quality sound, make the Philips Fidelio NC1 our pick for the best noise-canceling headphones.
Philips Fidelio NC1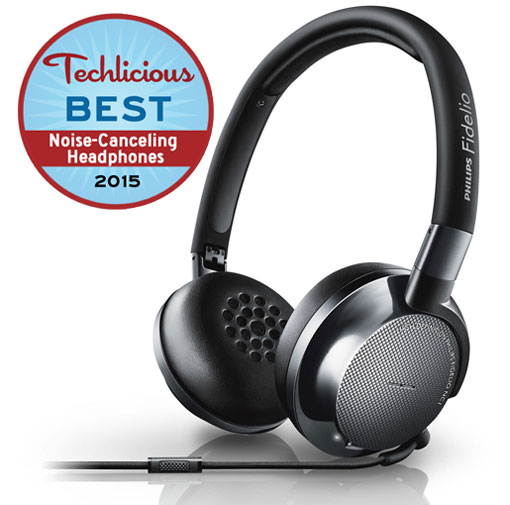 Enduring a lengthy plane flight leaves you with three methods of deafening yourself against chatty seat neighbors, crying babes and engine hum. You can cram your ear canals with a pair of sound-isolating in-ear buds. You can don a pair of enveloping over-ear headphones. Or you can wear a pair of active noise-canceling (ANC) headphones designed to eliminate in-air annoyances.
Snug in-ear buds or closed over-ear headphones deliver far better sound quality for less money than noise-canceling headphones, but their ability to isolate sound depends entirely on achieving a tight seal around or in your ear. Noise-canceling headphones use electronics to eliminate ambient sound – especially engine hum. They don't block ambient airplane noise any better than tight- or snug-fitting over- or in-ear phones, just differently; ANC phones usually don't need to fit as snugly as in-ears or create as tight an acoustic seal as closed, full cup headphones do to block ambient noise, especially droning engine hum. Their looser fit make them more comfortable, especially over long hauls.
There are a number of companies that produce ANC phones, including Philips, Beats, Sony, JVC, Audio-Technica and Plantronics, and we've listened to most of them. Until recently, the universally acknowledged king of active noise-canceling headphones has been the Bose QuietComfort 25 (QC25) headphones ($299.95), the latest in a long line of well-regarded QuietComfort ANC headphones.
Bose essentially invented noise canceling headphones and its technology has been, quite simply, years ahead of what everyone else is deploying. Not even its competition would deny that Bose is the noise-canceling icon against which they and the public measures their wares. In fact, The QC25s were our pick just a few months ago as the best noise canceling headphones.
But we recently found another pair of ANC headphones that manage to best the Bose – the new Philips Fidelio NC1 ($299.99). For comfort, sound quality and (almost) noise cancellation, the NC1 are the new headphones to beat. (See our complete review of the Philips NC1 here.)
Update: The Philips Fidelio NC1 price has dropped to $233, giving them a price advantage over the Bose QuietComfort 25.
Design and comfort
The designers of the Bose QuiteComfort 25 and the Philips Fidelio NC1 took two opposite ergonomic design tacks to tackle noise cancellation. Bose uses a fully closed earcup design, which cuts around a quarter of ambient sound and gives the noise canceling circuitry a head start.
The NC1s are so-called "open" style – they lay flat on the ears, an arrangement that, theoretically, lets lots of ambient noise leak in. However, the earpads of the NC1s are made from memory foam, which forms a nice, comfortable noise seal on your ear unlike any open-style headphones, noise canceling or not, I've ever worn.
By going with memory foam, Philips has managed to shrink the earpads on the NC1 to around two-thirds the size of those on the Bose. Since both these headphones are designed to be toted and worn on planes, this size difference gives the NC1s a portage advantage. Both sets of phones collapse and roll up into a fetal ball. But the NC1s can be laid flatter and thinner, and their carry-on case is smaller, which means more room in your carry-on and more room either in your lap, the seat tray or seat pocket to store them during your flight.
I found the slightly lighter and smaller NC1s more comfortable and less constrictive to wear over the course of several hours of flying than the QC25s. Not that the Bose are UNcomfortable – they're not – it's just that the NC1s are MORE comfortable.
In addition, the NC1s' earpad covering material (which feels like a light leathery cloth) is quite breathable – it didn't get sweaty after several hours of flush on-ear wearing.
Sound quality
No set of educated ears will confuse the NC1 or the QC25 with a comparably priced pair of non-ANC phones such as the Sony MDR-1A ($298) – they lack the wide dynamic range, the subtle and natural bass or the wide, airy sound stage. That doesn't mean the NC1 or the QC25 are bad headphones – compared to other ANC models, they're quite good. But you're not paying $300 for audiophile quality.
Between the NC1 and QC25, the NC1s sound fuller and smoother, compared to the thinner, higher-end-centric QC25s; which is "better" is pure personal preference. You get slightly more boom and bottom with the NC1s as well, although neither will be mistaken for a pair of Beats. Bass is one of the sacrifices you make with noise canceling headphones, regardless of make. Generally speaking, the better the ANC, the less bass.
For movie watching/listening, the open style of the NC1s made surround movies more enveloping, as if the action and the swelling soundtrack were around you as in a movie theater, rather than bottled inside the closed earcups of the QC25s.
Until we heard the NC1, the only ANC phones we listened to that surpassed the QC25's in aural abilities are the new, velvety smooth Sony MDR-ZX770BN ($229.99). We slightly prefer the Sony's sonics, but the NC1's are close and sound slightly superior to the QC25. On the other hand, the Sony's only offer around half of the NC1's or QC25's noise canceling capabilities, which knocked them out of contention.
However, noise-canceling headphones such as the QC25 suffer from a major flaw. If the battery dies – unlikely during a single flight, since most ANC headphones pack enough power for even the longest international hauls – you can still groove, but your music will pretty much sound like mush, thick and muddy. If you care about your sound quality, you'll always be worried about battery life.
This no-power/no-sound is one area where Philips beats the Bose. When its integrated rechargeable battery dies (after around 30 hours), the NC1 loses only a small percentage of its fidelity and, unlike the Bose, remains listenable. When the Bose lose power, music suddenly sounds muffled and barely audible.
Fortunately, the QuietComfort 25 get a bountiful 35 hours of ANC enjoyment out of a single AAA battery, which can be easily slipped out and replaced to maintain solid sound – assuming you packed an extra battery. Other ANC headphones powered by integrated rechargeable batteries are nearly impossible to recharge on a plane, and you'll have to wait for the cell to recharge before you can begin listening again.
Noise Canceling
To test noise canceling capabilities, I used my PC sound system to play a YouTube video of airplane cabin noise at 80db to simulate typical cabin conditions, with additional testing using my TV playing in the background. For "real world" experience, I alternately wore both the QC25s and NC1s on a succession of airline flights (much to the bemused confusion of my varying seat neighbors),
Considering their open design, the memory foam on the NC1s did a remarkable job of blunting nearly the same amount of ambient noise before turning on active noise canceling as the QC25s. With their ANC activated, both headphones canceled – actually, more like muffled – around half of the remaining ambient engine hum and nearby conversation/TV noise. Both transformed engine hum from a deep rumbling hum to more like that from a bathroom hand dryer heard from outside the door, and outside conversation seemed to shift aurally from next to me to a distant room. My music was then able to drown out any remaining ambient annoyances.
All things considered, I'd have to give a slight noise canceling edge to the Bose – but very slight, only detected with back-and-forth A-B comparisons.
One difference you can sense between the two is the air pressure vacuum in your inner ear with the ANC switched on, which seemed more acute with the QC25s than the NC1s. For those who find this uncomfortable, the Philips will be more pleasant to wear.
Only one other ANC headphones we listened to matched up to the NC1's and QC25's noise canceling capabilities: the Audio-Technica ATH-ANC29 ($99.99). But, the ANC29 didn't sound or fit as well as either the NC1 or the Bose QC25.
Controls
Both the NC1 and QC25 feature a detachable cable so you can wear them if you just want silence for sleeping. The Bose cable includes in-line mic, pause and volume controls. Whereas the Philips cable only has pause and mic. Both phones also include airplane two-prong adapters.
What are Fidelio NC1 owners saying?
While the NC1s are pretty new in the US, purchasers on Amazon's UK site, where it came out last year, give it an outstanding 4.8 out of 5 stars. Owners consistently praised the sound, comfort and noise cancellation, with at least one returning a pair of QC25s and sticking with the NC1s.
Bottom line
The Philips Fidelio NC1 has barely pushed past the Bose QuietComfort 25 headphones as the best noise canceling headphones, but they've done it. The NC1s offer a combination of surprisingly effective noise reduction plus lightweight, on-the-ear comfort and high quality sound. At $299.99 on Amazon, you're not saving anything over the Bose, but that's okay, the Fidelio NC1s are worth it.
Philips Fidelio NC1 - The Best Noise Cancelling Headphones
Discussion