The Best Portable Bluetooth Speaker
Techlicious editors independently review products. To help support our mission, we may earn affiliate commissions from links contained on this page.
The compact and powerful UE Boom provides excellent sound quality, long-lasting battery life, easy portability plus water resistance for peace of mind at any party.
Logitech Ultimate Ears BOOM Wireless Bluetooth Speaker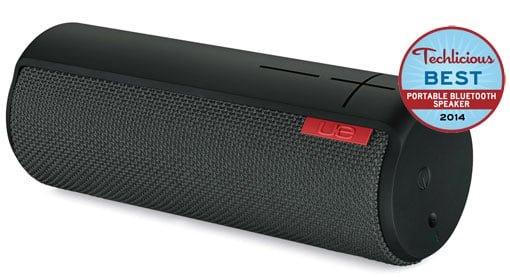 A portable Bluetooth speaker lets you party anywhere — but being portable means it has to do a great job reproducing high-quality tunes while remaining small and light enough for easy toting. It needs to be easy to pair with your music device. It should be able to withstand incidental bumps and jostling, and it would be great if it were impervious to the elements and other aquatic encounters.
A portable Bluetooth speaker should let you carry on hands-free phone conversations. It should be easily charged and supply enough juice to provide a steady soundtrack for even the lengthiest bacchanalia. And it needs to put out plenty of sound; it needs to be loud.
We considered the range of Bluetooth speaker uses and a need for superior sound indoors and out, and a clear winner emerged as the ultimate high-end ($200+) choice: Logitech's Ultimate Ears BOOM Wireless Bluetooth Speaker.
The test pool
We awarded the Boom our top finish after running other highly-rated premium Bluetooth contenders through their paces. We tried out the highly regarded, book-sized Bose Soundlink III ($300), the distinctive yet bulky Polk Camden Square ($300), the vaguely wedge-shaped Klipsch GiG ($200), the psychedelic but tragically underpowered JBL Pulse ($200), the adorably tiny and appropriately-named Beats Pill 2.0 ($200), the oddly rhomboidal Bayan Soundbook X3 ($300), the fun yet even more underpowered Fugoo Style ($200), the colorful and bass-laden Jawbone Jambox ($300) and the water- and shock-resistant Braven BRV-X ($200).
Each Bluetooth device features something worth recommending it, either aurally or ergonomically, and sometimes both. Sound quality, of course, must remain our primary interest.
To test these speakers, I used an HTC One M8 to listen to both bass-laden and fragile tracks including "I Gotta Feeling" by the Black Eyed Peas, the uncensored version of Pink's "Less Than Perfect," "Tubthumping" by Chumbawamba, "Money" by Pink Floyd, "Here Comes The Sun" by the Beatles, "Rolling in the Deep" by Adele, "Life During Wartime" and "I Zimbra" by the Talking Heads, "Woke Up This Morning" by the Alabama Three and "In Your Eyes" by Peter Gabriel.
Overall, the Bose and Polk Camden Square stood out, producing the most natural and even tones across all frequency ranges. The Klipsch GiG and JBL Pulse produced the crispest, most full-range tonality among the more compact units.
But the Boom wasn't far behind these audiophile favorites, with differences perceptible only through critical side-by-side listening. The Boom boasts distinct, smooth and natural mono sound indoors and out and at all volume levels, with solid, unobtrusive bass.
Thanks to its 360-degree speaker design, the Boom provides a surprisingly wide soundstage that isn't as location-specific as flatter speakers with sound stages and even volumes dependent upon their placement. No matter where you put the Boom in a room or in what position — optimally standing upright or horizontally — it sounds the same.
Outdoors, the Boom, Bose and Bayan put out the most volume at the longest distances, but the Boom has the greatest space-filling potential.
Then there's the disappointing case of the JBL Pulse cylinder, perhaps the sweetest-sounding speaker with the best-defined bass of all the compact units. Unfortunately, the Pulse not only lacks its own built-in volume controls, it produces only enough volume for an intimate gathering. Its sound (as well as the Fugoo's) would be completely drowned out in any well-populated party situation, although the crowd might be mildly entertained by its gimmicky, pulsating LED light show. However, a Pulse with a slightly more powerful amplifier might come closer to perfect than any other speaker we tested.
Bluetooth connectivity
All Bluetooth speakers except the Beats Pill maintained solid Bluetooth connections out to about 80 to 100 line-of-sight feet — in most cases far beyond their effective aural range. The Beats' connection, however, started to garble at around 70 feet.
AptX is a new compression scheme designed to smooth out the rougher tonal edges of Bluetooth connections, which really aren't designed for music. Geoff Morrison at CNET provides a great primer on aptX. Because the technology is not supported by Apple, we used an aptX-equipped HTC One Android phone for our tests.
The Boom lacks aptX compatibility — but the Boom sounded superior to most of the aptX-equipped speakers we tested.
All the attributes that count
Despite no aptX compatibility, the Boom offers every other attribute on our portable Bluetooth speaker checklist:
Only the Beats Pill and Fugoo are smaller.
The Boom is IPX4 splash-resistant, handy not only for inclement weather or beach and swimming pool splashes but to withstand thorough cleaning and even spilled drinks at parties.
Like all the compact models noted here, the Boom charges via a micro-USB connection using the same charger or portable power pack as your Android phone. All the larger speakers use speaker-specific pin-type jacks.
It runs for 15 hours at half volume, an above average time for premium Bluetooth speakers; only the Polk Camden Square (24 hours) and the volume-challenged Fugoo (40 hours) are rated to run longer.
With an output of 88 decibels, in my decidedly unscientific tests, the compact Boom surprisingly proves to be one of the loudest models I tested.
Like most of the units, the Boom includes NFC for quicker pairing, although the tap-to-pair spot isn't identified on Boom's body. (It's beneath the volume down button.)
Like most of the other speakers, it includes a built-in mic so it can be used as a speakerphone.
Each of the Bluetooth speakers I tested offered some combination of these features and capabilities, but no other portable Bluetooth speaker brought together the Boom's combination of high sound quality and bass indoors and out with volume level, water resistance, battery life and size and placement versatility.
Critical praise for the Boom
We are not alone in giving high marks to the Boom. CNET's reviewer was impressed by how loud it played and how long its battery lasted. "I still wished it cost a little less," wrote the CNET reviewers, "but in taking it for a weekend spin outside the office, I found myself becoming attached to it — enough to think I wouldn't regret paying $200 for it."
Over at PC Magazine, Will Greenwald said the Boom gives "solid, room-filling imaging regardless of its placement or your listening position," noting that he had yet to find a speaker the Boom's size that put out as much sound.
Matthew Miller at ZDNet compared it to the Beats Pill, Jawbone Jambox, and Braven 650 and called the Boom best of all.
And Pete Pachal at Mashable advised readers to forget Jambox: "It's officially been replaced, at least to my ears, by the Ultimate Ears Boom: a portable wireless speaker that sounds almost as good as a much larger home system."
Amazon customer Cjfilm spoke for many when reporting he'd returned his Jambox in favor of a Boom after noticing its rich, deep sound. "I compared it to the big Jambox and UE Boom still sounded louder and better overall — even better than the JBL and Bose speakers."
More than the sum of its features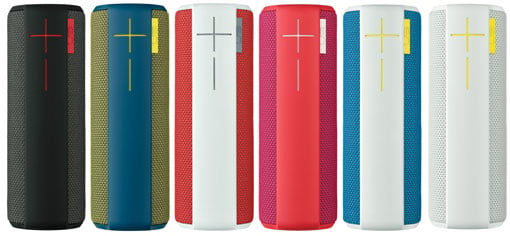 At only 2.6 inches in diameter, the Booms fits anywhere a water bottle can fit, making it incredibly convenient to tote. Only the Beats Pill is more convenient to carry. And, the UE Boom comes in a variety of colors to match your decor.
The Boom can even be hung like a lantern via the D-ring on its bottom. Dangled from the ceiling above a party crowd, the Boom becomes even boomier than a speaker placed waist-high on a tabletop.
If you want stereo sound, you can link two Booms together wirelessly via the UE Boom app (free at iTunes and Google Play), then place the wide enough apart to provide soundstage and separation. Only the Beats Pill also offers this two-speaker stereo option. Alternatively, two Booms can be wirelessly linked to double up dual mono sound, an option no other speaker offers. Twin Booms at opposite sides of a party space ensures every corner is filled with song.
If you're somehow dissatisfied with the Boom's bass — and these small speakers aren't exactly subwoofers, after all — the Boom app provides four EQ settings: a default Out Loud, Vocals for dialog-centric sounds, Intimate for close quarters and, most importantly, Bass Boost.
The UE Boom app also includes an alarm feature that produces louder wake-to-music sound than your smartphone alone, another feature none of the other Bluetooth speakers tested here include.
You might be able to find Bluetooth speakers with a slightly better sound, boomier bass, more weather resistance and longer-lasting power, but in our opinion, none are more versatile and more successfully combine all the critical Bluetooth speaker criteria into one compact package than the UE Boom.
Runner-up: The Klipsch GiG
Klipsch GiG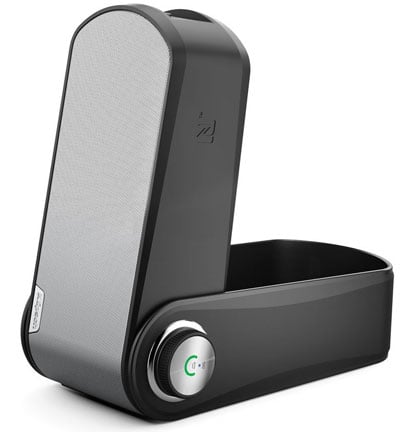 If sound quality is your top criteria in a compact portable speaker, our recommendation is the Klipsch GiG.
The GiG boasts the best sound-to-size ratio, with a robust and wide soundstage despite its diminutive dimensions. Its odd wedge shape makes placement almost as insignificant an issue as the Boom's 360-degree design. The GiG is among the loudest speakers we tested, pumping out the best-defined bass with no clipping or distortion at top volume.
Ergonomically, the GiG is the only premium Bluetooth speaker with a volume knob rather than up/down buttons, intuitively and conveniently placed right on top of the unit. Its power toggle, micro-USB port and 3.5mm auxiliary jack are hidden behind a swiveled frame that doubles as a stabilizing stand.
The GiG's odd, Flatiron Building shape and weird swivel frame keep the GiG from being as conveniently portable as the Boom. It's not water-resistant, so it can't go as many places as the Boom. Oddly, I had a devil of time turning it off, a strange problem I also encountered with the Beats Pill.
All in all, the GiG delivers the highest quality sound, loudest volume and most defined bass in the smallest package, limited only by its bizarre shape and the conditions and environments you can use it in.
Discussion