The Best Wireless Music System
Techlicious editors independently review products. To help support our mission, we may earn affiliate commissions from links contained on this page.
The Sonos Wireless HiFi System delivers terrific sound, a broad range of music services, a simple-to-use app and best-in-class whole-home coverage.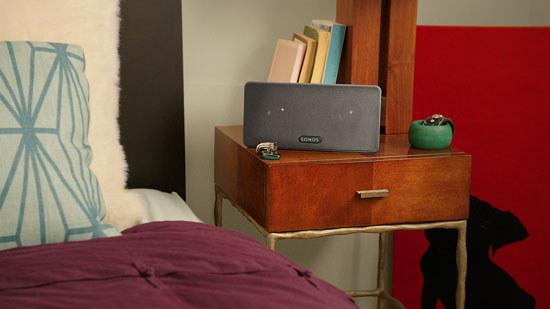 Every song and album ever made! Almost every radio station on Earth! All available for instant playback in every room of your house, remotely triggered from your smartphone, tablet or computer.
Sounds heavenly, right?
That's the promise of today's wireless music systems – some of the hottest things going in home entertainment.
Confused by all the product offerings out there? We'll answer your questions and get you on the right path.
Walk Before You Run
We'll first get the lay of the land, then drill down to detail various systems' relative advantages and shortcomings.
Installation
It's easiest to start slowly and inexpensively, one room at a time, into a houseful of streaming sound makers. No hard wiring is involved beyond plugging in the power cords. Systems connect wirelessly to your Internet router in a straightforward manner. In larger homes with spottier wireless signals, though, you may want to make at least one hard-wired Ethernet connection.
Hardware Pricing
Compact stand-alone "smart speakers" start under $200, wireless add-on modules that can update old-school sound systems start around $150.
Streaming Music
Most wireless sound systems start the party with free access to streaming stations and podcasts from around the globe. Content is primarily juggled on companion apps for smartphones or tablets, letting you channel surf by genre, location and station name.
The higher-profile, more polished TuneIn streaming radio service found on some smart speakers connects to 30,000 stations, while lower-profile channel aggregator vTuner claims "tens of thousands."
Pandora and iHeart Radio are a pair of notable free services; some systems allow current Sirius/XM subscribers to dial channels up at little or no additional cost.
That's enough sonic entertainment to satisfy most customers' needs, but for active music fans, there's a lot more icing to slather on this cake: namely, with $5- to $10-per-month music services like Spotify, Rhapsody, Beats Music and Deezer. Such services boast track catalogs in the tens of millions.
"Our New Release Tuesday section really drives home the message what a great deal we're offering," says Rhapsody's chief product officer Paul Springer. "Every week, we showcase forty or more new albums, pretty much everything you'll see on display at a store. You can also take the music with you on your portable devices. And that's yours with a monthly subscription cost equal to the purchase price of a single album."
Hardware
Here are the most notable wireless music systems on the market today.
Sonos Wireless HiFi System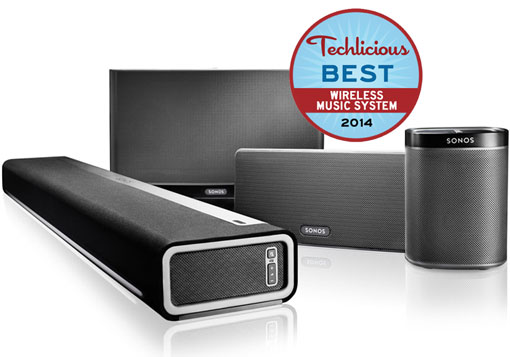 The Best Wireless Music System:
Sonos Wireless HiFi System
Want a really broad choice of music services? Craving a superfast, super-searchable and simple app to dive into your music? Live in a place that's spread out or overrun with Wi-Fi traffic?
Be glad you've scanned down this far.
Once a bleeding edge Silicon Valley startup (circa 2002) that struggled as a pioneer but is now looking prescient, Sonos is still all (and only) about one thing: multi-room wireless sound. And clearly it's become the king of the hill in this now exploding category -- the market leader every other rival is gunning for but might never catch.
To achieve its exceptional system stability in even larger homes, Sonos seizes a "small smidgeon" of your home Wi-Fi bandwidth to create a private, power-boosting, signal sharing "Mesh Network. " This allows Sonos components to efficiently daisy chain, re-broadcasting the music and control signals from piece to piece. Synchronizing all that is very tricky stuff, but it's usually well done.
Mesh technology adds complexity and cost, and demands a fair amount of boots on the ground – customer support people who can remotely take over a home system (only with your approval) to make sure those private network signals are being routed in the most efficient, most direct path.
They'll also recommend (where necessary) the placement of an added relay station or two – a Sonos Bridge ($43 on Amazon) or the new triple strength/triple antenna-equipped Sonos Boost ($99 on Amazon). No other systems maker comes close in providing this level of service. Never-satisfied Sonos engineers are perpetually tweaking the performance of their products and upgrading units installed in homes via downloads that re-contour equalization curves, signal compression and more.
There's hardly a streaming music service on Earth that isn't available on Sonos. Besides all the usual suspects -- Pandora, Spotify, Rhapsody, Amazon Music, SiriusXM, iHeart Radio and TuneIn -- shared with some rivals, it offers the likes of Beats Music, Google Play, Rdio, Songza, Stitcher, Last.fm, 8tracks, Soundcloud, Murfie, Slacker Radio, Concert Vault, Hearts of Space, Batanga, Calm Radio, MLB.com Gameday Audio, Shuffler.FM, Radionomy, RadioPup, Hype Machine, 7 Digital, Spreaker, and Hotelradio.fm. Whew!
But the treats that will really grab audiophiles are Sonos' exclusive deal to carry Deezer's Elite service and first-to-market position with Tidal, the only music offerings on any multi-room Wi-Fi system that stream in lossless FLAC, delivering true CD-quality 16-bit, 44.1kHz sound. But be forewarned, though, doing so demands five times the bandwidth of normal lossy streaming codecs (like MP3). While one Deezer Elite stream spreads fine around the house on Sonos gear, we haven't been able to pull down two Elite streams simultaneously without running into signal-stuttering problems.
You might imagine a dive into all that content would be daunting. But Sonos has beautifully organized the content options on its app menu with an amazing search engine that scours the Sonos universe to find and cross-reference your request for an entered artist, track, album, genre, composer, station, show or episode. More amazing, the Sonos app starts streaming in barely a beat. Even Google engineers would be envious.
Gear wise, Sonos covers all the necessary bases except a battery operated speaker to take onto the front porch or backyard (a Mesh Network support issue, apparently.)
When lined up in a Best Buy or Target display next to its big sisters (the Play:3 [$299 on Amazon] and Play:5 [$399 on Amazon]), the least expensive Play:1 ($199 on Amazon) sounds puny by comparison. But in real-world usage – plopped on a kitchen counter, bathroom counter or night table, close to a wall or corner - this little thing sounds terrific and makes for a delightful introduction into the species. The Play:1 is regularly cited by reviewers as the best value out there.
The Sonos SoundBar ($699 on Amazon) is our favorite standalone product in the line, putting out prodigious amounts of sound – including copious bass – without the need for the pricey wireless sub (also $699 at Amazon). Nice touch: it switches automatically to the TV input whenever sensing your set's turned on.
Not ready to toss out your sound system? The Sonos Connect ($349 on Amazon) lets you play all that free or paid content through your current sound rig.
Bose SoundTouch line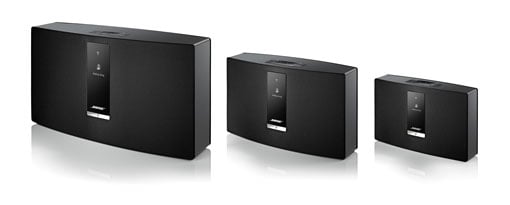 Bose SoundTouch line
Smart design and ease of use are Bose signatures that make an argument for the company's premium pricing. The line is comprised of three standalone speakers. There's the small-footprint, AC- and battery-powered SoundTouch Portable ($399 on Amazon), the mid-sized (and most evenly-tempered) SoundTouch 20 ($399 on Amazon) and the large, basso profundo SoundTouch 30 ($699 on Amazon).
Welcome features of the Bose SoundTouch line include six preset buttons for favorite Internet radio stations, albums and playlists; a dedicated wireless remote control; extended support hours (8:30am to 9pm Monday -Friday; 9am to 6pm Saturday); half-off the Deezer music service for a year (normally $10 per month) and Apple AirPlay support.
SoundTouch technology is also built into the 2.1-channel Jewel Cube home theater system ($1,199 on Amazon) and the table-top Wave SoundTouch radio/CD player combo ($549 on Amazon). There's an upgrade module ($99 on Amazon) for current-generation 5.1-channel home theater systems, and a SoundTouch amplifier-receiver package ($499 on Amazon) that pairs with Bose's outdoor speakers and includes a snazzy, wall-mountable remote resembling a Nest thermostat as well.
Popular $10-per-month subscription music service Spotify works with SoundTouch, shifting the screen to a well-organized Spotify-built interface that's much glossier than Bose's own. And SoundTouch players support Apple's AirPlay as well, so customers can sling content wirelessly from an iOS device to one SoundTouch-enabled device. Music stored on computers or networked storage drives can also be pulled up on the Bose gear.
One sore point: At present, the same six presets you want to hear while you're near, say, a kitchen-based device will be the same six that pop up on a SoundTouch portable positioned in the den or bedroom. So your spouse and your kids don't get to program their own favorites independently. A Bose source says they're "working to change this."
Denon HEOS line


Denon HEOS line
Ten years in development – mostly by a team of academics in Australia known as Avega -- HEOS makes a very nice first impression with its newly-launched range of smart speakers. The portable HEOS 3 ($299 on Amazon) leads things off, followed by the mid-sized and semi-portable HEOS 5 ($399 on Amazon). The big, booming HEOS 7 ($599 on Amazon) rounds out the top end.
Each is an all-in-one (receiver- and amplifier-equipped) smart speaker. There's also a $499 (Amazon) DAC/amplifier called the HEOS Amp that'll work with anybody's speakers and a $349 (Amazon) tuner/pre-amp called the HEOS Link, which connects like any other modern audio component.
We pitted the least expensive HEOS 3 against the identically-priced and closely-sized Sonos Play:3 and found them treading fairly equal turf, sonically; both were capable of filling a room with legitimate "hi-fi" sound.
The Denon is slightly showier: tighter at the bottom and brighter at the top, which accentuates the boom and tinkle interplay. The Sonos' response is more even tempered and coherent: the music sounds less like a studio recording project and more like musicians performing in your room.
Both can be paired with a second same-model speaker to form a stereo setup. All Sonos models can do that, actually, while other HEOS offerings don't do stereo pairing but synch so precisely -- a special point of manufacturer pride -- that you could sprinkle a few around a room for better coverage at a noisy party.
Rare to the species, the HEOS offers both line and USB input jacks on each powered speaker. Tablets and smartphones on the same home network can move music wirelessly to HEOS gear via DNLA or Wi-Fi Direct, which are more prominent on Android gear. (Venturebeat's Simon Cohen found Sonos to be more flexible and user-friendly than HEOS for pulling down networked music.)
Out of the box setup is relatively painless. A HEOS device handshakes nicely with the cloud after you hardwire it briefly to the headphone jack on a smartphone or tablet (Denon supplies the cable) with the HEOS app open. But this gear's not immune to issues: move a HEOS or your smartphone far from the router and app controls like changing the channel or adjusting the volume get laggy. Things don't fare much better in heavily-congested Wi-Fi traffic zones -- a problem also called out by PC Magazine's Will Greenwald.
Under normal conditions, however, the smartphone and tablet apps for the Denon HEOS line are attractive and easy to manipulate. With some TuneIn stations, album artwork magically appears on screen as a song plays. Sonos serves up the same song and artist identification but not the color album image.
The HEOS line also includes access to the ubiquitous Pandora and, for paying customers, the extra-polished Rhapsody and market-leader Spotify.
DTS Play-Fi: Phorus line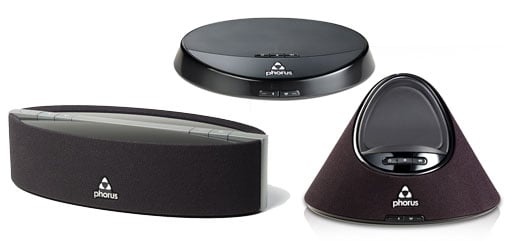 DTS Play-Fi Devices
Most multi-room wireless sound systems are brand specific: You buy into a Samsung or Bose ecosystem of products that all work together, for instance.
By contrast, DTS Play-Fi is a brand-agnostic standard for multi-room wireless systems. Hardware makers license the technology from DTS, with the pitch to consumers being the ability to mix and match pieces from different Play-Fi-compatible hardware offerings. And for overworked music services, the allure is being able to build and tend to a single app that works on a bunch of devices.
More than a half dozen hardware brands have announced products with Play-Fi on board, including early risers Wren, Polk and Definitive Technology. Martin Logan, Paradigm, Anthem, McIntosh, Wadia and Sonus Farber are working on systems, too.
We Play-Fi'ed first on the Phorus PS1 ($149 on Amazon), a curious little cone-shaped thing with O.K. (glorified clock radio) sound. Things got better connecting it to a PR1 receiver ($149 on Amazon), a larger tuner/pre-amp from Phorus (actually a DTS-subsidary). A more substantial Phorus PS5 smart speaker ($207 on Amazon) was recently added to the line as well.
This reviewer has also spent lots of quality time with first-generation Play-Fi pieces from Polk – including a well-priced and decent-sounding Omni S2 ($149 on Amazon), a small powered speaker, and the similar sounding but more flexible S2 Rechargeable ($249 on Amazon) that's good for up to 10 hours of battery life and capable of going up to 100 yards away from a wireless router.
Polk also lent us its Omni SB1 Soundbar ($599 on Amazon) with wireless subwoofer, which pulls double duty by serving stereo TV sound with a separate, dialogue-boosting center channel control that's quite useful. That bundle goes for $599, more than half the cost of a Sonos soundbar and its optional wireless sub. But there are certainly tradeoffs in performance and flexibility. There's no way to flesh out the mid-fi-focused Polk bar with surround speakers, for example, as is possible with the more impressive Sonos array.
Someday Play-Fi may be anointed the Android of multi-room sound systems; the tortoise that beats the hare -- front runner Sonos.
Platform developers evangelize its superiority in "lossless" signal distribution and synchronization. It's hard, though, to envision that any streaming service would ever be offered at Play-Fi's potential 96kHz, 24-bit signal encoding/decoding level – a data hog that would wreak utter havoc on a Wi-Fi network.
Then there's the crisis of content. Using Phorus' app, for instance, your big-name options are limited to Pandora, Songza, SiriusXM and, coming soon, Deezer. Backers are quick to namedrop that Spotify, iTunes, Google Play and others can be streamed from your computer to all Play-Fi networked gear via an applet, but that roundabout delivery process feels like an unwieldy, end-run solution.
Adding insult to injury, Play-Fi's own app runs sluggishly, and vTuner reception is problematic on both Phorus and Polk gear. Core BBC music channels – among the most popular internet stations in the world – are digitized in a codec that Play-Fi does not, at present, decode. (Bose's SoundTouch implementation of vTuner does pull in channels 1-6.)
Play-Fi also comes up short when buffering to prevent dropouts, and it has a bad habit of shutting down the stream (intentionally?), which freezes up the app when a station's been left on for more than a couple hours.
Some Play-Fi gear makers -- including Phorus -- have elected to build in streaming reception from other devices via Bluetooth and AirPlay. Polk and Definitive Technology have not.
Pure Jongo line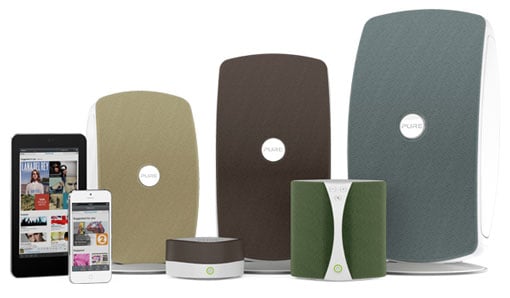 Pure Jongo
Spawned in Britain, Pure's Jongo line of Wi-Fi-music gear inspires both warm feelings and the wringing of hands – kind of like living with an adorable mate who has irritating personal habits.
Our favorite Pure Jongo model, the fashionably techy, bright-sounding and highly versatile Jongo S3 portable ($199 on Amazon) presents handsomely in either black or white metal and cloth covered cabinetry. The little thing runs on AC or battery power, has a 360-degree side- and upward-pointing array of high grade speakers (extra tight in the mid/high frequencies.)
Speakers and amps are switchable to throw sound -- mono or stereo -- to the front and back or just to the front, as you prefer. Two S3s can be stereo-paired. And this model's not an anomaly: Very sharply priced and good-sounding, the entire Pure Jongo line argues a more affordable hardware proposition than any other players in the category – with the very respectable opening piece, the Jongo T2 ($104 on Amazon). The big-bubba Jongo T6 ($349 on Amazon) rounds out the line. Some models offer swappable grills in a variety of colors, too.
So what's wrong? The Pure Connect software running the show seems designed by a dysfunctional family. The program guide scrolls sideways and vertically, and the control icons are convoluted, slow to respond and confusing.
Yes, it's dressed up with pretty images of artists, but it's also a jumbled mess that's difficult to navigate. New music's relatively easy to find , as Pure aims to sell you its own private label, on-demand subscription service – a very good deal at $5 a month and especially fun if you're a musical Anglophile. Finding more obscure tunes or Internet radio stations on Pure's mobile or tablet apps leaves much to be desired, although searching is far easier when tapping into the Pure Connect world from a computer.
It's lovely that the free Pure Connect app can be used to access radio channels, podcasts and even environmental sound effects without purchasing any Pure gears. Not so nice is that when using the same app to remotely control a Pure speaker, it's unclear if your requested tune or channel is actually beaming first to the phone and then moving over to a Jongo speaker or -- as would be most efficient -- being pulled down directly to the speaker itself.
And good luck getting Caskeid going. That's Pure's novel, hybrid methodology for distributing music wirelessly from one mobile device to any and all Pure Jongo speakers in your house. Normally, Bluetooth and AirPlay streams can only be sent to a single speaker or receiver. With Caskeid, the music is transported to one Jongo via Bluetooth, then from there is re-transmitted via Wi-Fi to other Caskeid-enabled Jongos in the network. In my urban residence, seriously congested with Wi-Fi traffic, I've yet to get such a setup to hop past the first Jongo to another.
Samsung Shape line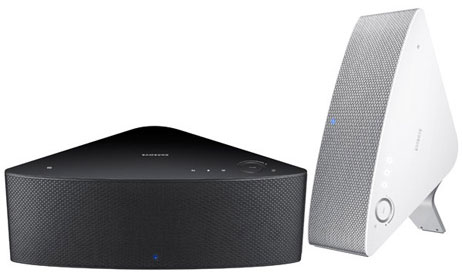 Samsung Shape line
Definitely a breed apart, all three speaker models in Samsung's Shape line– the compact M3 ($199), the mid-sized M5 ($177 on Amazon) and the large M7 ($228 on Amazon) -- are glossy plastic and metal (black or white) wedge-shaped affairs that either look tres chic or tres cheezy, depending on your taste.
Those wedge designs and companion wall-mount brackets make Shapes suitable for tucking into the corners of a room (obscuring most of the shiny top and bottom stuff.)
More importantly, the extra cavity space and lack of right angles enhances the sound of the Samsung speakers. In our comparison, a Shape M5 slightly edged out the $299-list (and never discounted) Sonos Play:3. CNET's Ty Pendlebury definitely preferred the sound of the Shape M7 to the Play:3 – though that larger Samsung piece really should have been pitted against the heftier $399 Sonos Play:5.
Flexing its corporate muscle, Samsung has managed to wrangle a ship-shape crew of apps -- Amazon Cloud Player, Pandora, Rhapsody, Spotify and TuneIn Radio – for its multi-room sound products. Shape gear also works with DLNA-compatible devices, but not computer-based iTunes libraries. You can sling stuff to it from an iOS or Android device via Bluetooth, with extra fast pairing via NFC.
The public face of Shape – the mobile app that's running the show -- is quite appealing. It's nice looking, easy to use and responsive but I found the system didn't deal well (that is, didn't respond at all ) when I tried to change things up on a second phone or tablet outfitted with the same app. It only wanted to dance with the partner that brought it to the party.
To synchronize the streaming music of two or more Shape speakers, you'll need to add a WAM250 Wireless Audio Hub ($50 on Amazon). Plugged into the router, the hub is supposed to aid in system stability but in my month-long two-room, two-speaker tests, I had to hit the system's reset buttons a couple of times.
Shape technology is also built into Samsung's HW-H750 Soundbar ($667 on Amazon), a pair of home theater systems, and the BD-H6500 Blu-ray player ($127 on Amazon). According to a Samsung, those pieces all communicate directly to the home Wi-Fi router instead of the hub. So if you're going for a multi-room networked music setup that also includes the TV room, you might be better off using a Shape M5 as your home theater sound bar, as it can link directly to Samsung Smart TVs via the SoundConnect feature, as well as to the audio hub.
Qualcomm AllPlay Devices
Waiting in the wings: Panasonic, Monster, Lenco and Fon have aligned behind Qualcomm's AllPlay media streaming platform. Though we haven't put our hands on any actual products yet, Spotify Connect, iHeartRadio and Rhapsody will purportedly be on board.
Like Pure's Caskeid, AllPlay also promises that streaming will be possible from a mobile device to several speakers simultaneously. And like Play-Fi, it's been constructed to support high-quality audio files (up to 24-bit/192 kHz) such as WAV, FLAC and ALAC. Designed a decade ago, the Sonos platform can't do better than 16 bit/44.1 kHz. But do we really care? No.
[Images: Sonos, Denon, DTS, Pure Jongo, Samsung]
Updated on 12/30/2014 with new service information for Sonos system
Discussion