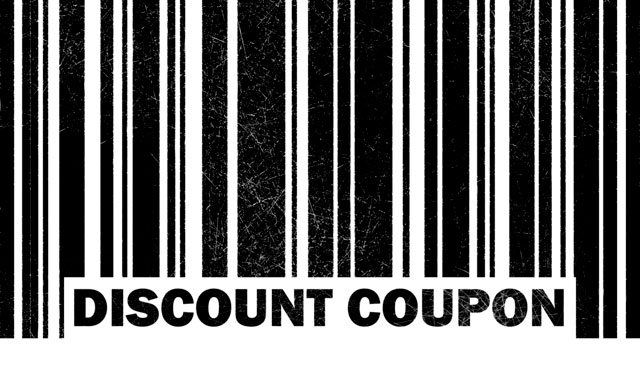 While most of us are happy to save money whenever the opportunity arises, keeping track of sales and coupons takes work. The right websites and apps can help you stay on top of the process, making it no trouble at all to make couponing part of your savings-savvy lifestyle.
Gone are the days of clipping coupons from the newspaper. Digital coupons work differently. Some digital coupons work a lot like old-fashioned coupons in that you print them out and hand them in at the store. You still need to "clip" and carry them, although being able to find a multitude of coupons on a few digital coupon websites definitely raises the convenience.
Then there are the type of digital coupons and rebates you can redeem directly from your computer or smartphone — you never handle a traditional paper coupon at all. These digital coupons include deals that link to your store loyalty card, coupon bar codes cashiers scan straight from your smartphone screen, and rebates you submit by snapping a picture of your receipt.
Where to find digital coupons
Whether you like to print out a handful of coupons before you go shopping or you want to load up digital coupons directly onto your smartphone, let's take a look at the best ways to find coupons online.
Krazy Coupon Lady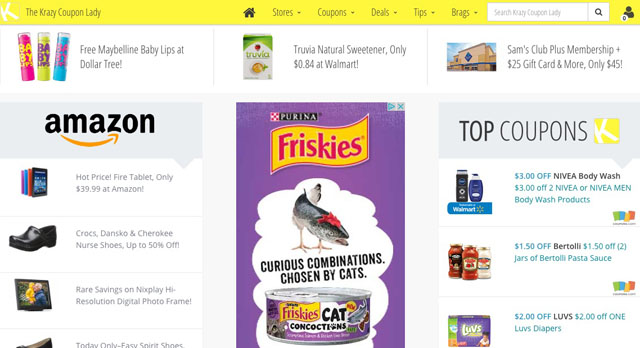 If you're looking for a one-stop coupon resource, the Krazy Coupon Lady website and app (for iPhone and Android) is it. The site offers a comprehensive listing of coupons, sales and rebates listed by store and brand. On top of that, there are tons of tips and videos that teach you how to save more at the store.
The downside to the site is that it's not very intuitively arranged. There's a ton of great content, but you may have to hunt to find just what you're looking for. Navigate using the menu along the top of the site, which neatly breaks up all of the offers. If you like to use your smartphone to shop, grab the app, which is a bit more straightforward and lets you find deals nearby and build shopping lists based on available coupons.
Hip2Save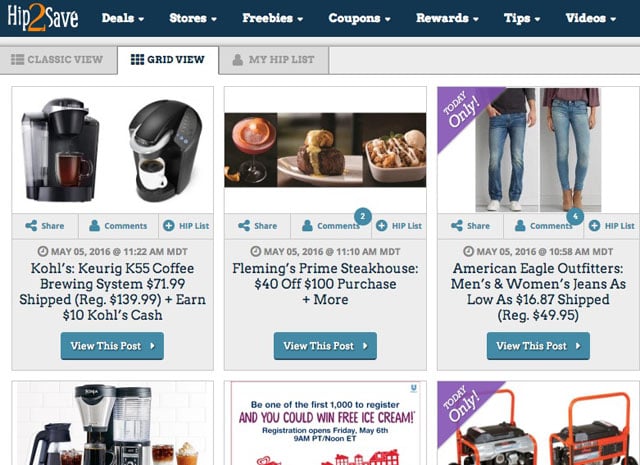 Another one-stop shop for coupons and sales, Hip2Save offers a few nice features that make it stand out from other digital couponing resources. Deals stay front and center on the website, with the latest at the top of the page and a menu that lets you browse by store or product type. The site also offers deals on restaurants and lists of freebies from your favorite local and online stores. Just like Krazy Coupon Lady, Hip2Save offers tips and videos about how to save while you're out shopping.
Creating an account on Hip2Save lets you save coupons and deals to revisit later. This makes it simple to keep all the coupons you want in one place — a feature of Coupons.com, which we'll get to in a minute — so it's easy to print them out before you head to the store.
Coupons.com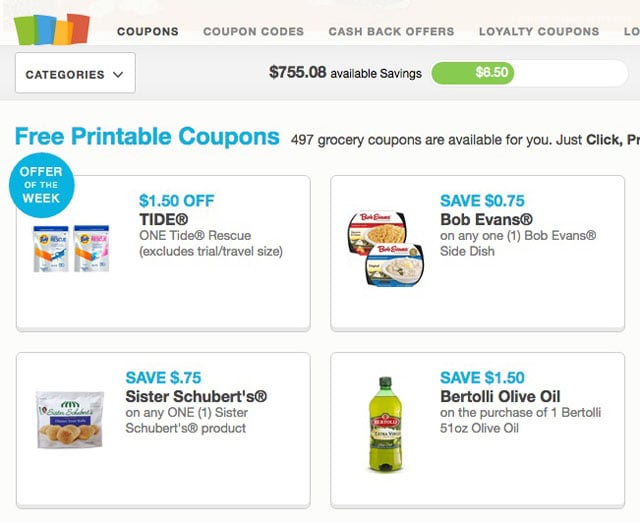 You won't find sales or shopping tips here; Coupons.com is all about the coupons. The site is a big list of coupons that you can browse by store or product type. Just click on the coupons you'd like to use. The amount you're saving will be shown at the top of the screen. Then click Print to see them neatly arranged on one page for printing. It's a super-quick way to find the coupons you want and get ready to head to the store. Coupons.com also offers online coupons plus special deals offered via credit cards and loyalty cards.
Get the Coupons.com app for iPhone, Android, or Windows to make it just as easy to search and browse. The app also shows you coupons offered at local stores. Remember that you'll still need to print out your coupons to use them.
Flipp
Though it may seem old-fashioned, browsing the weekly sales fliers for your local stores can be a great way to find deals and coupons. But keeping track of the weekly paper (if you still even get one) is a hassle, and it's easy to forget the deals you planned to take advantage of. Enter Flipp, which brings those old paper advertisements into the digital age.
Just open Flipp on your computer or smartphone (there's an app for iPhone and Android) and browse this week's ads from your local stores. Find what you're looking for by searching through featured deals, latest deals or store type. To make your search even more convenient, Flipp combines these sale deals with coupons — though again, you'll usually have to print them — for even more savings. When you've decided what you want to buy, virtually "clip" your coupons and add them to your shopping list.
Ibotta
Think of the deals in the Ibotta app (for iPhone and Android) more as rebates than as coupons. Instead of getting a discount on items at the register, you'll get cash back after you shop. Select the store you'd like to shop in, then scroll through the featured deals to pick the rebates you'd like to use.
Once you've bought the items, just scan their barcodes and your receipt. Ibotta verifies your purchases and adds cash to your Ibotta account. When your account balance gets up to $20, you can cash out through PayPal, Venmo or gift cards.
Shopmium
This app reminds us a lot of Ibotta. You get rebates on products you've bought after scanning the product barcode and your receipt as proof of purchase. But Shopmium brings one big advantage over the competition: instead of requiring a minimum balance in your account before you can withdraw it, your earnings go straight into your bank or PayPal account. While Shopmium currently has a more limited selection of rebates than Ibotta, saving really doesn't get any simpler.
Grocery iQ
Though the Grocery iQ website and app (for iPhone and Android) is primarily designed to help you organize your grocery list, it can also help you spot coupons for the things you're buying. Whenever something on your list has a coupon, Grocery iQ points it out. Then you can print or link it to your store loyalty card to pick up your discount.
RetailMeNot
At first glance, RetailMeNot seems similar to the coupon list sites we've seen before, but it's the RetailMeNot app (for iPhone and Android) that really shines. The app offers staple features like browsing deals by store, product type and location, but it also lets you redeem coupons directly from the app itself. That's right: no printing required. Just have the cashier scan the coupon barcode directly from the app, and the savings are yours.
The downside is that RetailMeNot doesn't feature any grocery coupons, so if that's what you're looking for, try one of the sites or apps listed above. But if you're looking for coupons for clothing, home goods, restaurants and more, RetailMeNot is the best way to find them.
Slickdeals
Like RetailMeNot, Slickdeals focuses on general shopping rather than groceries, offering a wide range of coupons and deals for electronics, apparel and entertainment. The site is arranged in a straightforward way, with the latest deals front and center and the option to browse by store, product type and featured deals. The Slickdeals community is our favorite part of the site, where users vote and comment on deals that can help you find the best of the lot.
The Slickdeals app (available for iPhone and Android) is very easy to use. Like the website, it keeps the deals front and center in an easy-to-browse format.
Groupon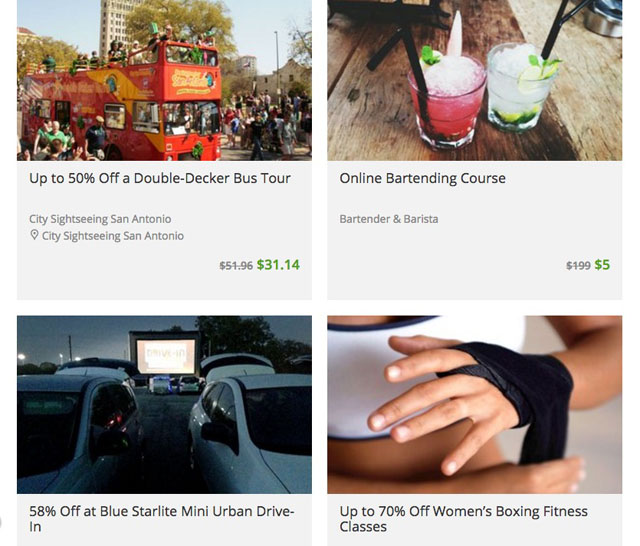 If you're shopping for experiences rather than products, Groupon is the best place to find them, though you'll find some discount shopping, too. Look on Groupon for discounts at local businesses like spas and health clubs as well as travel deals and more. Some of these coupons are redeemed digitally through the Groupon website, while others need to be printed out and taken to the store. Either way, Groupon is a great way to find something fun — or something special — to do around town.
If you prefer to browse on the go from an app, the Groupon app is available for iPhone and Android and makes it easy to find things to do near you.
Store-specific apps and loyalty programs
Don't forget to look for savings and even apps from your favorite stores. Most major stores will have their own apps now, and if you're a frequent shopper, they're worth checking out to find the latest sales coupons.
Store loyalty programs, which in the past were frequently linked to cards you had to carry around and keep track of, are now going digital as well. They're often integrated with store apps, another reason store apps make convenient shopping companions.
Is that deal really a good deal?
While all of these coupon, deal and sales apps sound great, it can be hard to tell when that sale price is actually a good deal. You can get an app to help with that too. Our favorites are ShopSavvy and Amazon, both of which can be found on iPhone and Android. Scan the product barcode to make a price comparison. For Amazon, you can go a step further to check price history with the CamelCamelCamel browser plugin for Firefox, Safari and Chrome. Once installed, you'll see a graph showing the Amazon price history, if it's available.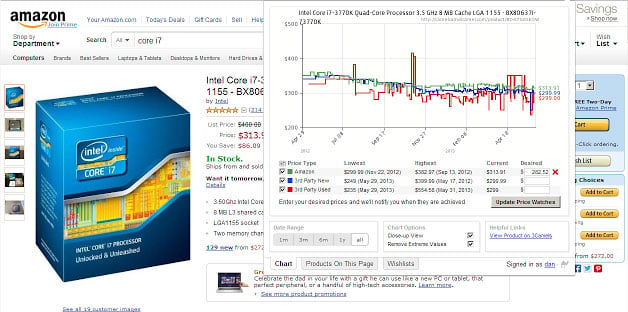 The difference in these apps is where the prices you're comparing actually are. ShopSavvy searches a variety of stores, while Amazon searches at Amazon.com. General deal-hunters will prefer ShopSavvy for its wide range of stores and its own listing of coupons and sales. Amazon devotees will find the Amazon app a good way to shop their favorite online megastore.
[Image credits: discount coupon barcode via Shutterstock, Krazy Coupon Lady, Hip2Save, Coupons.com, Ibotta, RetailMeNot, Groupon, CamelCamelCamel ]