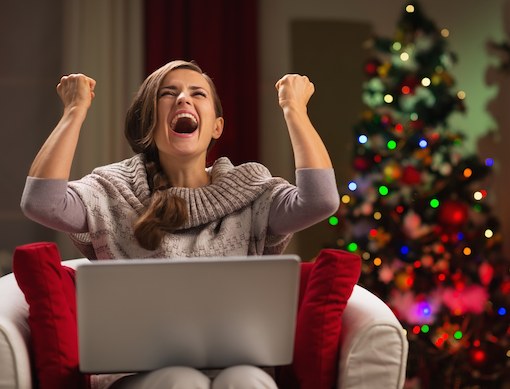 This holiday season, 46 percent of consumer shopping will take place online, and one in five smartphone owners will use their devices to purchase gifts, reports National Retail Federation. And is it any wonder why? Pair instant gratification with not having to get dressed and battle other holiday shoppers — it's a winning combination.
While you no longer have to leave the house to get the majority of your shopping done, there's still some stress involved in staying within your budget during a season known for yo-yoing prices. To help you find the best deals on this season's top gifts — without ever leaving the house, of course — take a look at our favorite holiday shopping tools.
Price comparison and tracking tools

Keepa
Keepa simplifies tracking Amazon product prices. Use the browser extension or app to access price history graphs, price drop alerts and availability alerts, compare Amazon prices, or import a wish list. Set notifications via email, Facebook or Twitter.
On the downside, Keepa doesn't work with some products due to marketing regulations or with e-books with fluctuating data information. Another bummer: Keepa is only available as a paid Android app. If you want the free version, stick with the Chrome or Firefox browser add-on.
To use Keepa in your browser, just install the extension and start shopping on Amazon. Then click on an item and scroll down to its description to access Keepa's features. There are no pesky popups or desktop alerts to deal with here. Bottom line: If you're a fan of Amazon's CamelCamelCamel, then take a look at Keepa for Android, Chrome and Firefox.
PriceZombie
PriceZombie restores life to web shopping by tracking prices across more than 100 online retailers. This browser add-on saves you valuable time bouncing among different tools to compare prices across retailers, so you can comparison shop on retailer sites like Amazon, Best Buy, GameStop, Sharper Image and Toshiba USA.. It even lets you look up price histories.
If a product is currently out of your budget, add it to your watch list to get an alert when stores drop the product price. And if you're an avid Amazon shopper, PriceZombie has a feature that'll sync your Amazon wish list to your PriceZombie watch list. When the product drops to your target price, you'll receive an email with the good news.
Save money after purchase by turning on the Price Protection Tracker. PriceZombie will alert you if the price of a product drops more after you purchase it so you can get a refund from participating retailers or credit card companies that offer price-protection refunds. PriceZombie is available for Chrome, Firefox and Safari.
Slice
Slice snoops through your emails to find and store e-receipts and then tracks the progress of your purchases along the way. If your purchase has shipped, is out for delivery or has dropped in price, Slice will give you the heads up. It'll even draft an email for you to help you earn a refund if the price of an item dropped.
The app can help you become a more conscientious consumer by alerting you to your spending habits at various retailers. It also sends alerts if one of your purchases has been recalled by the Consumer Product Safety Commission. Not only will you save money, but Slice helps you address personal spending habits and prevent mishaps with a dangerous product. Get Slice for Android or iOS.
Windfall
Windfall is a fledgling rebate app with a lot of promise. Just shop at a retailer like you normally would, then scan your receipt into the Windfall app. Windfall catalogs and digitizes them using optical character recognition technology (like what's used in Adobe Acrobat Pro to make text editable or in smart desktop scanners to convert scans to typed content). If Windfall finds a lower price on the items on your receipt, either at the store or online, you'll receive a notification. Then head back to the store to claim your eligible refund.
There's some legwork involved, but Windfall follows each retailer's price-matching guidelines, making it worthwhile to head to the customer service line for a guaranteed refund. To date, Windfall is compatible with Amazon, Babies R Us, Best Buy, Lowe's, Office Depot, OfficeMax, Staples, Target, The Home Depot, Toys R Us and Walmart.) While the app is just getting started, keep this one on your radar for when you shop at major retailers in stores and online. Try Windfall for Android and iOS.
Coupon clippers and deal finders
Coupon Sherpa
Coupon Sherpa digitally clips coupons not only from major retailers but restaurants as well. After spending all morning power shopping at the mall, you can rest your feet at a nearby restaurant that's also offering great deals.
To find discounts, sort through coupons by categories like clothing, department stores or electronics. Use your device's geolocation tool to locate deals in your area, or save your favorite stores and track their latest coupons. Then just display the code at the retailer's checkout counter to save. If you're shopping online, Coupon Sherpa also allows you to redeem codes online directly from the app. Get Coupon Sherpa for iOS or Android.
Flipp
Flipp helps you say goodbye to that thick wad of Sunday circulars by cramming them all into its app — more than 800 offers, to be exact. If you prefer not to browse by store, type in an item or brand to see if there's a deal, and tap an item or deal in a circular to clip it for easy access later. To save time once you hit the store, build a checkable shopping list within the app, which will auto-populate related coupons you can clip.
Flipp uses geolocation to display nearby retailers and can even send you push notifications to remind you if a deal you've saved is expiring soon. If your mobile device isn't in reach, review all your circulars directly on Flipp's website. Then click on a coupon to be redirected directly to the retailer's coupon for online redemption. Try Flipp for Android or iOS.
Honey
Honey lets you leave behind the scissors and sales fliers and join the digital age. Just download the browser extension, and that's it. Honey will automatically appear in the right side of your browser if it identifies discount codes and e-coupons on your retailer site. Then just select Try Codes, and Honey will automatically test out the codes, saving you the trouble of hitting CTRL/COMMAND + C and CTRL/COMMAND + V repeatedly.
Currently, Honey is compatible with more than 3,000 retailers and 12,000 merchants, so if there's a discount out there, Honey will find it. HoneyGold is a reward program that works across different retailers, like two reward points for every $1 spent at JCPenney and one for every $1 spent at Target. You can redeem the HoneyGold rewards for cash, gift cards or even real gold, Honey says, but I haven't maxed out my credit cards enough to qualify yet. Honey is available for Chrome, Firefox, Opera or Safari.
Referred Club
Referred Club is another newbie to the digital deals scene. It's been available for just a month but already has more than 100 partner retailers. Just sync the Chrome add-on to your Facebook account to receive alerts of potential savings on a corresponding retailer's site. It not only offers savings to you but also usually your Facebook friend as well, when you use their referral link to receive the discount and make your purchase. Referred Club prioritizes your friend's referral in the pop-up and lists subsequent options underneath.
While referral partners aren't with traditional big-box retailers, the service does leave room to earn discounts and benefits where you least expect to find them. Referred Club offers discounts on everywhere from 24-Hour Fitness and Airbnb to Marriott Hotels and Wayfair. You can even add your own referral links from other companies, which Referred Club will approve within 48 hours. Try Referred Club for Chrome.
ShopAdvisor
ShopAdvisor is like a personalized, fashion-forward concierge service in your phone. Get started by answering a few questions so it can learn your shopping preferences. Then it offers a curated list of deals it believes you'll enjoy. Click on a product to see where it's sold, or set up an alert to be reminded when it arrives at your local store. Since ShopAdvisor generates a list of similar items to the one you selected, you may even find something better that's already in stock.
If ShopAdvisor's experts recommend something that's not your taste, just select a broken heart to push the product away. When there is a deal associated with a product you love, ShopAdvisor provides you with directions to a nearby store, as well as the store's hours and contact information. And don't forget to scan barcodes, QR codes and even magazine pages (think People StyleWatch and Men's Health) to find deals for products that catch your eye while you're on the go. Try ShopAdvisor for Android or iOS.