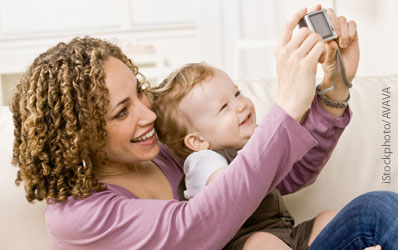 Just about everyone has a digital camera of one sort or another these days. Whether it's a high-end DSLR or the camera on your phone, it's become incredibly easy to snap a picture at a moment's notice, capturing memories and important events as they happen. But what's the point of taking a photo if you can't share it with your friends and family?
Thanks to the internet, the old-fashioned physical photo album has become something of a dinosaur, passed over in favor of digital photo sharing websites. These sites make it incredibly easy and convenient to store your photos online and share them with the world.
Not all photo sharing websites are created equal, and you need to pay attention to the fine print before signing on the digital dotted line. Here are a few questions to keep in mind.
Is there a fee to use the service?
Most photo sharing websites, but not all, have a free version. Some charge for upgraded storage or the ability to create fancy slideshows or albums. Others charge an annual fee that varies depending on the options you choose.
Consider your needs before shopping around for a photo sharing service. If you just have a handful of photos to upload, free services may be good enough, but if you have gigabytes of digital memories to manage, make sure you look closely at what that is going to cost you to maintain online.
Do others need to have an account to view your photos?
Just about every photo sharing website requires you to create an account to upload photos, but some also require an account just to view the photos that other people upload. Other websites simply let you share a link to an album that anyone can see. For websites like Facebook, it depends on the level of privacy you place on your album.
Here you need to ask yourself how you want others to access your photos. Do you want your Aunt May to have to register on a site just to look at photos of your darling son's 5th birthday party? Or would you rather the extra protection of requiring others to have an account to see your images?
What sort of privacy controls are in place?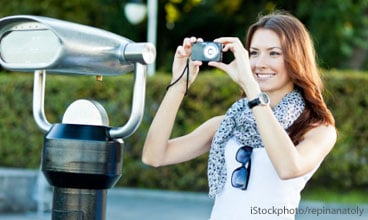 Speaking of privacy, most people want to be able to control who can see their photos – especially if they're posting photos of children, private events, or that embarrassing incident at the holiday party. Some websites allow you to password-protect your online albums, while others require users click a secure link to view protected photos. Others provide no privacy protections at all.
Think carefully about which images you upload and what level of privacy you want on them. Some photos you want to share with the world, like that shot of the beautiful sunset over the ocean where you caught the light just right. But other photos may be just for family viewing. Make sure the site you choose has the level of privacy you need and, if not, be careful which images you upload to it.
Do they provide the ability to download or print photos?
Despite the convenience of online viewing, most people still like having actual physical prints to hang on their wall, give to Grandma, or put in an album. Most photo sharing sites let you download photos, though not all let you do so at high enough resolution to print. Many let you order prints directly from the websites, and some are even partnered with brick-and-mortar stores like CVS, Walgreens, and Wal-Mart to let you order prints online and pick them up in the store.
Check on their download and photo processing policies. Sites like Shutterfly charge a fee to download photos (that's how the make money, after all), so sites like that may not be the way to go if you like to see a print hanging on your wall.
How much storage space is included, and can you upgrade to more?
How much storage space you need depends on the type of photos you're uploading, and how many photos you plan to store. A cell phone camera creates much smaller files than a DSLR–on average 2MB versus upwards of 20MB. So that means you could store 1,000 cell phone photos or 100 DSLR images if you have a storage capacity of 2GB. Many photo sharing sites provide some amount of storage capacity for free, with the option to upgrade to more for a fee.
Is the interface user-friendly, both for uploading and viewing?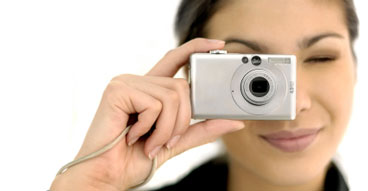 Some websites, such as Google's Picasa, use an application you need to download and install on your computer to upload and organize photos, while others are completely contained online and are accessed via a website. Some make it incredibly easy to upload and view photos, but others aren't quite so user-friendly. Whether that's important to you or not will depend on your own level of tech-savvy, and that of your potential viewers.
If you are a professional photographer, you may be more interested in functionality of the service over user-friendliness of it. However, if you are primarily uploading pictures for far-away family and friends to see, you may want to pick a service that makes it easier for them to find and view your photos.
What do your friends and family use?
While of course there's no rule saying you need to use the same photo sharing site as your friends and family, there are some benefits to doing so. Many sites like Flickr and Picasa allow users to "favorite" or "friend" other users or their albums, and you can tag people in your friends' photos. And of course, it's probably easier for your less tech-savvy friends and family if they only have to learn to navigate one type of website to see all their loved ones' photos.
The bottom line
Which photo sharing website will work best for you? Most of the major websites are perfectly adequate for the average users, and which you choose will depend largely on personal preference. Professional photographers or those with sizable online libraries will want to pay particular attention to file size and upload limits, while casual users might care more about ease of use and photo printing options. Whichever you choose, you'll be uploading and sharing photos in no time!
Make sure to check our Guide to Photo Sharing Sites for in-depth look at the major services currently available.