There's nothing like instant gratification, and with the growth of same-day delivery services, like Postmates and Google Express, even your online shopping can offer near-instant gratification. For a price, you can get your groceries delivered and even have orders from big retailers like Costco, Ikea, and Target brought straight to your door. Same-day service (and in some cases same-hour service) can save you the time and hassle of running errands—and they don't have to break the bank.
But before you rush off to sign up, there are a few things to consider about same-day delivery services:
Most companies offering same-day delivery only do so in select areas. If you aren't in (or at least near) a major metropolitan area, you may be out of luck.
Each service has a different selection of items—just like any other online retailer, some same-day delivery services will offer the items you're interested in and others won't. Before you sign up for a service, check what's on offer, especially if you're picky about which brands you use. Amazon Prime Now and Instacart both offer free trials of their same-day delivery services, which let you give them a test-run before you commit.
What you pay using a delivery service may not be what you would pay in a store. While these services all charge delivery fees, some may price the items you're buying higher than your local shops—which can make it tough to see what the service really costs. Before you buy, it's smart to do a cost comparison so you can decide whether the convenience of delivery is worth it.
While we've listed some big national companies here, you may find local delivery services that will do the same—and possibly for less. If you're looking for standard groceries and household items, check your area grocery stores to see if they offer delivery.
Some specific retailers offer same-day delivery—though, unlike the rest of this list, only for their own items. If you're clothes shopping but don't want to head to the mall, both Macy's and Kohl's offer same day delivery in select areas.
If you're interested in same-day delivery and your area isn't covered by one of these services, keep your eyes open—they're all continuing to expand.
Now let's take a look at four ways to get just about anything you need delivered to your door in as little as an hour.
Postmates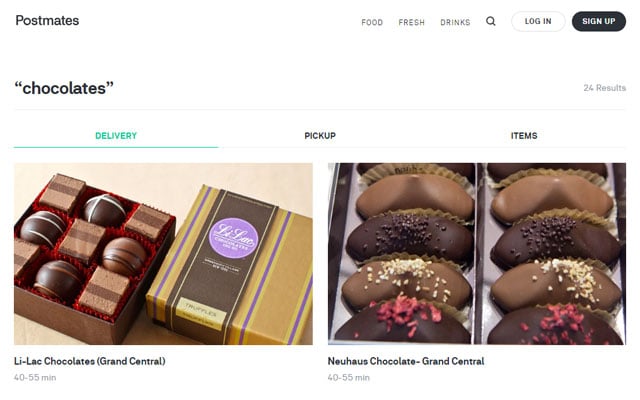 Postmates offers the ultimate in convenience with the ability to pick up anything in a wide range of locations. However, you pay a pretty steep price for that convenience—you're charged a variable percentage based service fee plus a delivery fee ($3.99-$5.99, but delivery prices may surge during peak times). If you subscribe to Postmates Unlimited ($96 per year), you get free delivery on all orders over $15, though you'll still have to pay the service fee. That price means Postmates probably isn't what you want to use for everyday deliveries like groceries, but for days when you don't have time and absolutely need to get something done Postmates can make sure it happens.
Cost: Free to join, $96 per year for Postmates Unlimited
Fees: Deliveries start at $4 plus a service fee (Free for Postmates Unlimited customers for orders over $15), which is a percentage of the cost of your purchase. A "blitz pricing" fee may be charged for busy delivery hours (no blitz pricing for Postmates Unlimited customers), you can also tip the driver (but only through the Postmates app). A cart fee is added for orders that don't meet the store minimum (no cart fee for Postmates Unlimited customers).
Minimum purchase: None
Items available: Just about anything available at stores and restaurants in your city.
Delivery areas: Select cities in most states
Delivery time: One hour.
Free trial: None.
Amazon Prime Now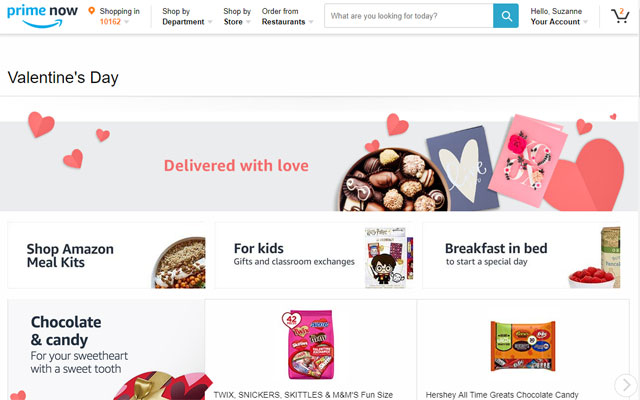 Though Amazon Prime membership—at $119 a year—is slightly more expensive than the other options, you have to remember that Prime comes with a lot of other perks—including free two-day shipping on all Amazon purchases, Prime Video, Prime Music and Prime Photos. If you're using all of these features and Now's same-day delivery, it's a heck of a deal. However, if you're just using it for same-day delivery, you'll want to take careful stock of what's available before committing. While Amazon has a decent variety of products, it doesn't offer every brand or every item for same-day delivery.
Cost: Free for Amazon Prime members ($99/year).
Fees: Free 2-hour delivery, if you meet the participating store minimum (otherwise the fee will be $4.99 per store), $7.99 for one-hour delivery if available, you can also tip the driver.
Minimum purchase: $35 for Amazon items marked Prime FREE Same-Day or if purchasing from a partner store, the minimum varies
Items available: Groceries (including cold groceries), household items, electronics, and more from Amazon, plus items from local stores and restaurants (select stores in select areas).
Delivery areas: 10,000 cities in the U.S., check your zip code
Delivery time: Within two hours. One hour delivery available for an additional fee.
Free trial: 30-days
Instacart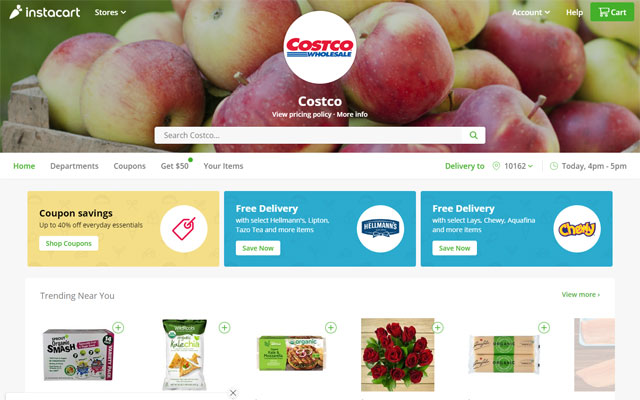 Instacart is essentially a personal shopping service: someone is sent to the local store of your choice to pick up all the items on your shopping list and deliver them. Instacart focuses on two-hour delivery and does a good job with groceries, including Costco (you don't need a membership).
The downside is cost. In addition to having a delivery fee (or an annual subscription fee), the prices on Instacart may be higher than what you'd pay at your local store. We'd recommend doing a price check on your grocery list before deciding whether the convenience is worth it.
Cost: Free to join, $99/year for Instacart Express members
Fees: Prices start at $5.99 (Free for Instacart Express members). A "busy pricing" fee may be charged for busy delivery hours (not for Instacart Express members), you can also tip the driver (a 10% tip is included by default but can be changed).
Minimum purchase: $10 ($35 for Instacart Express members)
Items available: Groceries and household goods from local stores such as Whole Foods, Costco, CVS and Petco.
Delivery areas: Available in select cities across most of the U.S. Check availability by zip code here.
Delivery time: Two hour deliveries available (one-hour for Instacart Express members). You can schedule deliveries up to six days in advance.
Free trial: 14 days
TaskRabbit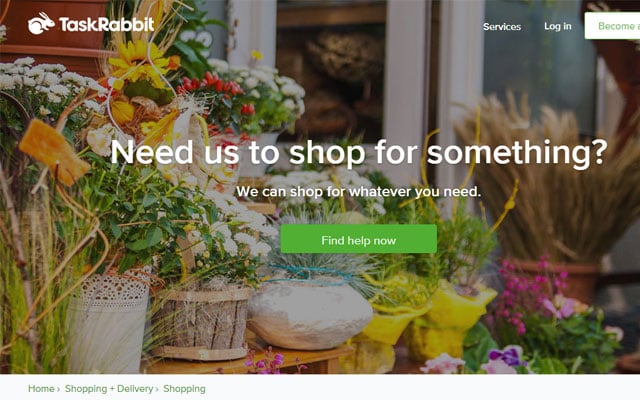 While TaskRabbit isn't a delivery service, you can use it as one—and when you do, it's the most flexible option on this list. With TaskRabbit, you pay someone by the hour to do just about anything you need, from a single grocery trip to going through your whole errands list. The downside is that pricing is very unpredictable. Different "taskers," as they're called, may charge different rates and the time it takes to do your delivery can vary (there's a minimum one-hour charge). Still, if you need more options than the other services offer, TaskRabbit is your best option.
Cost: Varies.
Fees: None.
Minimum purchase: None.
Items available: Anything at any store or restaurant in your area.
Delivery areas: Available in 48 metro areas across the United States (plus 5 metro areas in the UK). Check here for the full list
Delivery time: Varies.
Free trial: None.
Considering one of these services, but wary of the cost? The question to ask yourself is what your time is worth. If getting someone to pick up and delivery your groceries saves you an hour of time—and you still have what you need at the house before dinnertime—that's likely worth the $5 to $8 you'd pay for delivery from Google, Amazon, or Instacart. On days when you just don't have the time, that can be well worth it.
Updated on 2/13/2019 with pricing and availability
[Image credits: delivery via Shutterstock, Postmates, Amazon, Instacart, TaskRabbit