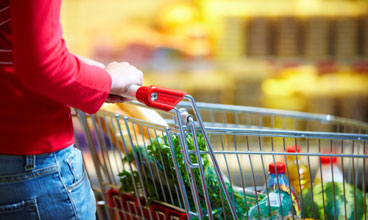 Whether it's the Sunday circular or one of the great online coupon sites, there are plenty of places to find great deals for your grocery list. But wouldn't it be easier if you could get them all in one place?
That's where grocery apps come in. The best ones let you find coupons available in your area, comparison shop between retailers, send shopping lists to family members and save coupons to your store loyalty card, so don't have to carry paper coupons with you.
Find coupons available in your area, scan barcodes to easily add items to your grocery list and sync your list with other household members with Grocery IQ. What makes Grocercy IQ great for couponers is the fact that you can select your coupons, email to yourself or print them from the app and they'll automatically appear on your grocery list. No need to make a separate note to make sure you use your coupons. When you're at the store, simply check the items off your list, including using your coupons. Free for iPhone and Android.
Like other grocery apps, SavingStar lets you select coupons for products available in your area and save them to your store loyalty card. With 24,000 participating stores representing nearly 100 chains, there's bound to be one near you. Unlike other apps, though, you won't save money at the register with SavingStar, you'll get your cash back in the form of a PayPal payment, Amazon gift card or direct deposit into your bank account. Or you can choose to donate your savings to American Forests. Free for iPhone and Android
Find out where you get the best price for the items on your grocery list, track your grocery list total, store your loyalty card information on your phone and share your shopping list with family members with Grocery King. The app has average pricing for thousands of items, and if you want to input the price you're actually paying, the app will show the unit price in your list in red, if there's a location with a better price, or green, if you're getting the best price. $4.99 for Android