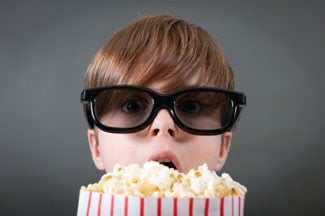 When you watch a 3D movie, do you experience symptoms like headache, nausea, dizziness, blurred vision or double vision? If so, you may be one of the 16% of the population affected by 3D Vision Syndrome.
According to the American Optometric Association, 3D Vision Syndrome is caused by common binocular vision problems, such as:
Amblyopia (lazy eye) / Strabismus (eye turns)
Convergence Insufficiency
Convergence Excess
However relief is possible once you have a proper diagnosis and treatment plan, according to Dr. Dominick Maino, Professor of Pediatrics/Binocular Vision, Illinois College of Optometry/Illinois Eye Institute.
Dr. Maino recommends that you should be checked by an Optometrist for a binocular vision problem if you experience discomfort after watching 3D content. You may be a candidate for vision therapy, a program that provides repetitive tasks geared to train your eyes to work properly.
In addition to greater comfort in watching 3D content, 3D vision therapy improves near vision tasks, like reading and using the computer, and vision performance for sports, skeet shooting, driving a car or riding a bike.
Kids might not know they have a vision problem, so make sure to ask them how they feel after watching 3D content—symptoms of discomfort could be a sign there is an underlying problem. The American Optometric Association recommends the first screening at 6-12 months and then every year or two. You can even get a free initial screening for infants 6-12 months through the InfantSEE program.
And to help avoid issues while watching movies, Dr. Maino recommends you sit at least halfway back in the movie theater. The closer you sit, the more your problems will be exacerbated.