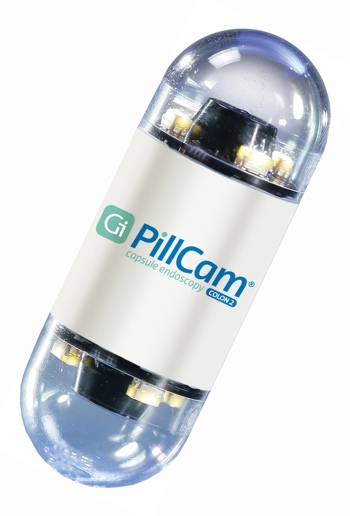 The colonoscopy, one of the most widely dreaded medical tests, is about to get a far less invasive alternative. The Associated Press is reporting that the FDA has approved the use of a swallowed pill-sized camera for use in patients who have difficulty with traditional colonoscopy procedures.
PillCam, created by Given Imaging, is designed to take photos of the inside of your colon as it works its way through your digestive tract. Images are transmitted wirelessly to an external receiver worn around your waist. Your doctor can then review the images and determine if further procedures or biopsies are needed.
PillCam finishes working its way through your system in about eight hours. And, before you ask, yes: The $500 camera is flushable.
For adults over 50, the procedure is absolutely crucial in the early detection of colon cancer. PillCam could wind up being a cost-effective alternative for those who might otherwise avoid the procedure.
To learn more about PillCam, visit the Given Imaging website. For more on the future of medicine, take a look at these cool new telemedicine options and tools that could save you your next trip to the doctor's office.