According to a recent study in the International Journal of Environmental Research and Public Health, "Indoor air pollution is a serious threat to human health, causing millions of deaths each year." And other studies have tied long-term exposure to air pollution to a range of health conditions, including asthma, obesity, and even cognitive decline. While you can't individually halt global air pollution, you can do something about your poor indoor air quality by using an air purifier. However, since you normally don't see or smell a haze wafting across your living room, it's difficult to know when you should be running your air purifier and whether your air purifier is actually working. That's when an indoor air quality monitor comes in handy.
A good indoor air quality monitor checks for volatile organic compounds (VOCs) and particulate matter that can measure as small as 2.5 microns (fine particulates), though some monitors can sense even smaller particles. VOCs are gasses emitted by paints, cleaning supplies, pesticides, markers, adhesives, hair spray, and more. Particulate matter includes dust, smoke, pollen, mold, sulfur dioxide, and nitrogen oxides. And when levels reach a concerning level, your monitor alerts you so you can turn on a purification device.
While the impact of particulate matter from this year's wildfires and severe smog are clear, there's a lot to learn about indoor air quality. To continue to advance our understanding about how indoor air quality impacts health, AerNos has partnered with Stanford University's Sean N. Parker Center for Allergy & Asthma Research to follow children affected by polluted air from wildfires in school and at home.
The AerNos AerHome monitors being used in the study will detect particulate matter as small as one micron (ultrafine particulates that can irritate lungs), and sense ozone (O3) and nitrogen dioxide (NO2) as well as VOCs. In addition, the AerHome sensor is very sensitive, able to detect contaminants at levels as low as one part per billion – well below the air pollution levels set by the EPA.
The research will be conducted during this wildfire season, and you can help. AerNos has launched an Indiegogo campaign (this campaign is currently paused) that enables you to claim an AerHome for your own use and/or donate one to the Stanford research project.
Your personal AerHome will make it easy to see at a glance whether your air quality is good with its LED light ring that glows green, yellow, or red.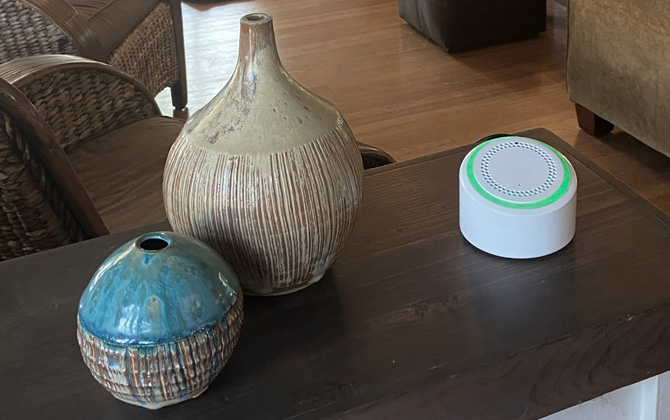 With the AerHome app, you can check air quality measurements, monitor temperature and humidity, and receive expert advice as to how to improve your indoor air quality. When is it safe to put your baby back in her room after painting? How much of an impact does your hairspray or burned toast have? You'll learn how you're affecting your indoor air as well as external factors, like wildfires. Your data stays with you or you can choose to share your anonymized personal data for research.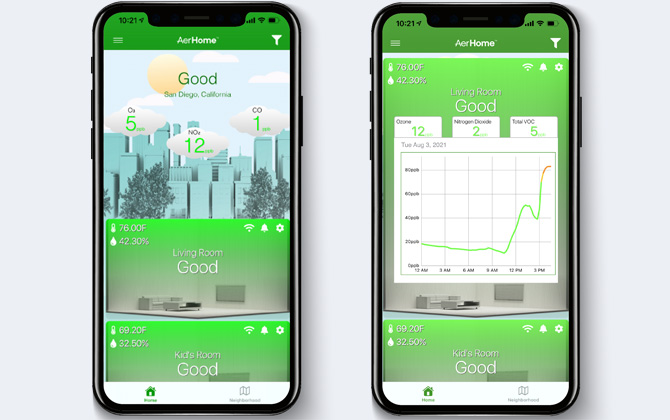 You can claim an AerHome on Indiegogo (this campaign is currently paused) starting at $99. AerNos expects to ship the AerHome in March 2022.
Updated on 9/20/21 with the fact that the Indiegogo campaign has been paused.
[Image credit: AerNos]
For the past 20+ years, Techlicious founder Suzanne Kantra has been exploring and writing about the world's most exciting and important science and technology issues. Prior to Techlicious, Suzanne was the Technology Editor for Martha Stewart Living Omnimedia and the Senior Technology Editor for Popular Science. Suzanne has been featured on CNN, CBS, and NBC.