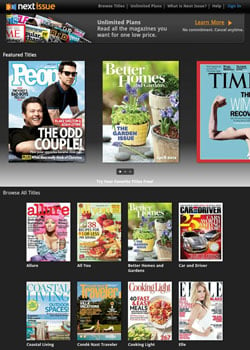 Launched yesterday, Next Issue Media's Next Issue Android tablet app (free on Google Play) lets you read Glamour, Better Homes & Gardens, Esquire, Vanity Fair and 23 other digital magazines for $10-per-month. Pay $15 per month for the Unlimited Premium service and you'll also get Entertainment Weekly, People, Sports Illustrated, The New Yorker and Time (See the full list of magazines for Basic and Premium services at the end of the story).
It's not just the quantity and quality of titles from magazine giants Condé Nast, Hearst, Meredith, and Time Inc. that got my attention, it's the fact the Next Issue app is easy to use. Instead of downloading an app for each magazine and subscribing to it, you get them all within one newsstand.
Once you select a magazine and open it, you can choose to have subsequent issues downloaded to your device automatically. And when I opened Fitness Magazine, for instance, I could download and read the last five issues, which is quite a bonus.
Navigation is just a matter of swiping your way through the issue—complete with ads, in many cases. Or, you can open the table of contents and go directly to a particular article or section. Like paper magazines, each one has its own layout, design and interface to reflect the subject matter.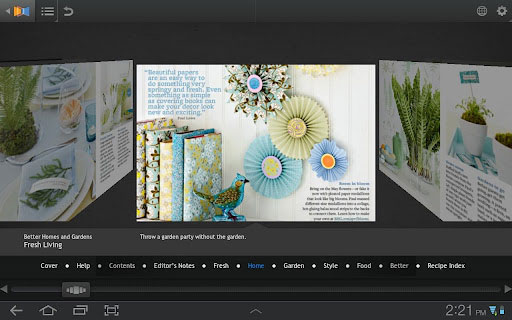 Now for the drawbacks. The Next Issue app is only available for Android tablets 7 inches or larger running Android 3.x (Honeycomb) or 4.x (Ice Cream Sandwich). There are reports that an iPad app will be submitted soon to Apple, but that may take a while.
For now, there's a 30-day free trial going on for first-time customers. You'll need to put in your credit card info, though, so set a reminder if you think you may want to cancel before your first payment.
Next Issue Magazines
The following list of magazines is current as of April 4, 2012. All titles are included in the Unlimited Basic service unless noted as (Premium).
All You
Allure
Better Homes and Gardens
Car and Driver
Coastal Living
Condé Nast Traveler
Cooking Light
Elle
Entertainment Weekly (Premium)
Esquire
Essence
Fitness
Fortune
Glamour
Golf
Health
InStyle
Money
Parents
People (Premium)
People en Español
People Style Watch
Popular Mechanics
Real Simple
SI for Kids
Southern Living
Sports Illustrated (Premium)
Sunset
The New Yorker (Premium)
Time (Premium)
This Old House
Vanity Fair