Smart screens can be a fantastic addition to any home, easily adding voice control, video calling, streaming media, and smart home controls to any room of your home. You have lots of options for smart screens — Amazon, Google, Lenovo, and even Facebook offer solid options — and now Amazon is giving you yet another choice with the new Echo Show 5, which will be available for $90 starting on June 26 (though you can pre-order now).
Many smart screens on the market are fairly large, running from 7" to 10" in size. But the Echo Show 5's petite size — just 5.5" — makes it easy to fit anywhere you'd like to add some extra smarts in your home. That's perfect if you're trying to fit it on a bedside table for a smart alarm clock — it comes complete with an ambient lighting "sunrise" to wake you up — or find space on a crowded kitchen counter so it can walk you through recipes.
The Show 5 is powered by Alexa, which means it's compatible with most smart home brands, so you can use it to control lights, locks, thermostats, and your other connected gadgets. Apps powered by Food Network, AllRecipies, and WikiHow Though the screen is relatively small, you don't need a massive display to watch baby monitors, connected cameras or video doorbells. The phone-sized screen is also good for video calling — either through the Alexa App or Skype — though some may prefer the larger, 10" Echo Show size for a bigger view.
For entertainment, the Show 5 can play music and video, though it integrates best with Amazon Music and Prime Video. Like other Echo devices, the Echo Show 5 supports streaming from Spotify, Pandora, Apple Music and more, but video streaming options are limited. That may be perfectly fine for the device's small screen, but if you're looking for a gadget that will play Netflix and HBO, the Echo Show 5 isn't it.
The Echo Show 5 brings privacy to the forefront
The weak point of smart screens and smart speakers is always privacy. These devices are in bedrooms and living rooms, potentially seeing and listening to everything we do. The Echo Show 5 has a switch to disable both the microphone and the camera, including a physical camera shutter to block its view.
With even big connected camera brands like Nest vulnerable to hacking, it's reassuring to have something that physically blocks the camera to ensure it isn't recording. It's a feature you'll find on some smart screens, but not on others, including the larger Echo Show.
Amazon also recently made another nod to privacy across its smart speakers and screens: you can now delete your voice recordings with a simple voice command. Simply say "Alexa, delete everything I said today" and the day's history will be cleared off Amazon's servers. While you still have to go through a convoluted process to delete all of your history, this is an easy way to clear out your latest recordings.
Privacy features could always be better, but this is about as good as you'll find on a smart screen today.
There are plenty of alternatives to the Echo Show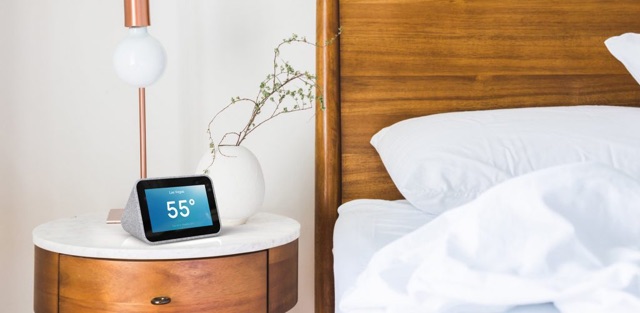 The Echo Show 5 is a handy piece of smart home tech at a nice price, but it has a lot of competition. While Echo devices rely in large part on Alexa skills, which can be a mixed bag where quality is concerned, Google and Lenovo both offer smart screens with slick custom software.
If, for example, you wanted to look up a recipe, Alexa's Food Network and Allrecipes skills will read the recipe once and, after a few minutes, go back to the home screen. The Google's Nest Home Hub and Lenovo's Smart Display are both built around Google Assistant, which has voice commands to find a recipe, list ingredients, and list recipe steps. You can ask Google Assistant to read any step, list any ingredient or measurement, or ask how to perform specific tasks (like "how do I cream sugar and butter?") at any time. Google Assistant smart screens can also access YouTube, which contains a multitude of recipes and other resources — Amazon's devices can't play YouTube, though WikiHow access is coming soon.
While this is just one example, you can find similar problems across other apps, which can be designed by anyone. Alexa's library of skills is constantly changing and being updated, which means its cooking abilities could always improve. However, the collection of miscellaneous skills doesn't always hold up to the smarts of Google Assistant.
However, the Echo Show 5 really shines as a smart home device, because Alexa supports a huge range of smart home products. For adding voice control and a screen to your smart home, Echo devices really can't be beat.
Google Assistant-powered smart screens cost more than the Echo Show 5: most start at $130. For that price, you can get the Google Nest Hub, which has a 7" screen (but no camera for video calls) or the Lenovo Smart Display, which has an 8" screen (and a camera). Depending on how you plan to use your smart screen, the $90 Show 5 could be a steal.
But if you're looking for a smart alarm clock, it's a toss-up. Lenovo's Google Assistant-powered Smart Clock is a 4" smart display designed to sit on a bedside table, and it sells for slightly less at $80. It's designed to be an unobtrusive addition to your bedroom, with smart home controls to help you wind down at night and wake up in the morning — like automatically lowering the lights at bedtime and gradually raising them in the morning. These are features you can mimic with the Echo Show 5, so the choice really comes down to whether you prefer to control your tech with Alexa or Google Assistant.
If you're interested in a budget-friendly smart screen and already have an Alexa-powered smart home, the Echo Show 5 is a perfect fit. But if not, it's worth considering alternatives from Google and Lenovo.
Pricing & availability
The Echo Show 5 is available for pre-order from Amazon now for $90. It will ship late next month, starting on June 26.
If you're interested in the alternatives, the Google Nest Hub is available now from Google and other major electronics retailers for $130. the Lenovo Smart Clock is available now from Lenovo for $80.
[Image credit: Amazon, Lenovo]