Whether your mom is tech-savvy or finds modern gadgets intimidating, the Amazon Echo Show 10 is a Mother's Day gift she will use daily. She can use voice commands to watch videos, listen to music, cook along with recipes, ask Alexa for information, and much more. But as a mom and for my mom, my favorite feature is video chat because it's so easy to use, and faces are clearly visible on the 10-inch display.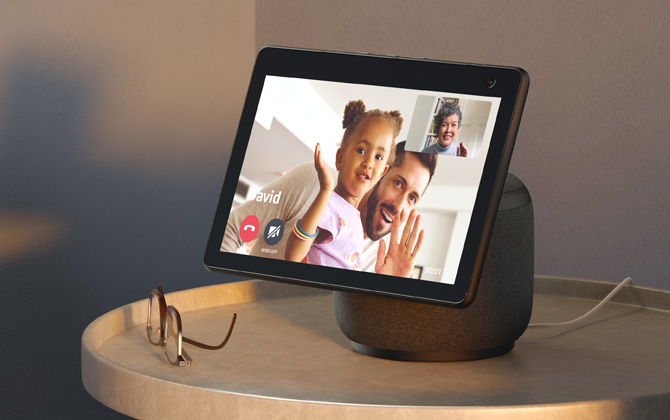 Late last year, I bought my mom an Amazon Echo Show 10 so I could visit her virtually as well as in person. She's in a skilled nursing facility and can't operate the Echo Show 10 on her own, but I was able to set it up to answer calls from me automatically using the Drop In feature. With Drop In, the Echo Show 10 rings in her room and automatically picks up after a few seconds. Her video is blurred for privacy for the first several seconds of the call, so I can disconnect if it's not an opportune time. Of course, if your mom doesn't need hands-free operation, you don't have to enable the Drop-in feature, and she can answer the call on the screen. And you can set do not disturb hours or physically close the camera shutter to ensure privacy even if Drop In is turned on.
To make it a genuinely hands-free video calling experience, the Echo Show 10 has a swiveling stand that rotates to keep my mom in the frame and the display visible to her. The built-in 13MP camera automatically finds her when she speaks and keeps her centered and in focus. And if she has visitors, the camera will zoom out to keep everyone in the frame.
All you need to call an Echo Show is the Alexa app on your smartphone or tablet and an Amazon account. So, whether you are at home or on the go, you can always call and check in with Mom.
The Amazon Echo Show 10 is usually $249.99, but it's currently on sale for $184.99. If you don't need the swiveling stand, the 8-inch Echo Show 8 also has a 13MP auto-framing camera for $74.99 (usually $129.99).
[Image credit: Amazon]