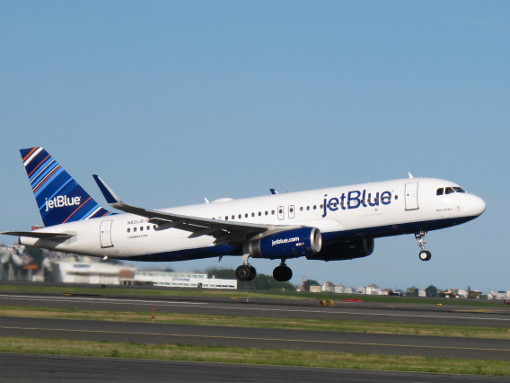 If you fly with JetBlue and have an Amazon Prime subscription, you may actually look forward to a long, boring flight now that JetBlue lets you stream unlimited movies, TV shows and music through the aircraft's satellite-powered Wi-Fi connection for free.
JetBlue began offering the free media streaming privilege to Amazon Prime users this week. The company has been talking about this service since May this year.
JetBlue already provides in-flight Internet service to passengers through its Fly-Fi system for free, but the service only allows basic Internet activities such as social media access, browsing, email and online shopping. The package doesn't allow bandwidth-intensive activities such as video streaming. If you want to stream videos, download large files, access VPN services or cloud storage or play an online game, you need Fly-Fli+, which offers more bandwidth for an hourly fee of $9.
Now, Amazon Prime subscribers can skip the $9-hourly fee and binge-watch movies and TV shows available on Amazon Video, including popular series such as "The Man in the High Castle," "Transparent" and "Tumble Leaf." Passengers who sign up for a 30-day Amazon Prime trial subscription during the flight can also enjoy this unlimited movie streaming spree. Just connect to the free Fly-Fi connection to be offered a 30-day trial for an Amazon Prime account.
Not all JetBlue aircraft offer Fly-Fi and Internet services. Check for a Fly-Fi decal outside the aircraft or near the boarding door, and look for Fly-Fi connection instructions on the seatback card. JetBlue's broadband Internet Fly-Fi service is available on more than 150 of its planes. The company expects to equip all its aircraft with Fly-Fi in 2016.
Virgin America also offers similar access to entertainment to its passengers through a ViaSat Wi-Fi connection on board its planes. Virgin America passengers can stream their favorite Netflix videos for free in flight. However, unlimited Netflix streaming on Virgin America flights is temporary and will no longer be available after March 2, 2016.
[Image credit: JetBlue]