5 Easy Ways to Get Netflix & Other Video Streaming Services On Your TV
Techlicious editors independently review products. To help support our mission, we may earn affiliate commissions from links contained on this page.
If you haven't already joined the streaming revolution, it's a great time to get started. Not only is there more content than ever online, but the latest streaming players make it easier than ever to find what you want to watch and play it on the big screen. Here are the best ways to watch.
The Easiest Way to Stream: Use the gadgets you already have
There's a good chance you already have a streaming media player at home, even if you aren't using it. If you don't want to spend a dime to start streaming, here are some gadgets to check:
Almost all new TVs and Blu-ray players have smart features that let you stream from a variety of services, though what's available will vary.
Current generation game consoles like the PlayStation 4 and Xbox One may not offer as many streaming options as a smart TV, but usually, support major streaming services.
You can expect to get basic streaming abilities from any of these services: Netflix, Hulu, YouTube, Amazon Video, and sometimes even Apple TV. You'll often find a few premium channels, too, like HBO or Showtime. Does your gadget have the channels you want to watch? Then you're good to go!
Working with the tech you have is the easiest (and cheapest) way of getting Netflix in your living room, but it's not usually the best way. Though these gadgets work as streaming media players, none of them were designed specifically for it. Their interfaces can be clunky, and the manufacturer may not be interested in updating them as new streaming services emerge.
If you upgrade to a standalone streaming media player, you can expect a better interface, more user-friendly search options and access to more streaming services. There's very little to do to set up a streaming media player — mostly you just have to plug them in — and they're affordable, starting at just $30.
If you often find yourself on the sofa watching Netflix, it's worth spending a little extra on a dedicated streaming media player for the best viewing experience.
Best for Watching Almost Everything: Roku

Roku's streaming media players are our hands-down favorites. If you want the most content, you want Roku. You'll find more content options here than on any other streaming device — you have access to thousands of channels, including practically every major streaming service and cable network. You can check their channel guide for a full list, where you should expect to find anything you might want to watch. The only thing you won't find on Roku is iTunes content, which is only available on Apple TV.
We think Roku's interface is one of the easiest to use. It uses a universal search to help you find what you want whether it's on Netflix, Hulu, or somewhere else entirely — just search Roku will tell you where to watch it. It's a feature you'll find in most streaming media players, but it particularly shines on Roku because of its vast library of content.
And because no one wants to type out searches using a remote control, Roku has its own voice controls. You can search using the Roku mobile app or Roku voice remote (which is included with some Roku models). With just the tap of a button, you can ask for specific movies, actors, directors, genres or channels, or play, pause and rewind what you're watching. However, these commands only work via Roku itself or Google Assistant — you can't control it with Alexa or Siri. It's still a great player, but it may not integrate perfectly with your smart home.
If you're shopping for a Roku, there are several options to choose from:
For HD streaming: Roku Express ($30 on Roku.com, check price on Amazon)
If you don't have a 4K television, the Roku Express offers everything you need to stream in 1080p resolution. It comes with a basic remote, but no other extras. If you're looking for something a bit more portable, the Streaming Stick (on sale for $30 on Roku.com, check price on Amazon) is a smaller 1080p streamer that plugs directly into your television's HDMI port. It's a good option if you want to move your Roku from place to place and it comes with a voice remote.
For older TVs: Roku Express+ ($35 on Roku.com)
The Express+ offers HD streaming for older televisions without HDMI ports. Like the Express, this model comes with a basic remote and no other extras — but it's one of the only ways to add streaming to older TVs.
For 4K streaming: Roku Streaming Stick+ ($60 on Roku.com, check price on Amazon)
This is your budget option if you're looking for 4K HDR support (though Amazon's Fire TV Stick 4K is slightly cheaper at $50). An advanced wireless router also gives it better wireless performance than other Roku models, which is great if your television is some distance from your home wireless router.
For private listening: Roku Ultra ($100 on Roku.com, check price on Amazon)
Though it's a price jump from the Streaming Stick+, the Ultra offers one feature that will be indispensable to certain households: you can plug headphones (included) into the remote to watch without disturbing anyone else in the household. That can be particularly handy for families, letting one person watch TV without disturbing a sleeping spouse or child.
Best for Apple users: Apple TV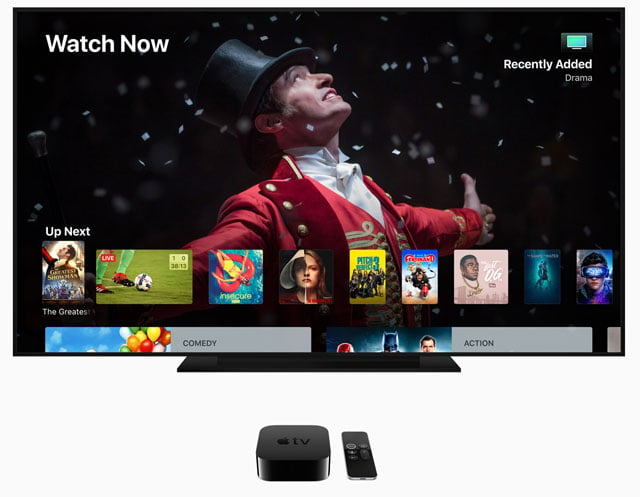 The Apple TV is the priciest player on this list, running from $150 to $200 depending on the model you want. But despite the expense, it's a good option for Apple users because it easily integrates with other Apple products. You can cast from your iPhone, iPad or Mac directly to the Apple TV with just a couple of taps, and your iPhone can work as a remote or keyboard without any additional software. Plus it can serve as a HomeKit hub, making it an easy addition to an Apple-powered smart home. These are all small conveniences, but they add up to a lot for Apple owners.
The heart of the player is the Apple TV app, which compiles every show from every streaming service in one place. It will list shows you've recently watched and suggest content you might enjoy, regardless of which service they're on, and play what you want without hopping from app to app. Siri powers Apple TV's universal search, so you can ask for shows and movies by name, actor, genre, date or a combination and it will bring up results from different streaming services, making it simple to find whatever you want to watch. It's particularly handy when different seasons or episodes are available on different streaming services. And if you install the TV app on all of your devices, you can watch and then seamlessly pick up shows where you left off using any device.
If you like the idea of the Apple TV app, but not the high price of Apple TV itself, you can now get it on select Samsung smart TVs. And, while we don't have an exact date, it's coming to Roku and Amazon Fire TV streaming players, as well as LG, Sony and Vizio smart TVs. AirPlay 2, which lets your Apple devices stream content to other gadgets, is also coming to more smart TVs, letting you stream content from the TV app on your phone to your television — letting you enjoy the Apple TV app even if your device doesn't support it. If you own a lot of TV shows or movies in iTunes, the Apple TV is currently one of just a few ways to get it on your TV — but that's starting to change.
There's one more perk for Apple fans: some of your iOS apps will run on Apple TV, and if you've purchased them on your iPhone or iPad, you can usually download them for free on Apple TV. Games work particularly well on Apple TV, which has a touchpad remote that can serve neatly as a game controller, though you can buy a traditional controller, too. The selection of apps isn't great, but we may start to see more games when Apple Arcade launches later this year.
For HD streaming: Apple TV ($149 on Apple.com, $139 on B&H Photo)
The basic Apple TV supports all of the features we've listed above, but only at HD resolution. It has 32GB of storage space for your apps, which should be plenty.
For 4K streaming: Apple TV 4K (starting at $179 on Apple.com, 32GB model $169 on B&H Photo, 64GB $189 on B&H Photo)
If you have a 4K TV, this model supports 4K HDR with Dolby Atmos sound. It's available with 32GB ($180) or 64GB ($200) of storage space to keep your apps, but unless you plan on downloading a ton of apps (particularly games), you should be fine with the 32GB model.
If this is too pricey for you, you can sometimes find discounts on refurbished models, which come with the same one-year warranty as new models. However, as with most Apple products, don't expect to find them on sale for significantly less than the list price
Best value: Amazon Fire TV

If you want the absolute most bang for your buck, you want Amazon's Fire TV Stick 4K, which is currently the cheapest 4K streaming player at just $50. And if you have more to spend, Amazon has some unique offerings in the Fire TV Cube, which adds voice controls to your entire home entertainment center, and Fire TV Recast, which records live TV so you can stream it later — both features you won't find on any other streaming media player.
All Fire TV models work with Alexa, making them convenient additions to Alexa- and Echo-powered smart homes. Most come with an Alexa voice remote that let you press a button to issue voice commands to your TV or your other smart home devices — for example, you could pull up the video feed from your Ring Video Doorbell — but you can also pair your Fire TV with your other Alexa devices, like Echo smart speakers, so you can control your TV just by saying "Alexa, watch Game of Thrones."
Like the other devices we've listed, Alexa on Fire TV has a universal search that will find content no matter where it is with just a simple voice command. Everything shows up in a single, simple interface, with no need to jump from app to app. In fact, unless you pay attention, you probably won't even realize you're browsing different streaming services. That's as simple as it gets.
But Amazon doesn't just let you watch content, it provides content, and the Fire TV experience will be better for Amazon Prime subscribers. Prime members get access to tons of Amazon video content — including original shows — at no extra charge. On top of that, Prime members can subscribe to additional premium channels like Starz, Showtime, HBO, CBS All Access and a lot more, some at discounted prices. That can be tremendously helpful when it comes to managing your subscriptions: if you subscribe through Amazon, you can manage all of your subscriptions in one place.
Fire TV is also the best streaming play for families, thanks to great parental controls and FreeTime, which offers unlimited access to thousands of kid-friendly apps, books, audiobooks, games, radio stations, TV shows and movies for as little as $2.99 a month. Content for kids is certainly available elsewhere, but FreeTime puts it all in one convenient place, something you won't find on competing products.
If Fire TV sounds like the right choice, these are your best options:
For 4K streaming: Fire TV Stick 4K ($50, check price on Amazon)
This economical player offers 4K HDR quality, voice controls, and a great selection of content at a very budget-friendly price. Though you can get the HD Fire TV Stick for a little less, it doesn't come with a voice remote and lacks FreeTime support, so we recommend the Fire TV Stick 4K even if you don't have a 4K TV.
For streaming and home voice control: Fire TV Cube ($120, check price on Amazon)
The Cube is a 4K HDR streaming media player and smart speaker bundled into a single device. It's essentially a Fire TV with speakers and microphones that allow you to use voice commands — for the Cube or your other connected devices — without a remote. You can also plug in other home entertainment devices, like your A/V receiver and cable box, which you'll then be able to control with Alexa. If you don't already have an Echo smart speaker, this could be the perfect player.
For recording live TV: Fire TV Recast ($230 for 2 tuners, 500GB, 75 hours of recording, check price on Amazon, $280 for 4 tuners, 1TB, 150 hours of recording, check price on Amazon)
The Recast isn't actually a streaming media player, but an accessory for your streaming media player that records live broadcast television using an HD antenna, and saves it for you to stream to your Fire TV later. If you want to keep track of live TV without a cable subscription, this is a very easy way to do it. And if you want to buy a Recast with a Fire TV — which you'll need to stream your recorded content to — you can get a Recast, Fire TV, and HD antenna bundled together for $300 (as of 5/28/2019).
Best for Putting Your Computer Screen on Your TV Screen: Google Chromecast

The Chromecast is an oddity amongst streaming media players. Instead of having its own interface, it's primarily controlled through your phone, tablet or computer — you simply "cast" content from one screen or the other. If you're looking for a traditional menu interface, this isn't it. You'll have to sort through your apps and find content on your own, without the unified interface and universal search other players offer. But despite its inconveniences, it offers a lot of flexibility to put anything on your television screen.
Chromecast also supports Google Assistant, so you can control it — as well as the rest of your smartphone — with your phone or a Google Home smart speaker. That has a lot of appeal for anyone with a Google Home setup, but Roku also supports Google Home, so you can pick up similar smartphone features with a Roku player as well.
But in the end, the Chromecast is a little pricier and its interface is a little less intuitive than competing Roku and Fire TV models, which makes it hard to recommend. While Chromecast devices definitely have their place in a high-tech household, they're not our top recommendation for people who simply want a streaming media player.
For HD streaming: Chromecast ($35)
For 4K streaming: Chromecast Ultra ($70)
What should you buy?
Part of your decision is going to be based on whether you use voice controls in your home. In that case, Alexa works with Fire TV, Siri works with Apple TV, and Google Assistant works with Roku and Chromecast. If you want a familiar set of voice controls, pick the system that matches what you already use.
But if you aren't committed to a specific voice control system, these are our recommendations:
The best player for most people: Fire TV Stick 4K ($50 on Amazon)
With a low price, 4K HDR support, universal search and a unified interface for all streaming content, the Fire TV is easy to afford and easy to use.
The player with the most content: Roku Streaming Stick+ ($60 on Roku.com, check price on Amazon)
While the Fire TV Stick 4K is a little cheaper, Roku still outdoes it for content at a reasonable price. The downside is limited smart home integration.
The best player for Apple users: Apple TV (starting at $150 on Apple.com)
If you're an Apple household, you'll appreciate the Apple TV's integration with your iOS devices and HomeKit devices, despite the high cost. Pick the standard Apple TV if you don't need 4K, or the pricier Apple TV 4K if you do.
Updated on 5/28/2019 with next-generation products and pricing.
[Family watching TV image via Shutterstock, Roku, Apple, Amazon, Google]
Discussion