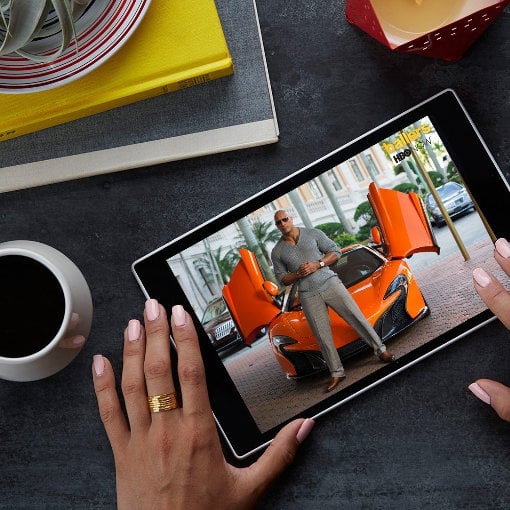 New software features are coming to Amazon Fire tablets via free over-the-air upgrades for the Amazon Fire, Fire Kids Edition, Fire HD 8 and Fire HD 10 tablets. The upgrade adds a night reading feature, more parental controls and a kid-friendly Amazon FreeTime browser to tablets running Fire OS 5 Bellini.
The new Blue Shade feature automatically adjusts your Amazon Fire's display so that you can read more comfortably at night. It is called Blue Shade because it uses specialized filters to "shade" your eyes from the blue light emitted by displays on tablets and smartphones.
Blue light exposure in the evening can cause the body to decrease melatonin production. Studies have shown lower melatonin can cause you to need more time to fall asleep, delay Rapid Eye Movement (REM) sleep and make you lethargic when you wake up in the morning.
The Blue Shade feature also lets you select warm color filters and adjust screen brightness to your individual comfort level.
Another major new feature in the software update is a parental control Activity Center for parents. The Activity Center is designed to encourage parental guidance of tablet use while helping children be responsible tablet users. Use the Activity Center to view and monitor kids' usage statistics such as time spent gaming, watching videos and reading through a secure page accessible via another tablet, smartphone or computer. Check which websites kids have visited and what apps, books or videos they have accessed on the tablet.
The third new feature is a child-friendly Web browser for Amazon FreeTime. Through this browser, kids can access more than 40,000 kid-friendly, age-appropriate YouTube videos and websites. All you have to do is turn the feature on; no additional charges or setup are required. Amazon experts and Common Sense Media help curate the websites included in the collection, and the Amazon FreeTime team reviews the contents for age-appropriateness. You can add additional sites that you approve for your kids to access.
[Image credit: Amazon]