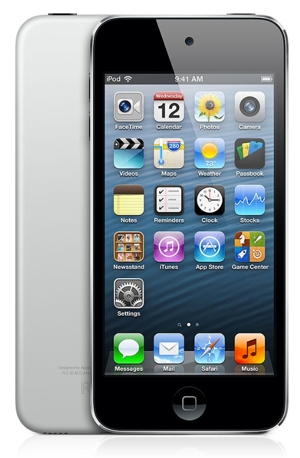 Apple unveiled a new 16GB version of its popular iPod touch today, taking square aim at bargain-minded shoppers with a low $229 price tag.
There's nothing superfluous about the new iPod touch – you don't get to choose between designer colors, there's no rear-facing camera like on the more expensive models, and there aren't any tech bells and whistles you don't need. You simply get the core device in your choice of black or white with a 4-inch Retina display, a 720p HD front-facing camera, 16GB of storage space, and a pair of EarPod headphones. The battery will last an estimated 8 hours playing video, or 40 hours playing audio.
The new device is the cheapest of the full-size 5th generation iPod models, coming in $70 under than the 32GB version. It's a great option for those who want the fun of an Apple device while paying the least amount possible. It does just about everything the iPhone 5 can, minus the ability to make phone calls. All you need is a WiFi connection.
The new iPod touch is currently available for order on the Apple website for $229. It will be available for purchase in retail stores starting May 31.