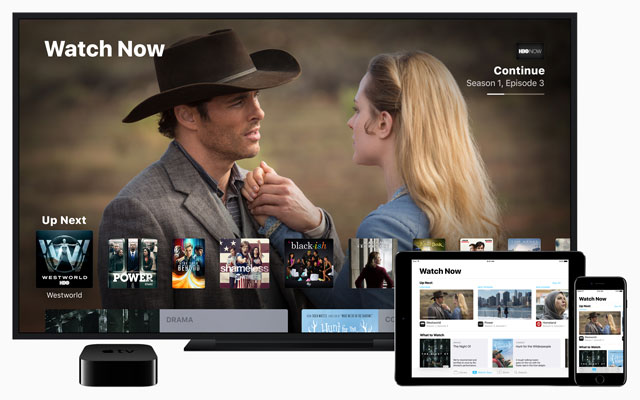 The big problem with streaming video to your TV is that your viewing is spread across dozens of different apps and sites. You can only watch Game of Thrones on HBO, Big Bang Theory on CBS and live sports (typically) through your cable subscription, leaving you with the frustration of finding your favorite content. Apple is solving this with a new app for Apple TV, called simply "TV."
The TV app will offer a one-stop location for all of your streaming apps, consolidating content from streaming services and your cable provider in one place. So instead of opening HBO Now to watch Game of Thrones, you can simply open TV, which will know which episode you're on and fire up HBO Now so you can watch it. In TV, you'll be able to see what you've been watching across multiple apps and pick up where you left off. You'll also get recommended content from the apps you have installed.
One of the biggest selling points of the Apple TV, access to iTunes, is also rolled into the TV app. You can browse your iTunes library as well as buy or rent new content. Recommendations are curated by Apple's editors (which seems similar to Apple Music's curation system) to suggest the best content from streaming options available.
Siri will also be getting new sports smarts. You can now tell Siri to turn on the game, and she'll find out where to watch it live or bring up other games you can watch live.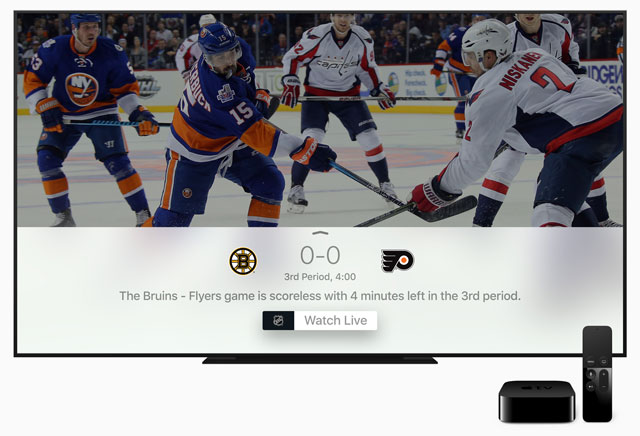 But there's a big downside to the new TV app: it may not include all of your streaming applications. Notably absent from Apple's demo was Netflix, which didn't even have an icon on the Apple TV menu. For many viewers, a lack of Netflix integration could be a big stumbling block, and it's especially disappointing as Netflix continues to expand its original content lineup. A less surprising absence was Amazon, which currently isn't available on the Apple TV. All in all, these missing apps make Apple's attempt at a unified TV experience a little less unified, and we hope more apps will be added in the future.
Twitter is also coming to your Apple TV, with live Tweets visible right beside your favorite content to add context and commentary from around the world. Sure, you could follow along with Twitter on your phone while watching, but now it can be right on your TV screen. Unfortunately (or fortunately, for those who aren't fans of Twitter's microblogging platform), the feature will only be available for certain content like sports and the upcoming election. It can be fun to follow live commentary during TV shows and other major events, but do we really need it integrated in our TVs when it's so easy to use on our mobile devices? It's a neat feature, but it doesn't feel like an entirely necessary one.
Perhaps most exciting is the addition of Minecraft to Apple TV's app lineup, bringing one of our favorite games to the biggest screen in the house.
The TV app and Minecraft are both coming to Apple TV by the end of the year. TV will also be available on iOS for the iPhone and iPad, letting you easily swap between devices when you're on the go or if you prefer to watch TV on the patio instead of in front of the big screen.
[Image credit: Apple]