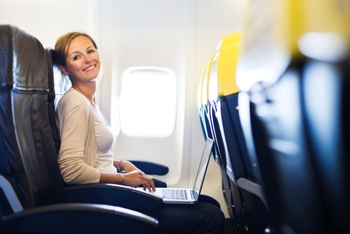 Watch out, GoGo – you're about to get some serious, big name competition. AT&T plans to launch the first high-speed, 4G LTE-based broadband service for planes flying as high as 35,000 feet, the company announced Monday.
"We are building on AT&T's significant strengths to develop in-flight connectivity technology unlike any other that exists today, based on 4G LTE standards," explains AT&T Chief Strategy Officer John Stankey. "We believe this will enable airlines and passengers to benefit from reliable high speeds and a better experience."
Currently, the state of in-flight wireless is a mixed bag. Industry leader Gogo is launching a new 60Mbps high-speed network on Virgin America planes later this year, while rival ViaSat is launching high-speed service on select United flights. On the other hand, in-flight wireless is still painfully slow on most U.S. airplanes (if you can even find it at all).
Hopefully, the presence of a new big name in the market will bring more connected flights and better prices. We'll find out if AT&T has what it takes when the new service launches in late 2015.
[Woman using laptop on plane via Shutterstock]