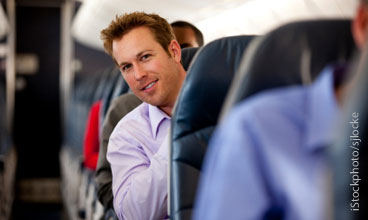 If you've ever paid for in-flight wireless, then you know how badly the service stinks. Gogo, the nation's largest provider of Internet at 35,000 feet, has a top speed of 9.8Mbps. And that's not per person. That's the total bandwidth that gets divided amongst an entire airplane full of websurfers and smartphone owners.
That kind of WiFi speed just doesn't cut it with today's modern data needs. Thankfully, next year, it won't have to. Gogo today announced Gogo GTO, a soon-to-be-deployed hybrid technology capable of boosting in-flight wireless speeds up to 60Mbps.
Currently, Gogo uses an air-to-ground transmission method, where an airplane antenna maintains constant communication with towers on the ground. Gogo GTO will keep air-to-ground for data uploads, but instead use a faster satellite-based system for downloads.
I travel between the East Coast and West Coast all the time. For me, in-flight wireless is a necessity, lest I lose an entire day of work every time I take to the skies. But at Gogo's current speeds, Internet service is so terrible (and expensive!) that I've been forced to request refunds on numerous occasions. Websites load at 1997-era speeds, and streaming video sites like Netflix and Hulu are unusable. A 6-fold increase in speeds won't solve all Gogo's problems, but it will make the necessary evil a bit more tolerable.
Gogo will seek FAA approval for the service next year. Virgin America will be the first airline to feature the new technology, slated to go live "in the second half of 2014."