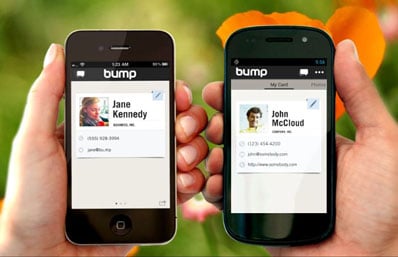 Let's say you just took a great picture at a party and one of people in the photo asks for a copy. Do you email it? Facebook it? Text it? If you have the free Bump app for iOS and Android devices, sharing photos with another person's phone or a computer is as easy as tapping the two devices together.
To initiate the transfer of photos, you need to start the Bump app or, if you're transferring to a computer. browse to bu.mp. Then you select up to 10 photos you want to share. Finally, you bump the devices together or bump the phone against the computer's space bar. Both devices send their location with a time stamp and the Bump servers make a match between the devices. Each device then gets a request to connect, with the person's name and photo, if available. After both devices have accepted the connection, the data transfers.
Shared photos then appear in your phone's photo gallery or the directory you choose on your computer. One big drawback is that photos transfer at a maximum resolution of about 600 x 800 pixels. That's fine for viewing on a phone or computer screen, but not good enough quality for prints.
Bump can also be used to send contact information. And for iPhone users, there's Bump Pay (free on iTunes), which connects with your PayPal account to let you transfer cash.