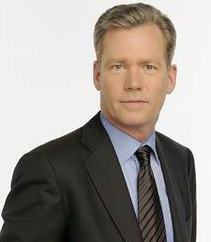 The National Enquirer reported that it has caught Chris Hansen, host of NBC's "To Catch a Predator" segment on Dateline, cheating on his wife. In an ironic turn, the 51-year old Hansen, whose segment was aimed at catching sexual predators on tape as they attempted to engage in sexual relationships with minors, has now, himself, been caught on tape with a Florida-based television reporter 20-years his junior, Kristyn Caddell.
According to the National Enquirer, hidden cameras captured Hansen and Caddell having dinner and then returning to her apartment. The National Enquirer also report the affair has been continuing for the past four months and Hansen would travel to Miami and Palm Beach frequently to see Caddell.
Hansen, who lives in Connecticut with his wife and two children, has not responded to the accusations. And, if confirmed, Hansen will join our dubious list of Cheaters Caught by Tech.