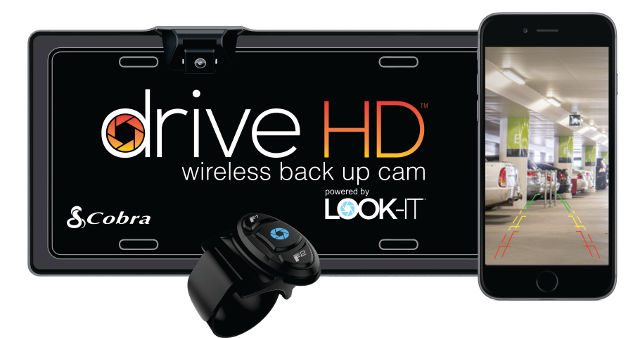 Also known as a rear-view camera or reversing camera, a backup camera enables you to see the in back of your vehicle — often a blind spot — so you can park or drive in reverse more safely. Almost all new cars these days already include backup cameras as a standard safety feature, and the National Highway Traffic Safety Administration required all vehicles under 10,000 pounds to have rear visibility technology by 2018. But, a lot of older car models don't have them yet.
For vehicles without one, Cobra Electronics just launched the Cobra Drive HD Wireless Back Up Cam at the Consumer Electronics Show 2017 in Las Vegas. Techlicious' founding editor, Suzanne Kantra, saw it in action:
Cobra's new rear-view camera uses your smartphone as the display for the video feed. The camera provides smart grid line calibration for better back up maneuvers.
The camera itself is attached to your license plate frame with tamper-resistant screws. You can easily install the camera yourself in less than five minutes. The camera houses a replaceable battery that can power the camera for up to four years.
Since the camera communicates with your smartphone over a wireless connection, so there's no need to add more wires to your vehicle.
To turn the camera on, just press the One Touch Quick View remote, and the live video feed starts showing on your smartphone screen. Activation is instantaneous — you don't need to open the app on your phone or even unlock your phone screen.
The remote control can be mounted on the steering wheel or dashboard — your choice. There are two extra programmable buttons that you can configure to launch apps on your smartphone.
The Cobra Drive HD Wireless Back Up Cam will start hitting stores in March, 2017, for a suggested retail price of $249.95.
For more ideas on how to be safe on the road, check out these essential things to pack into your car safety kit.
[Image credit: Cobra Electronics]