Essential Products for Your Car Safety Kit
Techlicious editors independently review products. To help support our mission, we may earn affiliate commissions from links contained on this page.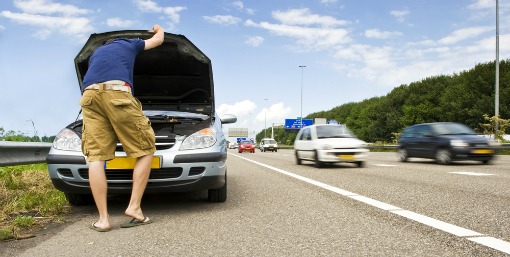 With the weather turning warmer and summer travel season around the corner, many Americans will be hitting the road. Before you head out with your family in tow, you may want to consider these six tech products that can keep you safe and get you back on the road quickly if you have problems out on the highways. And while you're at it, load up on our essential apps to use on the road.
It isn't quite summer yet, but Memorial Day weekend remains the unofficial kick-off for all summer celebrations. That means it's time for picnics at the park, weekends at the lake and, of course, the summer road trip.
If you're planning on hitting the road this summer, you aren't alone: a recent study estimates that nearly 90 percent of Americans participate in the road trip ritual. While you may be eager to get on the road and enjoy the weather as winter melts away, take some time to consider whether you're prepped for a long road trip. We have eight essential tech items to pack that will keep you covered—whether you're traveling along a highly-trafficked major highway or deep in the woods—so you can sit back and enjoy the ride.
Portable device charger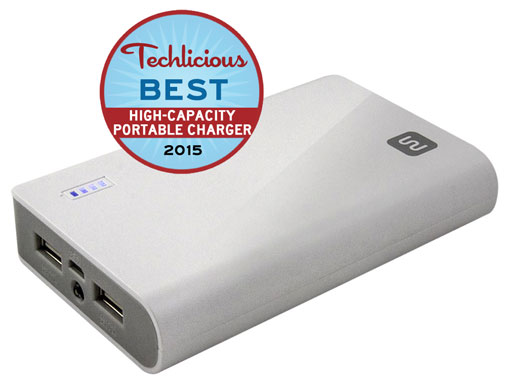 While you definitely shouldn't be talking or texting when you're on the move, you do want to keep your smartphone handy. If you run into trouble it will let you call for help, whether that means AAA or 911. (Just remember: if you do have to dial 911, you'll need to give them your location.) Your smartphone can also do double duty as a navigation device—we definitely recommend ditching the paper map—or help entertain the kids.
But regardless of how you use it on the road, you'll want to make sure to keep it charged. If your car doesn't have built-in USB charging, you can pick up a car charger like the Anker PowerDrive 2 for under $10. That will keep you charged up while you're in the car, but a battery pack to keep you topped off when you're away is a good idea too. We like the $20 Monoprice Select Series (see our full review), a 10,000mAh battery that will keep the whole family's smartphones and tablets running all day long.
Navigation without cell service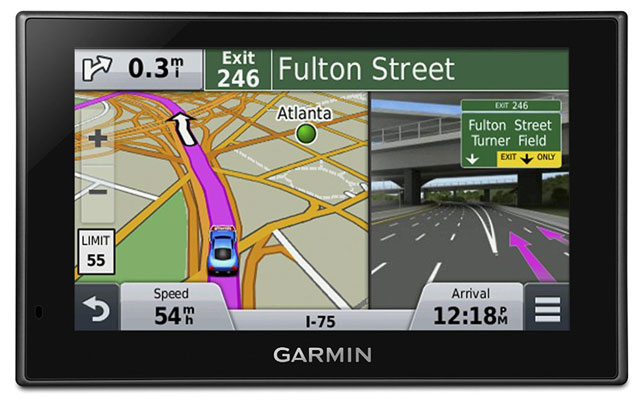 Your car may have built-in GPS navigation or you may be using your phone to do the job—but if you don't have access to either, you should pick up a stand-alone GPS system. We're fans of the Garmin Nuvi lineup, and the 5" Nuvi 2539LMT ($160 on Amazon) is a solid navigation system with a reasonable price. It provides the turn-by-turn directions you'd expect from any navigation app, but the big advantage to stand-alone GPS navigation systems is that they require no cellular signal to operate—so while your phone might have trouble in areas with no cellular data, the Nuvi keeps going.
If you know you'll be going somewhere without cell service and have a smartphone, you'll want to download the map for the area where you're traveling. In Google Maps, you can search for the area where you're traveling and then select More > Download. The largest size map you can download is about 46,000 square miles, which should cover trips of a couple of hours. For instance, you could save the map from New York City to Hartford, CT.
Car jumpstarter (and portable battery charger)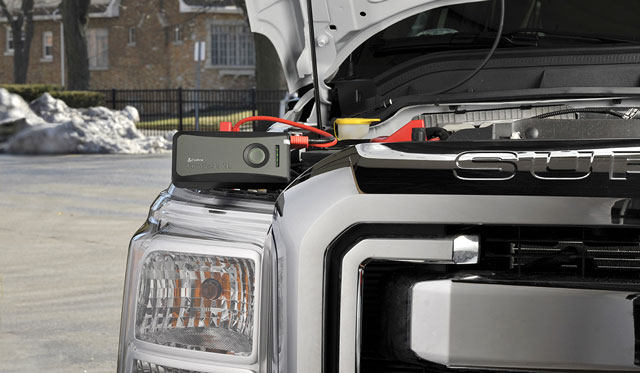 If you're only going to grab one gadget on the list, this is the one. This multitasker can jump start your car (with 300 amp starting current and 500 amp peak current)—and if you've left the main highway to take the scenic route, you'll appreciate not having to wait for someone to come along and give you a jumpstart if your battery dies. But on top of that, the Cobra JumPack XL CPP 12000 ($150) is an 11,000mAh battery that can charge any of USB gadgets, including smartphones and tablets. To top it all off, it has a super-bright LED flashlight that can also serve as a flashing emergency light. The JumPack XL is brand new and starts shipping on June 1, 2016.
If you're looking to spend a little less or don't need the power of the XL, try the 6,000mAh JumPack CP8800 ($87). It has the same features as its bigger brother, but with a weaker battery. Still, with a 180 amp starting current and 360 amp peak current, it's enough to jump most cars and SUVs.
Tire repair & inflator kit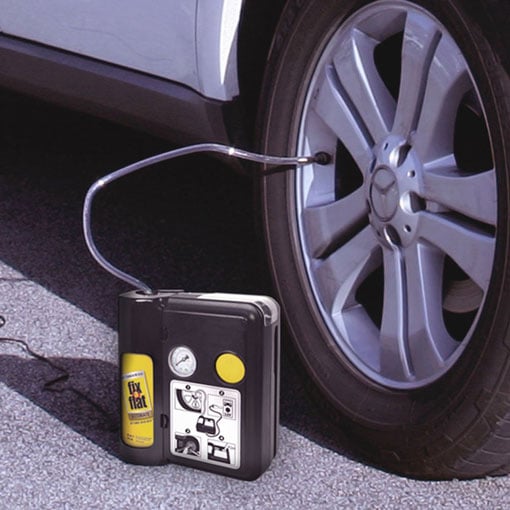 A flat tire can ruin your road trip fast. Even if you have a spare—or AAA—swapping out your tire or getting a tow cuts into your precious vacation time. Instead, pack a Fix-A-Flat Ultimate 1-Step Tire Repair Kit ($30), which can get you back on the road in less than 7 minutes.
While you can get tire sealants that fix punctures and portable air compressors that refill tires, this kit does both at once. Just connect it to your tire, plug it into the car's cigarette lighter for power, turn it on and let it inflate to the appropriate tire pressure. Easy as can be.
If you run out of sealant, you can pick up a refill for around $12, so the repair kit isn't single-use, either.
Hand-crank emergency weather radio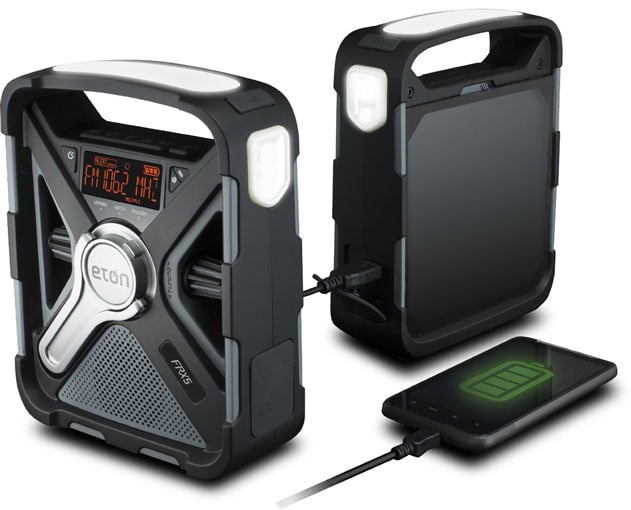 You don't want to get caught in bad weather on the oad, which is why it's important to carry an emergency weather radio—and Eton's FRX5 ($76) is the best you can get. Turn it on to hear the latest weather alerts or set it to "Alert" mode to warn you when severe weather is coming your way. You can power the FRX5 with its internal rechargeable battery (2,000mAh, which can also be used to charge your smartphone), with AAA batteries, using a hand crank (four minutes of cranking gives you 10 to 15 minutes of power), or with solar power (the solar panel will charge the battery to full in five to six hours). All of these power options mean you'll never be without weather alerts.
The FRX5 also has a bright LED flashlight and can be used as a portable speaker, making it a great multipurpose companion for camping or road trips. Currently, using the speaker requires you to plug in a music source via the aux jack, but a Bluetooth version is due out later this year.
If you don't want to spend quite so much, Eton's FRX4 ($35) is also great. It doesn't have the ability to preemptively warn you of incoming weather (you'll have to turn it on to find out what's happening) and has a smaller 1,000mAh battery. But other than that, you get the same features.
Emergency light
The super portable Luci EMRG light ($10) is perfect for when you're headed out camping or just want to keep an emergency light on the car. Luci is solar-powered and 8 hours in the sun will fully charge this pocket-sized lantern. When you need light, inflate its balloon body and switch it on. Four LED lights (three white and one red) let it work as a lantern, flashlight, strobe light, or red-flashing SOS beacon. Luci floats, can be submerged up to one meter, and can be dropped without problem, making it a good companion no matter where your trip takes you.
If you make Luci part of your car emergency kit, it loses about 5 percent of its charge for every month in your glovebox—but that's still enough to toss it in the car and forget about it for the rest of the summer.
Personal rescue beacon
Though this is a pricey addition to your gear, if you're going off the grid to camp or hike this summer the ACR ResQLink+ personal locating beacon ($250)is a piece of safety gear you should consider. In case of emergency, this gadget will signal search and rescue with your exact location within five minutes—no cellular service or satellite subscription required. A built-in strobe light makes you easier to spot in case of poor visibility.
At just 4.5 inches long and 5.4 ounces, it's smaller and lighter than most smartphones, making it easy to carry, and it floats, making it a good choice for boating or rafting as well. With a typical battery shelf life of 11 years, the ResQLink will see you through plenty of off-grid adventures.
Water purifier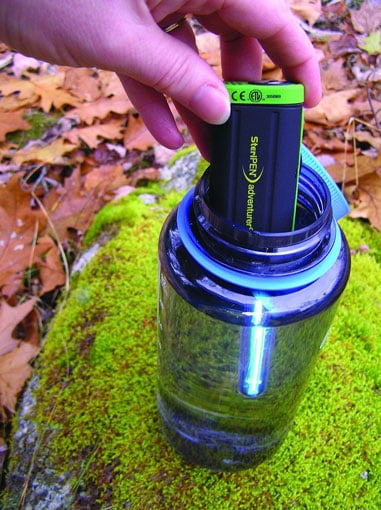 Another important piece of gear if you're heading off the grid is a reliable water purifier. SteriPEN Adventurer Opti UV water purifier ($67) uses UV light to destroy 99.9 percent of harmful microorganisms in water (though before you use it you'll need to filter the water until clear) with the press of a button. It's designed to work with any water bottle with a wide mouth (1.75") and up to 1 liter capacity—just dip the SteriPEN into your water bottle, press the button to turn it on and stir. A green indicator light comes on when the water's clean, so there's no way to make mistakes. Each SteriPEN can purify up to 8,000 liters—that's a lot of camping trips.
At just 3.8 ounces, this gadget won't weigh you down—and the $67 price tag isn't much to pay for clean drinking water.
While you might not need to use any of this safety gear, if you run into trouble on the road you'll be glad to have it! And while you're stocking your car safety kit, be sure to also load up our favorite road trip apps.
[Car broken down via Shutterstock]
Discussion