The MACH V1 Ultra by Eufy is the first all-in-one cordless wet-dry stick vac to incorporate a steam mop. That means no more multiple steps for cleaning; you can steam clean, mop, and vacuum in a single pass, making short work of any type of mess. There's even a fan built-in to dry the floor as you go.
The V1 Ultra's SteamWave technology releases steam at 230 degrees Fahrenheit to dissolve dried-on or sticky substances and kill surface bacteria. You need to turn on the steam to use it (a red light bar shows when it's ready), and then it is available on demand by pressing V1 Ultra's trigger button. As a safety precaution, steam delivery pauses whenever you lift the vacuum off the floor.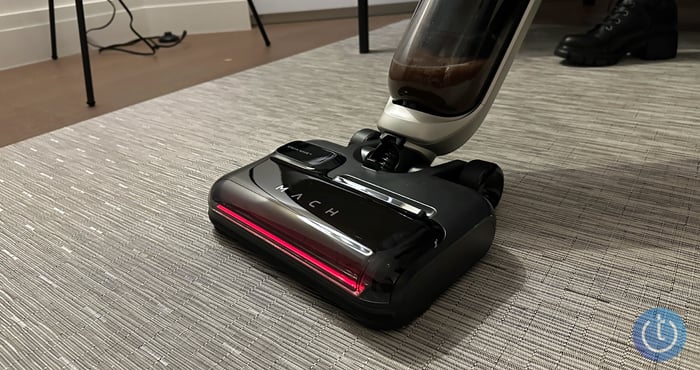 In addition to killing germs with steam, the V1 Ultra creates ozonated water to sterilize the floor and the vacuum itself. TUV Rheinland has certified the V1 Ultra for 99.9 percent bacteria removal when combining ozone and steam cleaning. Once the ozonated water is dispensed, it quickly breaks down into water and oxygen, making it non-toxic and pet safe. The V1 Ultra also uses ozonated water to wash the mop head during its self-cleaning cycle. At the end of the cycle, the built-in fan dries the mop head to prevent mold from growing.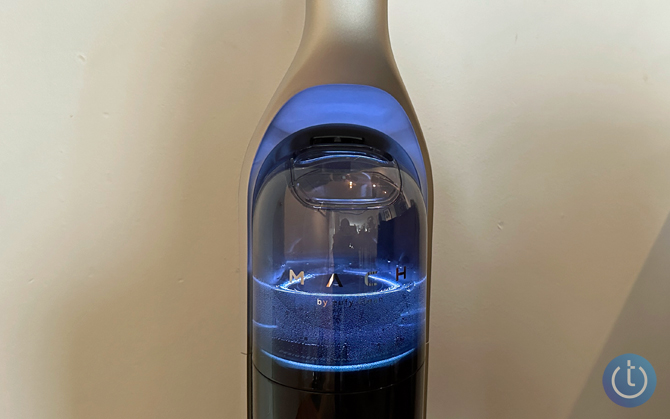 The V1 Ultra lets you use their proprietary MACH cleaning solution in addition to the ozonated water for washing your floors (not all floor cleaners do). When you turn on the cleaning solution option, the V1 Ultra mixes the cleaning solution with the ozonated water and dispenses it while it mops.
You also can use the V1 Ultra in a vacuum-only mode. It provides 16,800Pa of suction power, which is on the high end for a cordless model, all while maintaining noise levels below 65 dB (most vacuum cleaners are about 70 dB). It achieves this lower-than-average noise level by using noise-canceling.
The battery lasts up to 82 minutes on a single charge. Time will vary depending on your use, including whether you use the steam mop. The V1 Ultra comes with a slim docking station for charging.
The MACH V1 Ultra will be available on March 15, 2023, on eufy.com, Amazon.com, and Bestbuy.com for $699.99.
[Image credit: Suzanne Kantra/Techlicious]
Ali Heriyanto has covered and been involved in the technology industry for over 20+ years. A true technologist at heart, she co-founded one of the first consumer technology lifestyle blogs geared towards women - Chip Chick. She has been quoted on CNN, OZY, Huffington Post, and in the book "Get Big Things Done".