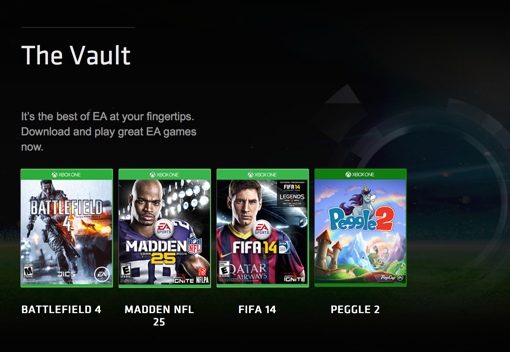 Game developer Electronic Arts on Tuesday announced its new EA Access plan, a $4.99 monthly subscription gaming service that offers an ever-changing roster of titles on the Xbox One console.
"EA Access membership unlocks The Vault, a collection of EA's biggest games on Xbox One ready for you to download and play," the company explained. "During the beta, gamers will have unlimited access to four great EA games: FIFA 14, Madden NFL 25, Peggle 2 and Battlefield 4, with more titles added soon."
In addition to access to the company's stable of largely sports-centric games, EA Access offers you a 10% discount when you buy EA games and memberships through the Xbox Games Store. You also get the "Play First" benefit, which allows you to trial new EA games up to 5 days before their release dates.
Currently, the EA Access service is only available to a limited number of beta testers. EA promises that it will "launch for everyone on Xbox One soon."
For more information on EA Access, take a look at the program's website at ea.com/eaaccess.