Xbox One vs. PlayStation 4: Which is Best for You?
Techlicious editors independently review products. To help support our mission, we may earn affiliate commissions from links contained on this page.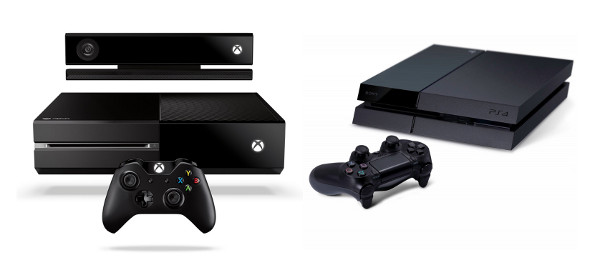 This holiday season introduces two brand-new video game consoles: the PlayStation 4 from Sony, which is available as of today, and the Xbox One from Microsoft which will be out on November 22. Chances are that someone in your family will want one of these, or they might already have one on their wish list. To help you make the best decision, we have spotlighted what each system has to offer. And it's not just video games.
As we go down the list of features for both consoles, you'll see that the differences between the two systems are not enough to say one is generally better than the other. For most people, it comes down to price, exclusive game titles and entertainment options. Either way you're starting over with your game collection since Xbox 360 and PlayStation 3 games will not work on the new systems.
Check out our break down below and let us know in the comments if you need any other information to make the right buying decision.
What's In The Box?
The PlayStation 4 Box includes:
PlayStation 4 Console
PS4 Controller with Micro USB cable for charging (additional controllers are $59.99 each)
PS4 Headset
HDMI Cable
Power cord
The Xbox One box includes:
Xbox One Console
Kinect Sensor
XB1 Controller (additional controllers are $59.99 each)
XB1 Headset
HDMI Cable
Power Supply with power cord
Both systems include a 500 GB hard drive, which will be important for downloading games and storing various other pieces of system software. Both consoles also come with a slot-loading Blu-ray drive, and you will be able to play Blu-ray and DVD movies in them. However, neither system will initially support 3D Blu-rays, and only the Xbox One will be able to play music CDs at launch.
Both systems are only available in black, with Sony calling the PS4 "jet black," and Microsoft calling the Xbox One "liquid black."
Games
So what good is a new video game system without something to play on it? Both of these systems will have plenty of games available at launch, but some are exclusive to each platform. Here's a look at the major games that will be available for both consoles on their respective launch dates. Keep in mind that these are retail games that cost an average of $59.99 each, and many other titles will be available for each system to download for different prices, ranging from free up to $59.99.
Also note that while a subscription to PlayStation Plus was not required to play online multiplayer games on the PlayStation 3, you will need that subscription ($49.99 per year) to play multiplayer games on the PS4. Also, an Xbox Live Gold account ($59.99 per year) to play multiplayer games on the Xbox One.
Video
Both the PlayStation 4 and the Xbox One will support playing DVDs and Blu-ray movies, but both consoles also support different video streaming apps as well. However, to use any third-party apps like Netflix and Hulu +, you will need an Xbox Live Gold subscription ($59.99). You will not need to have PlayStation Plus to stream apps on that console.
Also, you can plug your satellite or cable box directly into your Xbox One via its HDMI port, which provides a robust television watching experience through the console, and works in tandem with the Kinect voice controls. It isn't necessary to enjoy the system, but is a nice perk that allows you to watch all of your entertainment in one place without having to switch inputs. The PlayStation 4 does not currently offer a service like this, although one could be added in the future.
Entertainment Options

| | | |
| --- | --- | --- |
| Service | Xbox One | PlayStation 4 |
| Amazon Instant Video | ✓ | ✓ |
| Netflix | ✓ | ✓ |
| Hulu+ | ✓ | ✓ |
| Redbox Instant | ✓ | ✓ |
| NBA Game Time | | ✓ |
| NHL GameCenter Live | | ✓ |
| HBO GO (*not at launch) | ✓ | |
| ESPN | ✓ | |
| Fox Now | ✓ | |
| FX Now | ✓ | |
| NFL | ✓ | |
Camera
Both consoles feature a camera and motion sensor outfitted with microphones for voice input, but the PlayStation 4 makes this accessory optional for an additional $59.99, while the Xbox One includes the Kinect camera in the box. Several of the upcoming games for both systems will require the use of the camera, so check first before buying a title to make sure.
The cameras on both systems can also be used for facial recognition, so the system will know who you are when you turn it on. You can also use the microphones on both cameras to issue voice commands to the system. The Xbox One also comes with Skype included, so you can make video calls to friends and family on their computers and mobile devices, or on other Xbox One consoles.
Size and pricing
PlayStation 4 - Available November 15
The PlayStation 4 can be stood upright, and stands for the system will be available after launch. It's worth noting that the PlayStation 4 uses an internal power supply, so you do not have a large power brick to deal with, which should make it a bit easier to set up. The console does not include the PlayStation 4 camera, which is an additional $59.99. It is used for motion games and voice commands, but is not required.
The console is roughly 11 inches wide, 2 inches high, and 12 inches deep. It weighs approximately 6 pounds, and is now available for $399.99. (Amazon has it listed, but is currently sold out.)
Xbox One - Available November 22
According to Microsoft the Xbox One is not designed to be stood upright, so keep that in mind when you consider where someone will be putting it. It also includes an external power supply, which is roughly 8 inches long by 2 inches high and 3 inches deep, which could limit where the console gets placed. The Xbox One includes a Kinect camera sensor, which is used for motion games and voice commands.
The Xbox One is roughly 13 inches wide, 3 inches tall, and 11 inches deep. It weighs approximately 7 pounds, and will be available on November 22 for $499.99 on Amazon.
Final considerations
Some people are hardcore Sony fans or hardcore Microsoft fans, so do a bit of background checking on the person you might be purchasing one of these for just to be sure. Also note if they are major sports fans, because while the sports video games are available on both systems, the PlayStation 4 has an exclusive deal that gives them the NBA Game Time and NHL GameCenter video apps, while the Xbox One has ESPN and NFL.
Another note is that neither console is backwards compatible with older systems, which will be a bit of a letdown for those gamers who have built up huge libraries, and it means you'll need to keep those older units around. But new gaming systems usually mean bigger and better games, and there is plenty of excitement ahead for both of these consoles.
If you're struggling to justify the price of these new consoles, consider picking up an Xbox 360 or PlayStation 3 instead. Many popular games will still be released for those platforms and the prices of these older models are getting deeply discounted (especially around Black Friday).
Chances are whichever route you decide to go, someone will be extremely happy to get one of these new consoles as a gift.
Discussion