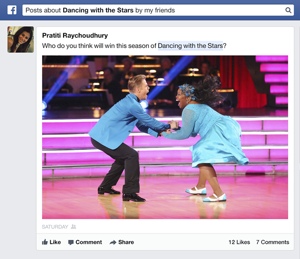 Facebook's Graph Search tool makes it incredibly easy for you (or a complete stranger) to search for very specific content on the social network. You can use it to search for restaurants your friends have liked, find pictures of specific friends taken in Puerto Rico or just get a list of your single male friends. It's almost creepy in the level of stalking power it hands you. And this week, it's starting to get a little bit creepier.

See, a powerful new upgrade to Graph Search has been slowly rolling out to Facebook users. The feature now lets you search the massive quantity of individual posts, photo captions, and status updates. Ideally, the site wants to help people connect over events such as tonight's episode of Survivor or this weekend's top NFL games. But it also means that if you're not on top of your Facebook privacy settings, complete strangers can now start searching through your posting history.
If you don't want your posts appearing when a complete stranger performs a Facebook graph search, you'll want to set your profile and status updates to private. You should also choose to limit the audience for old posts in your timeline, another option available in the site's privacy settings. You can learn more about accessing and adjusting these in Techlicious's Guide to Facebook Privacy Settings.