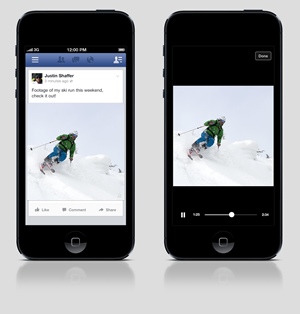 In a move many are heralding as the first step towards intrusive video ads, Facebook announced yesterday that videos in your news feed will start playing by default without you needing to click them first.
"Now when you see a video in News Feed, it comes to life and starts playing," explains Facebook in an entry on the company blog. "Videos initially play silently, and if you want you can tap to play with sound in full screen. Scroll past if you don't want to watch."
The change puts Facebook more in line with social networks Instagram and Vine, both of which autoplay videos as well. And while this change is initially only meant for "individuals, musicians, and bands," Facebook says it will "continue to explore how to bring this to marketers in the future."
In fact, Facebook has already done a lot of that exploration. According to the Wall Street Journal, Facebook plans to start placing video advertisements on the social network "as soon as this fall." Under the proposed idea, companies would fork over as much as $2 million to make sure you see three, 15-second video ads per day via both web and mobile.
The move could prove highly controversial for Facebook at a time when the company's ads are getting larger in size and exponentially more intrusive. Already, the FTC is investigating the social network over a proposed plan to use your face in advertisements without offering you a way to opt out. Throw auto-playing advertisements that chew through your mobile data plan into the mix, and some Facebook users might be tempted to give up the site for good.
Auto-playing video ads are being rolled out to web users now, with mobile implementation on the way "in the coming weeks."