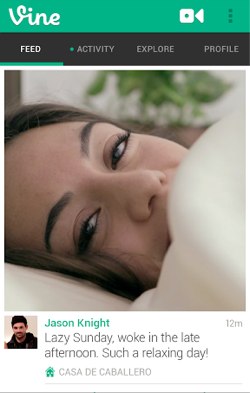 After becoming a meteoric success on the Apple App Store, Vine, the rapidly growing social network created by Twitter based around the sharing of short, 6-second video clips, is finally available for download on Android devices.
Vines are like animated GIFs with sound – short 6-second looping videos posted to help share a complete experience. The idea is that a short video depicting waves lapping, a rolling beach ball, and a soaring seagull will make a better impact than a tweet saying "I'm at the beach," or even an Instagram photo or two.
Creating a Vine is as simple as pointing your smartphone camera and touching its screen. When your finger is touching, Vine records; when you move your finger off the phone, the recording pauses. Editing isn't required for these 6-second clips – the most creative shots all use pre-planning rather than post-shoot fixes.
Making your first Vine is admittedly intimidating. But even if you're not ready to become a 6-second filmmaker, Vine offers plenty of entertainment value. A huge part of the social network is seeing what other amateur Viners have created. The medium has inspired 6-second comedy pieces, stop-motion videos, and animated shorts. The best place to start is probably the "Editor's Picks" section under the Explore menu, where all the best Vines are curated.
Vine has been atop the Apple App Store's social networking charts for quite some time – the social network has grown to 13 million users since it launched earlier this year. Now that Vine is available for Android, its popularity will likely explode.